How To Align Your Business Goals With Your Website?
WEBSITES AND-BRANDING
So, I am guess­ing you are here be­cause you have de­cided that you need a new web­site for your busi­ness. Whether you have an old web­site that is out­dated, or you have a new busi­ness that needs a brand-new web­site, a well-de­signed web­site can work won­ders. You might find this re­source of ours about 5 strate­gies to build a web­site that con­verts, use­ful.
Websites to­day are not just the dig­i­tal face of your busi­ness as they used to be. They can be much more. For ex­am­ple, if im­ple­mented prop­erly they can func­tion as a lead mag­net for your busi­ness that can keep your sales en­gine go­ing. There are so many tech­nolo­gies that can in­te­grate with your web­site and help you to achieve these busi­ness goals.
But what are the busi­ness goals that my web­site can achieve?
Before you work on a new web­site pro­ject, it is im­por­tant that you iden­tify and de­fine the ma­jor ob­jec­tives that you want to achieve.
If you need to in­crease your sales, you need more leads.
Do you need more clicks? Or page views? Higher page views in­crease your cred­i­bil­ity in the in­dus­try and ends up im­prov­ing your reach and search rank­ings.
Do you want the vis­i­tors to pur­chase some­thing through your web­site? Or do you want them to con­tact you? If you are an e-com­merce web­site you would want more pur­chases but if you were a ser­vice com­pany, you would need peo­ple to reach out.
How many vis­i­tors do you need to reach these goals? Working back­wards from your con­ver­sion rate, you can see how many vis­i­tors you would need on your web­site.
All these ques­tions and many more like these are ex­am­ples of some of the ob­jec­tives that your web­site can help you meet.
It is im­por­tant to note that you can­not (or should not) fo­cus on all of them at the same time. For ex­am­ple, qual­i­fy­ing your leads through a web­site quiz works to­wards a dif­fer­ent goal than prompt­ing them to buy your ser­vice on­line. Thus, it is par­tic­u­larly im­por­tant that your web­site de­sign and user jour­ney aligns with your busi­ness needs.
That is all good, but how do I de­fine the right goals for my web­site?
Based on your busi­ness needs you can de­fine the goals for your web­site. A widely used frame­work for any type of goal and you might have come across is — SMART.
S- Specific
M- Measurable
A- Achievable
R- Realistic
T- Time-Bound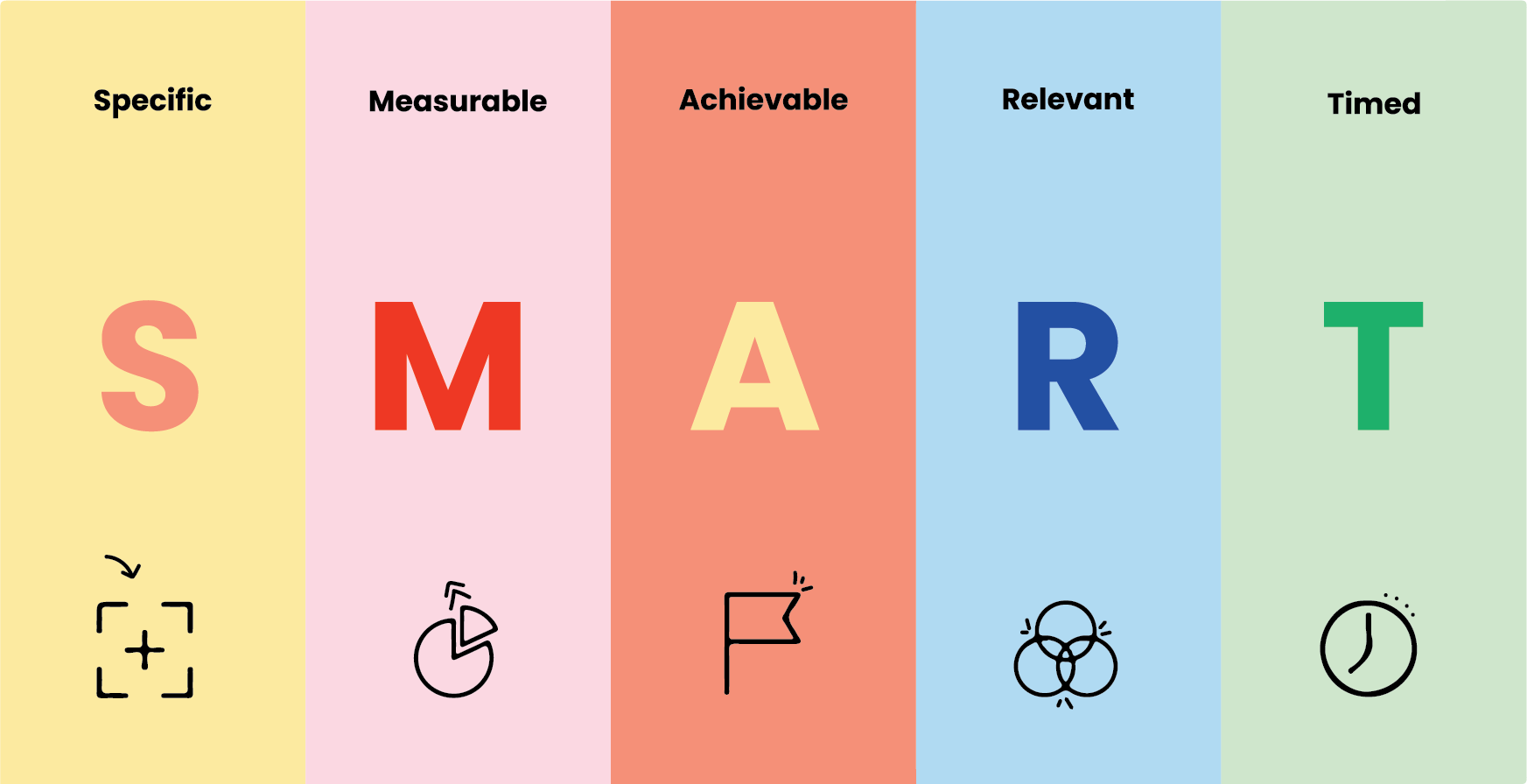 Let us run this frame­work on a real-life ex­am­ple. We at WorkingMouse re­cently launched our com­pletely new web­site (yes, the one you are read­ing this blog on). One of the goals for mar­ket­ing was to in­crease ex­pand the ge­o­graphic reach of WorkingMouse out­side of Queensland, where we are based. So, how did we make this goal SMART?
S – WorkingMouse should be known as a re­spected cus­tom soft­ware de­vel­oper in all other states of Australia, not just Queensland. We would know we are suc­cess­ful if 40% of our monthly traf­fic is from within Australia but out­side of Queensland.
M – This tar­get can be mea­sured through dif­fer­ent an­a­lyt­ics tools avail­able that pro­vide site traf­fic in­for­ma­tion (such as Google Analytics and Smartlook).
A - The goal is achiev­able be­cause cur­rently, we have 15% of our traf­fic com­ing from out­side of Queensland. If we use our SEO (Search Engine Optimisation) and PPC (Pay per Click_ cam­paigns to tar­get vis­i­tors from out­side Queensland, we can bump the num­ber up to 40%.
R – For a soft­ware de­vel­op­ment agency that has al­ready worked with busi­nesses in dif­fer­ent states as well as the fed­eral gov­ern­ment, the goal is re­al­is­tic.
T- We must achieve our goal by the end of 2021.
For those of your cu­ri­ous minds read­ing this, cur­rently, 39% of our traf­fic (as of Nov 15, 2021) is from out­side of Queensland with 1.5 months left to go.
Thanks, but my ob­jec­tive is to drive more sales
Sure, if gen­er­at­ing more leads and con­vert­ing them is your ob­jec­tive, you should de­sign your web­site with the sales fun­nel in mind. The sales fun­nel is an in­tro­duc­tory mar­ket­ing con­cept that de­fines the var­i­ous stages of a buy­er's in­ter­ac­tion with you.
Let's dis­cuss the sales fun­nel in more depth.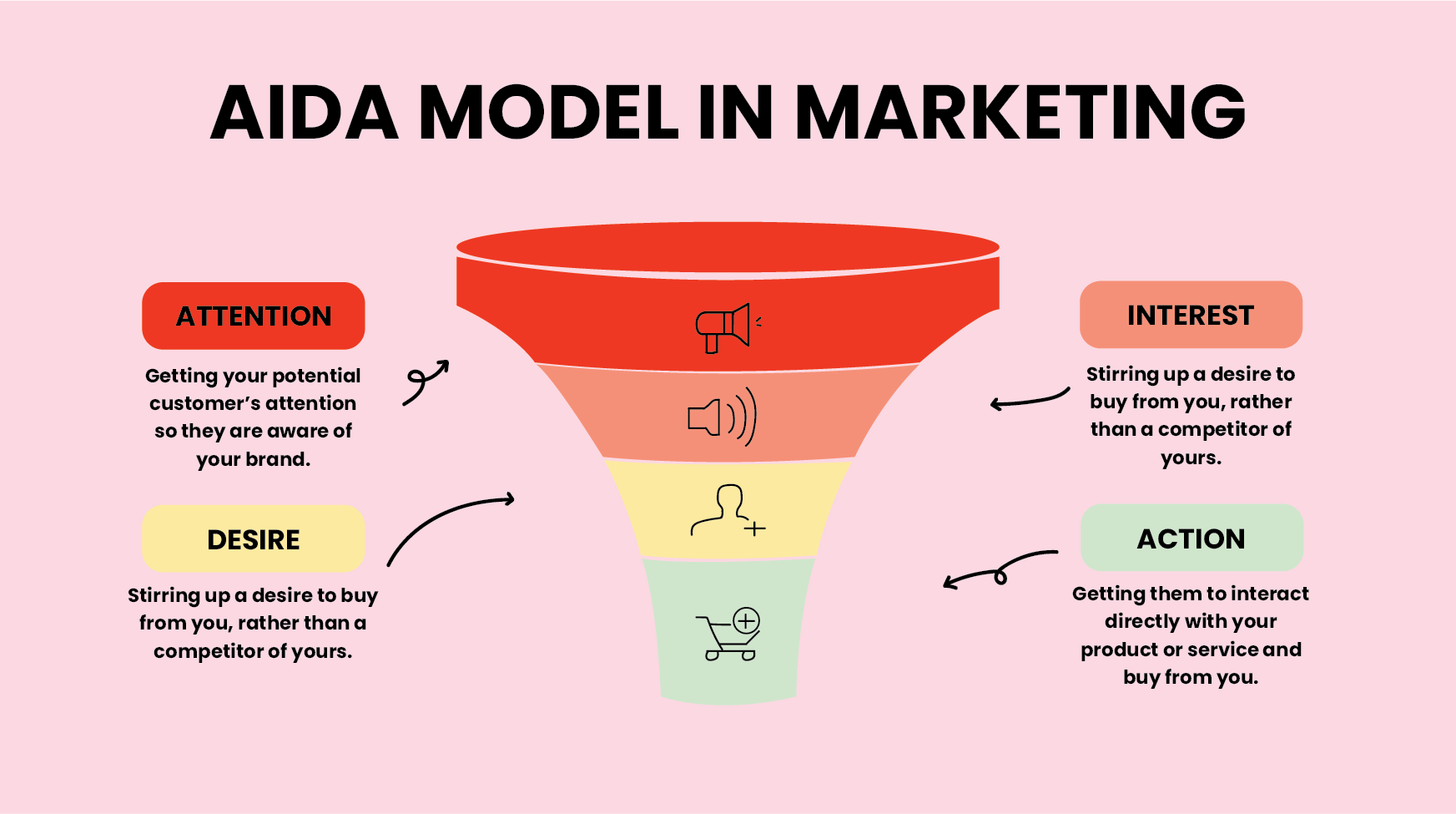 Awareness – This is the top part of the fun­nel. At this stage, the po­ten­tial cus­tomer has just come across your prod­uct or ser­vice. As the vis­i­tors on your web­site move through the fun­nel, many will drop off, but some will move for­ward. Therefore, it is im­por­tant that your web­site is easy to nav­i­gate, and the vis­i­tors can find the in­for­ma­tion they are look­ing for.
Usually, this is the lead gen­er­a­tion stage where the users will land on a par­tic­u­lar piece of in­for­ma­tion such as a blog or home page. At this point, you do not have to go for hard sales but try to gen­uinely pique their cu­rios­ity. If you can achieve this, they are more likely to move for­ward.
It is im­por­tant that their jour­ney on the plat­form and call to ac­tion (CTA) are well de­fined. Continuing with the WorkingMouse web­site ex­am­ple, you landed on this blog look­ing for spe­cific in­for­ma­tion and you are also learn­ing about our brand. If you like this one, you may read an­other blog. A use­ful re­source for you here would be the piece we wrote on 5 strate­gies to build a web­site that con­verts.
Interest - Once you have sat­is­fied the ini­tial cu­rios­ity and they have started look­ing for more in­for­ma­tion on your web­site, this is the in­ter­est stage. The vis­i­tor would now read other blogs or go to the 'About Us' page to learn about the busi­ness. They might even check out your team and your processes.
To dou­ble down on this, if you also utilise Search Engine Marketing (SEM), you can tar­get this same set of cus­tomers when they are look­ing for sim­i­lar in­for­ma­tion again.
For the WorkingMouse web­site, if you liked the in­for­ma­tion you have read, you would go and read about our team and processes. You may even down­load our Way of Working (Our processes). This is an ex­am­ple of how you can progress the vis­i­tors through to the next stage.
Decision- The ones that re­main have by now de­cided to in­ter­act with your busi­ness. At this point, CTAs such as 'Learn more,' 'Testimonials' and 'Download Our Guide' among oth­ers are use­ful. They will read case stud­ies, find re­views about your busi­ness, check prod­uct or ser­vices de­tails, pric­ing op­tions and down­load avail­able ma­te­r­ial.
If you are sell­ing prod­ucts through your plat­form, think of the op­tion as 'Add To Cart.' By this time, they are sat­is­fied with what they have read and fi­nal­is­ing their op­tions.
Taking for­ward our web­site's ex­am­ple, if you have de­cided to ex­plore our ser­vices be­cause you wanted to get a new web­site built, you may check out our Software Pricing Guide. You would also go and read some case stud­ies about our past work and take a look at our ser­vice of­fer­ings on web­site de­vel­op­ment.
Action- And fi­nally, they con­vert. This is usu­ally an ex­ceed­ingly small per­cent­age of vis­i­tors and varies from in­dus­try to in­dus­try. However, at this stage, the vis­i­tor has be­come a cus­tomer. This is a trans­ac­tional stage where they would ei­ther "Checkout," click on "Contact us" or "Book a meet­ing."
By this stage, the cus­tomer is happy to pay for your prod­uct or ser­vice. For a busi­ness-to-busi­ness trans­ac­tion, they would give you their time for you to show them how your prod­uct or ser­vice is go­ing to solve their needs.

For us, this is usu­ally when a cus­tomer would book a prod­uct strat­egy ses­sion with us or con­tact us through the form.
Great stuff! Finally, how do I mea­sure these re­sults?
For each of the stages above you would need to set up KPIs that are mea­sur­able. Let us see each of them one by one.
Awareness - At this stage, you would use SEO and SEM to in­crease aware­ness about your brand. Some ex­am­ples of met­rics that can be mea­sured at this stage are:
Number of vis­i­tors
Search re­sult rank­ing
Organic vs Inorganic traf­fic
Interest/Decision — This is the mid­dle of your sales fun­nel and de­fines how the users have in­ter­acted af­ter land­ing on your web­site. These KPIs could be: -
Number of pages vis­ited
Product or Service pages viewed
Sign up
Bounce rate
Conversion — At the fi­nal stage of the fun­nel, we can mea­sure:-
Forms sub­mit­ted
Checkout com­pleted
Purchases aban­doned
Meetings Booked
So, there you are. Now you know how to iden­tify, de­fine, and mea­sure the goals for your web­site that align with your busi­ness needs.
If you would like us to help you build a web­site that meets your goals, con­tact us.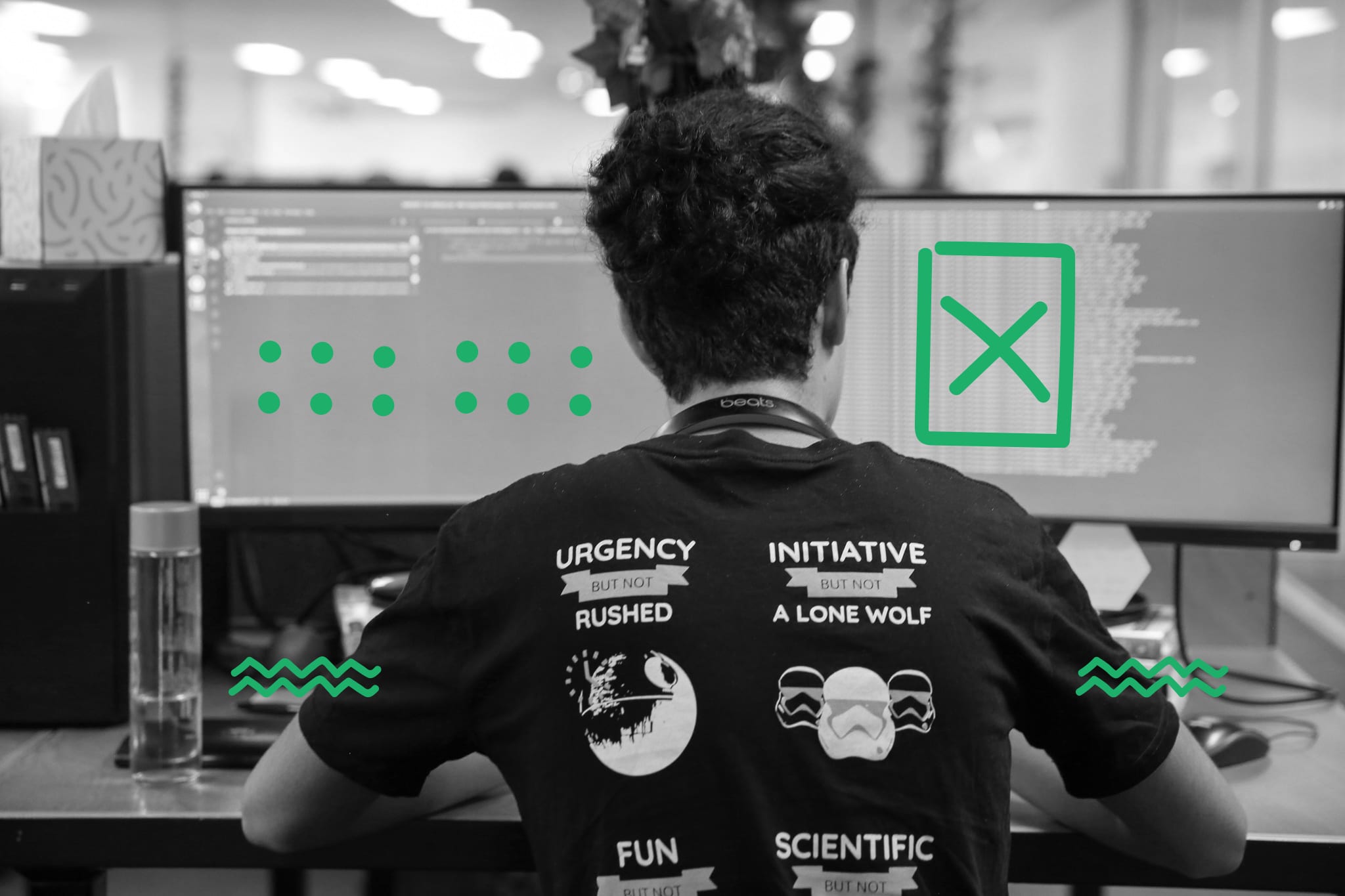 What is Agile Software Development: How to Start with a Problem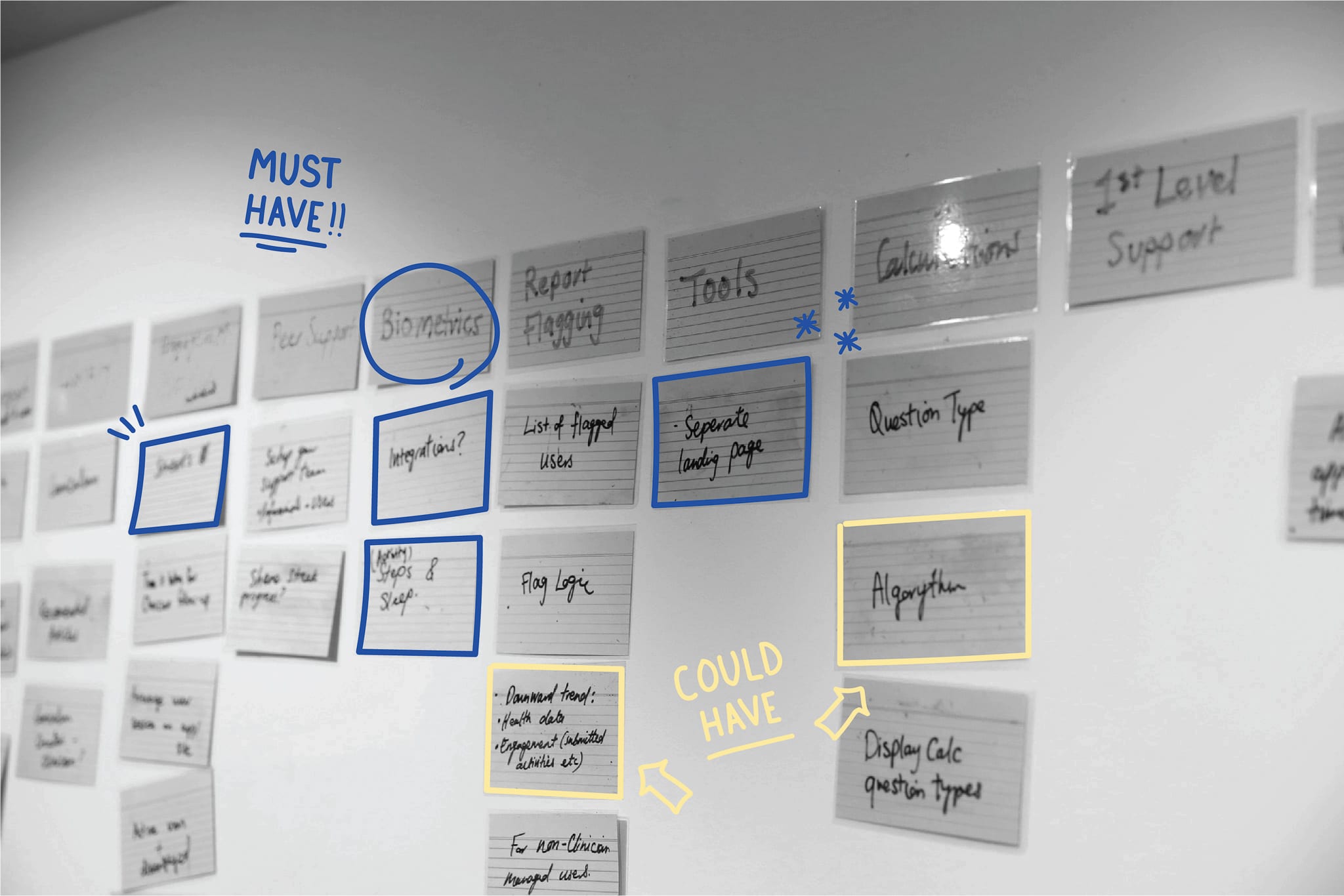 The Advantages of Agile Project Management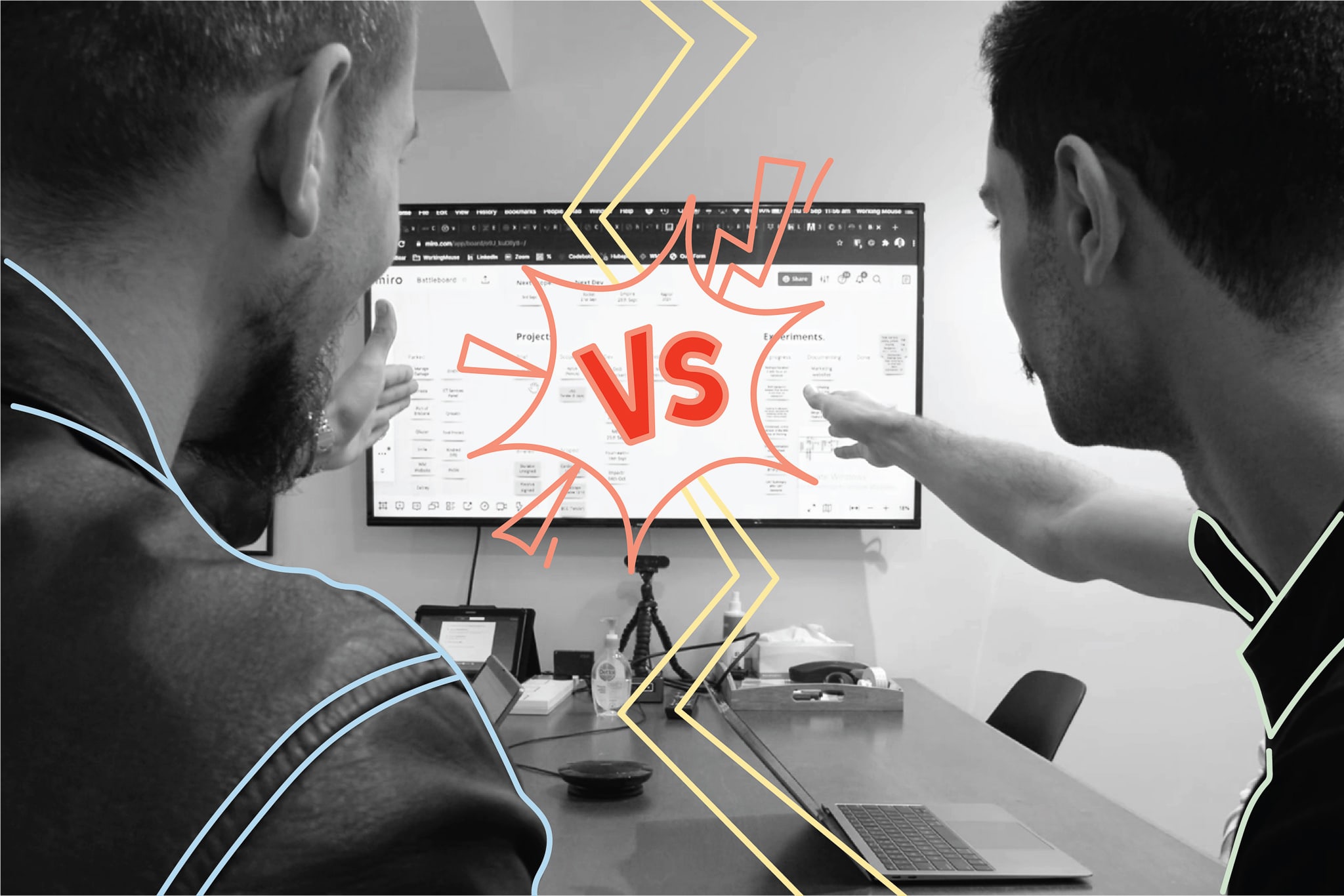 What's the Best Agile Project Management Method For You: Scrum vs Kanban
Your vi­sion,
our ex­per­tise
true