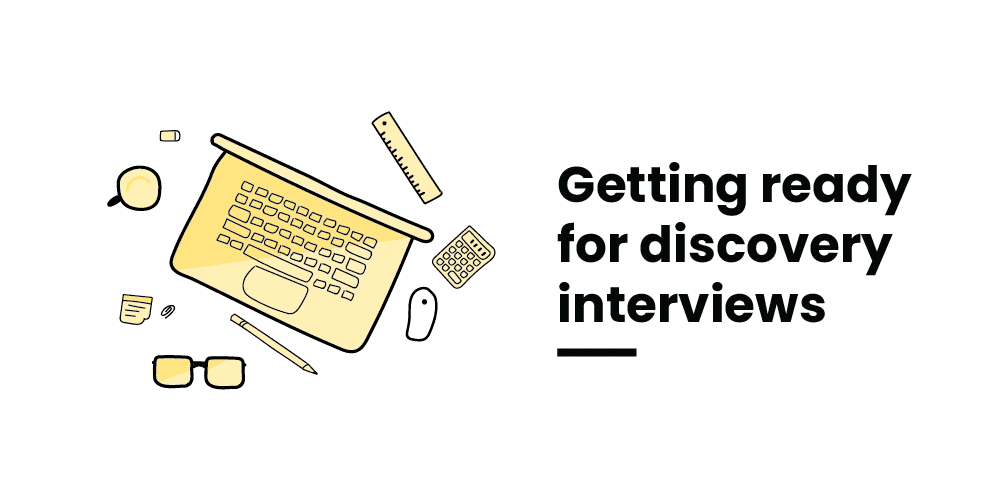 Getting ready for user in­ter­views
UX DESIGN
After ex­plor­ing the im­por­tance of user in­ter­views and how it can help you, you're prob­a­bly won­der­ing how to ac­tu­ally do them.
Technically speak­ing, you can in­ter­view your users in sev­eral ways. In this ar­ti­cle we're go­ing to fo­cus on 'discovery in­ter­views' and guide you through a re­search plan.
A dis­cov­ery in­ter­view pro­vides a first hand ac­count on why some­one chooses to em­ploy your prod­uct or ser­vice and what tasks they seek to ac­com­plish through it.
These ses­sions pro­vide a crisper im­age on how you might po­si­tion (or re-po­si­tion) your of­fer­ing. These are typ­i­cally car­ried out in the early stages of the de­sign process, but can re­ally be per­formed when you need a pulse check.
Your re­search plan can be as for­mal as you like, what's im­por­tant is hav­ing a clear idea of what you want to un­cover. To demon­strate how we build a re­search plan, we'll use SuzanneStays as a case study ref­er­ence. This study looked at ways of pro­vid­ing ac­com­mo­da­tion and travel ex­pe­ri­ences for peo­ple with dis­abil­i­ties.
Step 1: Validate the method
This is more of a pre­lim­i­nary to es­tab­lish­ing your re­search plan, but the first thing you want to do is en­sure this is the right method for what you want to learn.
Think about what you want to build or the cur­rent state of your prod­uct or ser­vice and ask your­self:
What pur­pose does this serve?
When would some­one use this?
How would some­one use this?
Why would some­one turn to this for help?
The next thing to ask is 'How do I know this?'
Discovery in­ter­views work to val­i­date any as­sump­tions you may have.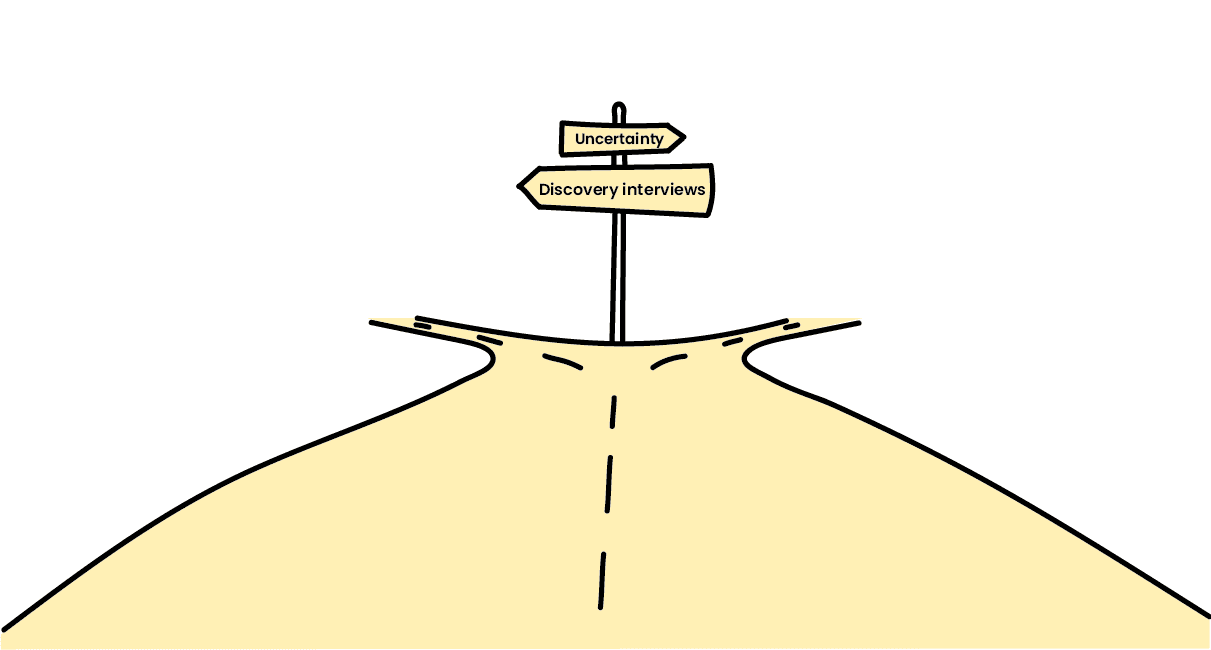 Step 2: Establish the ob­jec­tives
Like any plan, it's es­sen­tial to de­fine ex­actly what you are work­ing to­wards.
Write a list of things you want to learn from the in­ter­views. Limiting the num­ber of ob­jec­tives to 3 - 5 is ef­fec­tive for keep­ing the plan di­rect and con­cise. You can al­ways start wide, brain­storm a list and pri­ori­tise.
You don't have to solve every­thing. Pin point what is the most im­por­tant thing to learn first in or­der to progress.
For SuzanneStays, some ob­jec­tives might be:
To map the jour­ney peo­ple have when find­ing, book­ing and hol­i­day­ing in places ac­ces­si­ble to them,
To iden­tify the lim­i­ta­tions peo­ple face,
To as­sess the ar­eas of op­por­tu­nity in the in­dus­try.
Tip: Write your ob­jec­tives with ac­tion verbs and en­sure there is a mea­sur­able out­come. Try to avoid 'learn' or 'understand' as they can be more dif­fi­cult to eval­u­ate.
Step 3: Recruit
Recruit the peo­ple who rep­re­sent your tar­get group best. Define a list of char­ac­ter­is­tics or cri­te­ria to en­sure the peo­ple you re­cruit can pro­vide rel­e­vant in­sights.
As this is cur­rently an Australian based ser­vice, we'll want to re­cruit peo­ple who:
Live in Australia,
Live with a low mo­bil­ity dis­abil­ity,
Have the de­sire to hol­i­day away from home with their fam­i­lies and friends.
Tip: Take into con­sid­er­a­tion the peo­ple with dis­abil­i­ties who in­ter­act with your of­fer­ing. Look to in­cor­po­rate them into your rep­re­sented tar­get group and work to­wards an in­clu­sive de­sign.
What's a good way to find peo­ple?
Your user base (free): this is the first place to start if you are some­one who has a user base. You can reach out di­rectly or send out a re­quest call­ing for par­tic­i­pants.
Agencies (pay): there are peo­ple who spe­cialise in con­nect­ing you with the right par­tic­i­pants. E.g. usertest­ing.com or ask­able.com
Social me­dia (free/pay): pow­er­ful for ex­pand­ing your reach - throw up a post on your LinkedIn, Instagram or Facebook.
Ask the peo­ple you know (free…depending on who): They might also be able to con­nect you with the right par­tic­i­pants.
Tip: Most of the time peo­ple are happy to of­fer their feed­back but some­times in­clud­ing an in­cen­tive helps drive in­ter­est. These don't have to ex­ist in mon­e­tary form, think of your prod­uct or ser­vice and get cre­ative with what you can do.
How many should I in­ter­view?
As a gen­eral rule of thumb, start off with 5 par­tic­i­pants and scale up if you need to.
Norman Nielsen and Tom Landauer con­ducted re­search on us­abil­ity tests and found that af­ter sit­ting with the third par­tic­i­pant, they had al­ready ob­served much of the same things from the first and sec­ond user.
"As you add more and more users, you learn less and less"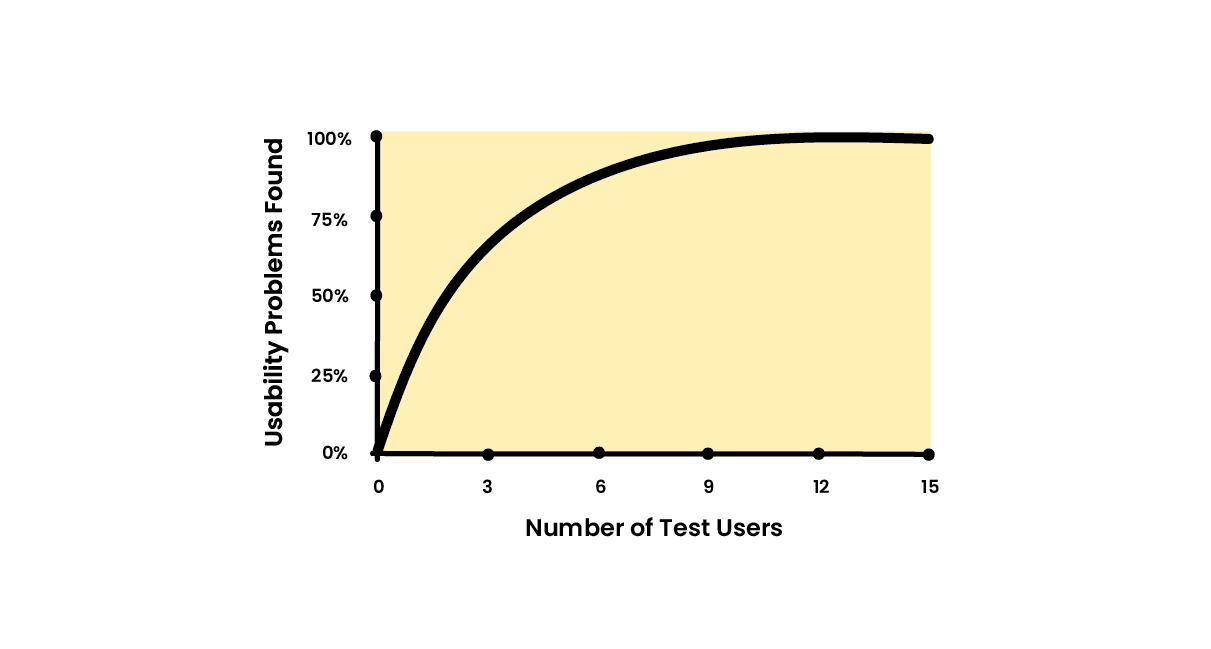 If you are in a po­si­tion where time and money is thin, run­ning ex­ces­sive ses­sions with lit­tle new in­sights may be a waste of your re­sources.
Step 4: Prepare a guide
Arguably the most im­por­tant, an in­ter­view guide out­lines the gen­eral struc­ture of the in­ter­view and flow of con­ver­sa­tion. Not every in­ter­view will go the way you ex­pect, but a plan gives you a lin­ear path and enough flex­i­bil­ity to change course should you need.
"Plans are use­less, but plan­ning is in­dis­pens­able."
The gen­eral struc­ture we fol­low is:
Introduction
Background
Activities
Wow mo­ment
Wrap up
Tip: Assign times to each sec­tion so that you have an idea of how long it could take and time box dur­ing the in­ter­view it­self.
Introduction
Spend the first few min­utes get­ting your par­tic­i­pant com­fort­able and re­it­er­ate why you're both there.
To kick this off you want to:
Introduce your­self and the pur­pose of the study
Set the ex­pec­ta­tions of what the next hour will look like
Encourage the par­tic­i­pant to re­spond freely
Reinforce there are no wrong an­swers
Request if you can record the ses­sion
Tip: Record the ses­sion for your own in­ter­nal play­back, so long as you have the par­tic­i­pants con­sent. You can use these clips to com­pile a play­back video of your find­ings.
Background
This largely in­volves get­ting to know your par­tic­i­pant. It serves as a way to build rap­port and equips you with de­tails that you can weave into the con­ver­sa­tion later.
For ex­am­ple, I might ask:
What do you do?
What's your fam­ily like?
What's your favourite thing to do on hol­i­days?
What des­ti­na­tion has been on your bucket list?
Activities
This is the main event. There is no uni­form way to do this as it re­ally de­pends on your study. Try out one of these ac­tiv­i­ties:
'Thinking about when…'
This is great for gain­ing in­sights on your par­tic­i­pants per­sonal ex­pe­ri­ence. This ac­tiv­ity asks the par­tic­i­pant to re­flect on a spe­cific mo­ment and re­count what hap­pened. It helps with an­swer­ing those ques­tions dis­cussed ear­lier, such as how and when some­one in­ter­acts with your of­fer­ing.
Mapping the jour­ney
Similar to 'Thinking about when…', you could also ask the par­tic­i­pant to walk you through their process. Build a map of based on what they did, how they felt and what they were think­ing at each stage. Combining these three fac­tors pro­vides you with a richer pic­ture of their jour­ney.
Card sort­ing
This ac­tiv­ity is use­ful for gaug­ing your par­tic­i­pants pref­er­ences. It asks them to or­der a list of state­ments based on im­por­tance or rel­e­vance and get­ting them to talk about why they ranked them that way. This is a great hy­brid for gen­er­at­ing that quan­ti­ta­tive and qual­i­ta­tive data.
Wow mo­ment
Now's the right time to ask those 'beyond the hori­zon' type ques­tions. As the par­tic­i­pant has shared their ex­pe­ri­ences in de­tail, you can now use this time to have them re­flect on what next.
What is one thing that would make you go 'Wow' if you woke up to­mor­row and saw it?
Wrap up
Reel it in by ask­ing if they have any fi­nal thoughts to share. If you're in­ter­ested in build­ing a list of par­tic­i­pants to speak with, you can also use this time to see if they'd be in­ter­ested in par­tic­i­pat­ing again.
Tip: You can run ses­sions with the same par­tic­i­pants as a way to check back in af­ter you've made some more progress. You'll still want feed­back from a range of peo­ple, but it does help if you have some con­tacts ready to go.
TLDR;
Discovery in­ter­views are ex­tremely valu­able and rich with learn­ings when you take the time to ef­fec­tively plan for it. You'll want to:
Make sure this method is right for you.
Define the goals of the re­search.
Find peo­ple to talk to.
Put to­gether a guide.
Go forth and in­ter­view. Let us know how you go!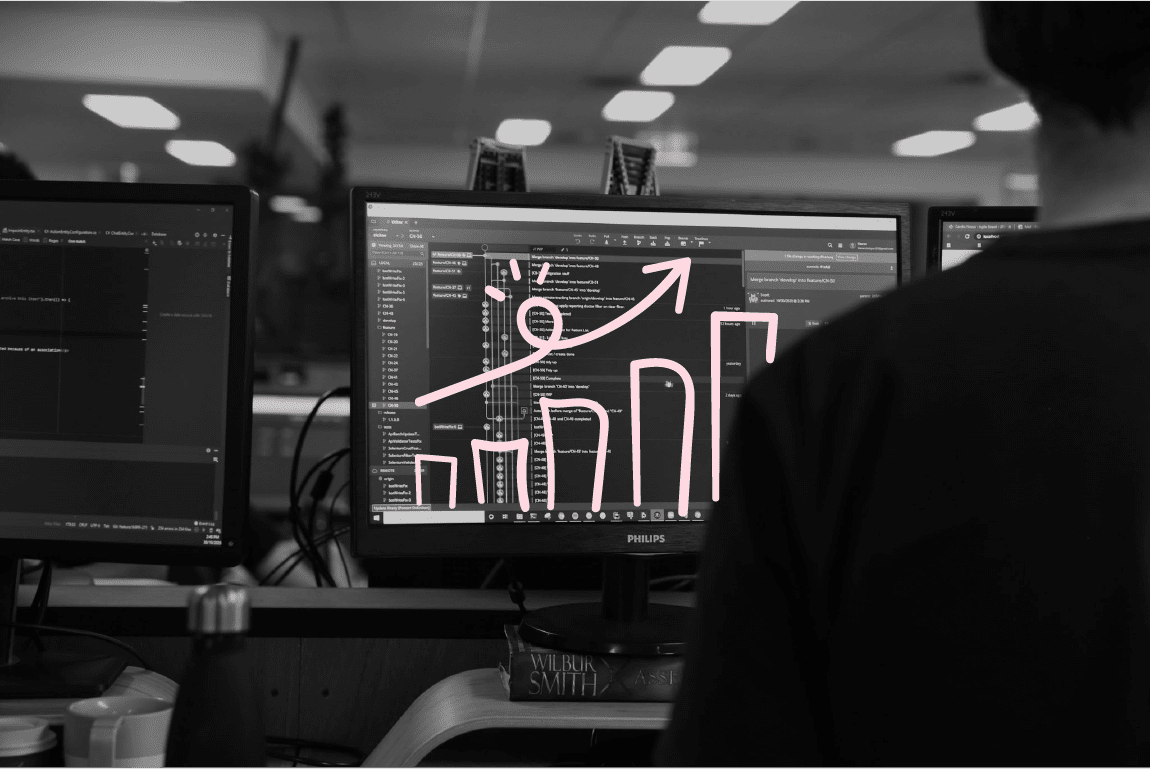 How Leading Edge Software Can Help You Scale Your Business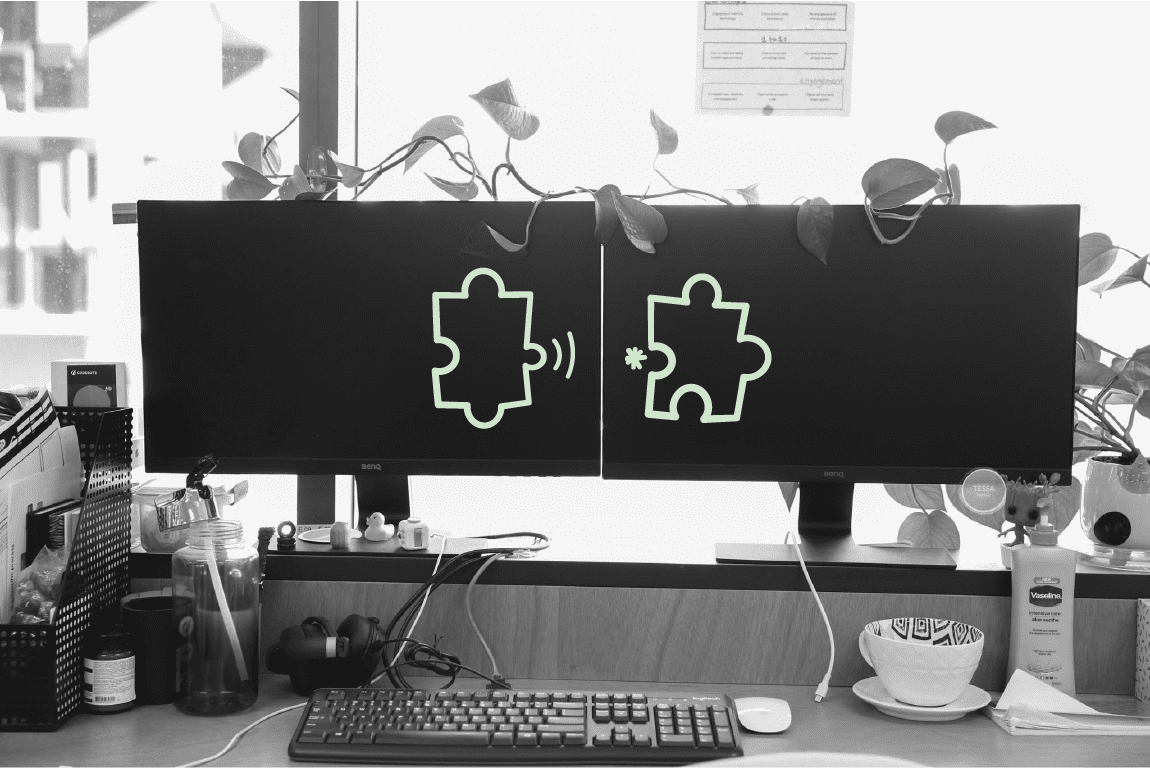 How did Tanda achieve their ini­tial prod­uct/​mar­ket fit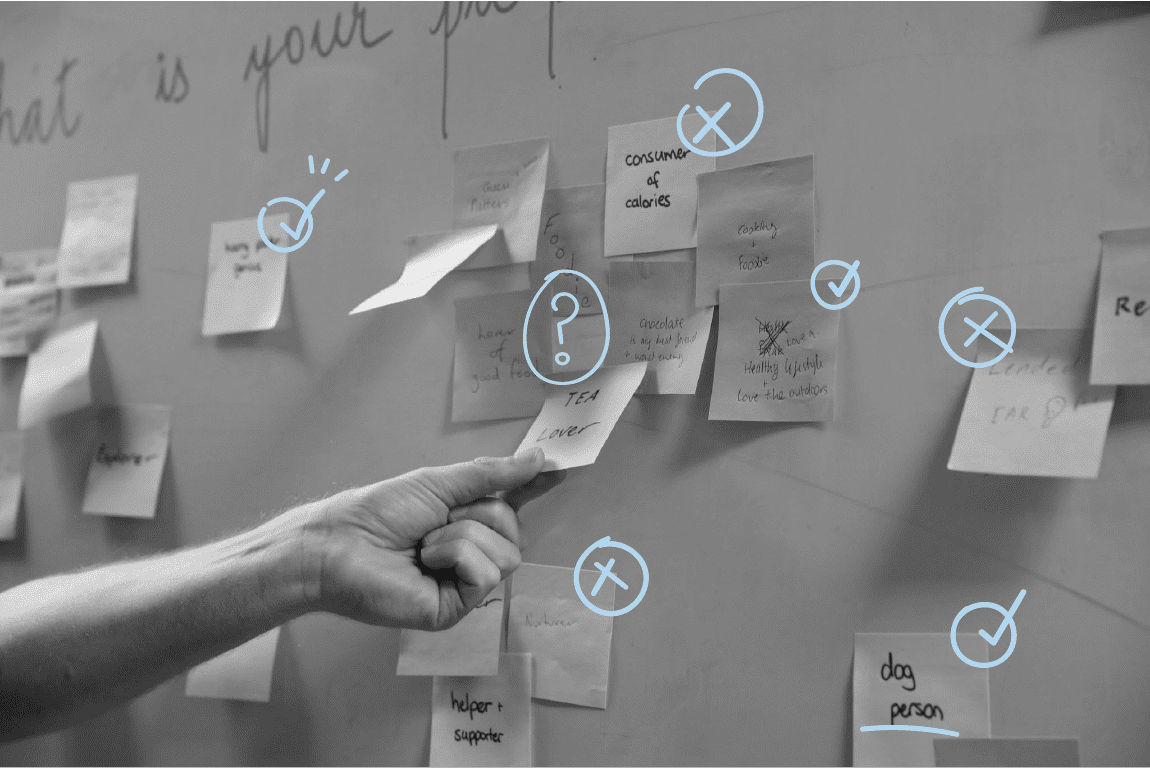 What are user in­ter­views and why are they im­por­tant?