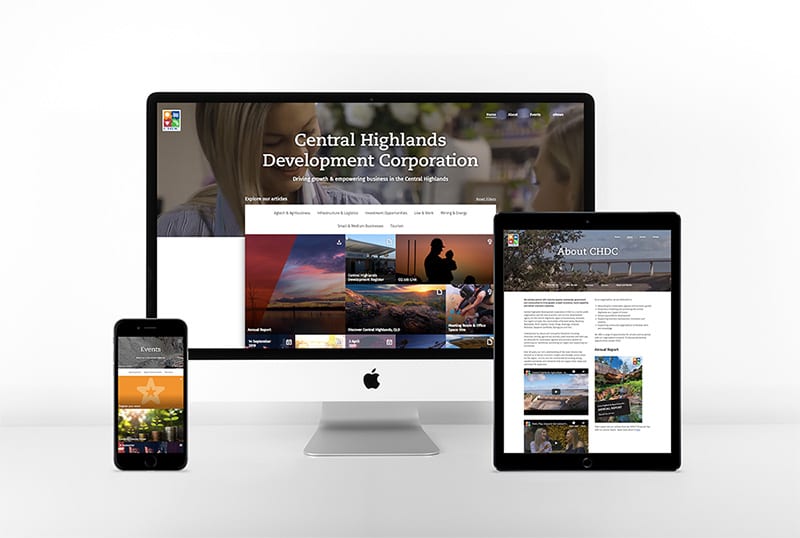 Customer Story: Central Highlands Development Corporation
INNOVATION
Customer Story: Central Highlands Development Corporation
The Central Highlands Development Corporation (CHDC) is a not for profit funded by the coun­cil to fur­ther the eco­nomic and so­cial de­vel­op­ment of the cen­tral high­lands re­gion in Queensland, Australia. In part­ner­ship with WorkingMouse, CHDC has re­de­vel­oped their web­site to bet­ter sup­port the re­gion and cre­ated a new plat­form that changes the way stake­hold­ers can in­ter­act with lo­cal in­dus­tries.
Backstory
CHDC are con­stantly look­ing for new ways they can bring more value to the re­gion with in­no­v­a­tive so­lu­tions. As with many or­gan­i­sa­tions, they are fight­ing the con­stant bat­tle of mod­ernising legacy sys­tems. To this point, the old CHDC site had reached a point where it was no longer shar­ing the right in­for­ma­tion with the com­mu­nity. This was in part due to its de­sign and the vol­ume of in­for­ma­tion avail­able. CHDC had al­ready at­tempted to cre­ate a new web­site. However, the scope de­liv­ered was less than de­sir­able. It was at this point, CHDC en­gaged WorkingMouse with two prob­lem state­ments. Rebuild the CHDC web­site and cre­ate a new plat­form that pro­motes amaz­ing lo­cal food and pro­duce.
The Scope
In scop­ing the pro­ject the WorkingMouse de­vel­op­ment team used a num­ber of ex­er­cises from the Way of Working dis­cov­ery kit. The most value came from cre­at­ing user per­sonas for CHDC. Once this was done, CHDC was able to pro­vide WorkingMouse with con­tact de­tails for user in­ter­views who matched the per­sonas. The team com­pleted user in­ter­views with each per­sona and dis­cov­ered a com­mon theme across both pro­jects that would ul­ti­mately lead to a shared cre­ative so­lu­tion. Every per­sona was ul­ti­mately af­ter in­for­ma­tion. That in­for­ma­tion was unique to them shar­ing or find­ing, eas­ily and at the right time. Adopting a de­sign led ap­proach, the team de­ter­mined that both plat­forms should be built around share­able re­sources.
Behaviours
Upon dis­cov­ery of the un­der­ly­ing prob­lems the team were able to ex­per­i­ment with Codebots be­hav­iours. Specifically, WorkingMouse was able to im­ple­ment the Resource Behaviour. It is a back end con­trol­lable be­hav­iour that al­lows users to cre­ate their own re­sources with text, im­ages, videos and links in a com­mon struc­ture. The be­hav­iour then al­lows for the re­sources to be search­able and fil­ter­able within group­ings. This lead to a multi fil­ter se­lec­tor that en­ables the end user to fil­ter ex­actly what re­sources are rel­e­vant to them. CHDC staff can con­trol their own re­sources and Grown in the Central Highlands ven­dors can sub­mit their own in­for­ma­tion for the plat­form. Below is an ex­am­ple of re­source and fil­ter­ing im­ple­mented on the site.
The Platforms
The CHDC web­site is now live. All of the legacy re­sources and con­tent have now been mi­grated. The tile sys­tem is re­spon­sive so its can be fil­tered and searched on desk­top or mo­bile. The site took ap­prox­i­mately 4 weeks for the team to cre­ate once they had linked the re­source be­hav­iour to the web­sites tile struc­ture.
The Grown In the Central Highland plat­form is also live. The team were able to cus­tomise the the re­source be­hav­iour into a brand new plat­form in only two weeks. The re­sources in this plat­form also in­clude date and avail­abil­ity. It is sup­plied by a sin­gle up­date form that the lo­cal pro­duce own­ers can use to up­date their pro­files.
The Future
CHDC chose the fixed time vari­able scope ag­ile de­liv­ery method. Working along­side the de­vel­op­ment team, the prod­uct own­ers where able to vary back the scope to match all stake­hold­ers re­quire­ments.
CHDC are now in a con­tin­u­ous mod­erni­sa­tion mind­set, they are look­ing to con­tinue the part­ner­ship as they use the site as their com­mu­nity in­for­ma­tion tool. They un­der­stand the web­site is not a fixed as­set but con­tin­u­ously im­prov­ing.
As for the Grown In the Central Highland plat­form, CHDC are now ex­per­i­ment­ing with the value it can bring the lo­cal com­mu­nity. Once this has been achieved, they own the source code of the plat­form and will be able to use WorkingMouse and Codebots to li­cence the plat­form out to other re­gions with our Software as a Service be­hav­iour.
Check out some other Partner Stories here.