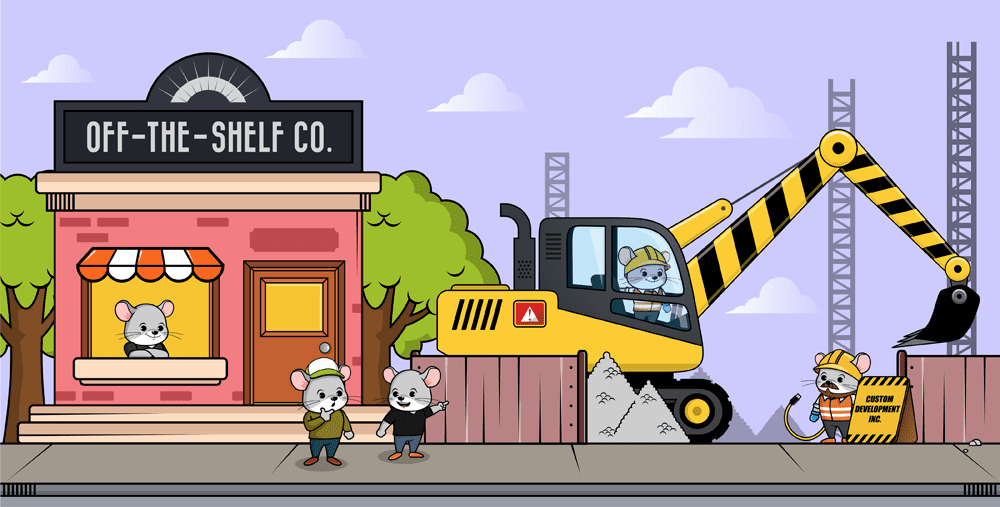 App Development: 'Off-The-Shelf' vs. Custom Software
APP DEVELOPMENT
When to buy Off the Shelf
Normally, buy­ing your ap­pli­ca­tion "off-the-shelf" is quicker and cheaper than hir­ing a pro­fes­sional ser­vices com­pany and build­ing your own be­spoke app. This is es­pe­cially ad­van­ta­geous when you're fac­ing time or fi­nan­cial con­straints. The speed and price of buy­ing (vs. build­ing) your app is even more ap­peal­ing when there is al­ready a prod­uct on the mar­ket that suits your busi­ness' needs.
There are plenty of pre-es­tab­lished apps on the mar­ket that have use within a busi­ness. More no­table ex­am­ples in­clude Mailchimp, Xero and Hubspot. Each off the shelf so­lu­tion serves a spe­cific pur­pose. They gen­er­ally op­er­ate in ar­eas where there is con­sis­tency across busi­nesses. For ex­am­ple, pay­roll is some­thing that can be stan­dard­ised (and in fact was stan­dard­ised be­fore a cloud based so­lu­tion - i.e Myob).
Where an off the shelf so­lu­tion does not fit is find­ing a sys­tem that matches your core in­ter­nal process.
When to con­sider cus­tom soft­ware
Although buy­ing your app "off-the-shelf" is (normally) ini­tially quicker and cheaper than build­ing your own, these ad­van­tages can be out­weighed. As men­tioned above, find­ing ex­ist­ing apps that can com­pli­ment your busi­ness op­er­a­tions is rec­om­mended. However, every suc­cess­ful busi­ness has found their unique value propo­si­tion. Often, ex­ist­ing soft­ware can­not com­pli­ment this unique value propo­si­tion (as you would ex­pect given that it is unique). The trap many busi­nesses fall into is chang­ing their process to fit the con­straints and lim­i­ta­tions of the COTS so­lu­tion. Imagine KFC chang­ing their recipe be­cause two of the se­cret herbs and spices weren't in stock.
There are spe­cific cir­cum­stances where cus­tom soft­ware should be pre­ferred.
Licensing soft­ware to your cus­tomers
If you're look­ing for a so­lu­tion that will be client fac­ing and ul­ti­mately as­sist with bring­ing in rev­enue to the busi­ness then cus­tom soft­ware is likely the bet­ter fit. As you own the IP of your own soft­ware, there is the op­por­tu­nity to li­cense it out. This could act as a sec­ondary stream of rev­enue. If you or your clients need to pay a li­cens­ing fee for an off the shelf so­lu­tion then be sure to con­sider that fee in your cal­cu­la­tions when de­cid­ing be­tween COTS or cus­tom. There are many sto­ries in the mar­ket of com­pa­nies that de­cided to use COTS (as it was ini­tially cheaper) only to ex­pe­ri­ence sig­nif­i­cant growth and lose hun­dreds of thou­sands of dol­lars an­nu­ally in pos­si­ble li­cens­ing rev­enue.
Integrating with other plat­forms
If you re­quire an in­te­gra­tion with an­other (or mul­ti­ple) off the shelf prod­ucts it is gen­er­ally a red flag to con­sider cus­tom soft­ware de­vel­op­ment. Because you are us­ing an­oth­er's code, you are un­able to make changes to suit your own chang­ing needs. Instead, you have to wait un­til the source code's owner up­dates the core code, and there's no guar­an­tee that they will. If you have a sig­nif­i­cant de­gree of in­flu­ence over the off the shelf provider then they may be will­ing to up­date the ap­pli­ca­tion to meet your re­quire­ments. But it is worth not­ing that this is rare and gen­er­ally not done in a time sen­si­tive man­ner.
Limitations of Off the Shelf
Your busi­ness' in­abil­ity to change the core code that's crit­i­cal to your op­er­a­tions lim­its its abil­ity to pivot and scale. This can have a di­rect im­pact on your bot­tom line and growth. The net re­sult be­ing: the cheap­est op­tion may not be the most cost-ef­fec­tive one in the long run.
Limitations of re­cy­cling code in­clude:
1.not meet­ing your needs, re­quir­ing ad­di­tional pro­grams to plug the gap(s);

2.not be­ing able to in­te­grate with other, es­sen­tial pro­grams in your busi­ness' toolkit.
There can be an op­por­tu­nity cost to buy­ing part or all of your soft­ware stack. When you use the same desk­top pro­grams, web and mo­bile apps, APIs or plu­g­ins as your com­peti­tors, you miss an op­por­tu­nity to gain a com­pet­i­tive ad­van­tage. An ad­van­tage that can grow over time, as you in­vest in your pro­pri­etary tech­nol­ogy.
When you hire a be­spoke soft­ware de­vel­op­ment com­pany, the web and mo­bile app de­vel­op­ment costs can be daunt­ing, but there's real value in own­ing your own source code.
Ultimately, nei­ther op­tion is al­ways bet­ter than the other. The in­di­vid­ual cir­cum­stances of your busi­ness and the sub-op­tions within buy­ing or build­ing your ap­pli­ca­tion(s) will de­ter­mine what the ap­pro­pri­ate choice is.
For ex­am­ple, some app de­vel­op­ment com­pa­nies, in­clud­ing WorkingMouse, em­ploy an adap­tive process for build­ing apps that al­low rapid de­ploy­ment across mul­ti­ple plat­forms, in­clud­ing web, Android and iOS. This can re­duce the time and cost re­quired to re­lease a cus­tom-made app, and as a re­sult dis­rupt the nor­mal bal­ance of pros and cons in the build vs. buy dilemma. In the same vein, a com­pet­i­tively priced, "off-the-shelf" app may have all the ca­pa­bil­i­ties your busi­ness needs.
To build or to buy. The an­swer to this ques­tion is vi­tal. Your choice will have ma­jor time and cost reper­cus­sions that im­pact the fu­ture sta­bil­ity and prof­itabil­ity of your com­pany for years to come. Choose well.