This June we went to TDC!
For 3 electrifying days, Brisbane Powerhouse was overrun by a melting pot of creatives in fluro orange lanyards. As every year does, The Design Conference sets out to create an atmosphere of boundless inspiration. In bringing together a panel of seasoned creatives and encouraging an honest presentation of their journey and work, TDC reminds us of the possibilities that lie within the realm of artistic creation.
Across all the presentations and fireside chats, we witnessed an exchange of ideas, experiences, origin stories, a lot of cool showreels and deep dives that felt like therapy. It is enlightening to see the growth of new perspectives that breathe life into established traditions.
The conference opened with a Welcome to Country led by Tommy of the Jagera people. He went on to deliver the most electrifying and immersive didjeridu (Yidaki) performance I have experienced!! The room erupted with the powerful vibrations of the didjeridu, filling the air with a mesmerising blend of ancient sounds and contemporary rhythms. Tommy's performance seemed to transcend time, bridging the gap between past and present, and connecting everyone in the room to the rich cultural heritage of the Jagera people.
The screen was then illuminated with the official TDC introduction video (a highly anticipated TDC moment). It showcased a captivating display of kaleidoscopic trees with branches that seemed to stretch endlessly, overlaid with the list of speaker names for what's to come. Every year it is exciting to see what the visual feast will be, and this year was no different, except that the video was created with a new collaborator, one we are all familiar with: AI. This was the set-up for a very topical and deliberate conversation that would be had around AI in design.
While I could go into minute detail about the 72 hours that transpired, I will instead highlight my insights from the common themes I heard in a 4-part series.
Artificial Intelligence
Whether you are on the side that AI will be humanity's saviour or destroyer, one thing is certain - AI is here to stay.
#1 AI is a collaborator.
Kevin Finn shepherded the discussion by posing the question: "How does AI make us vulnerable?" A taboo topic in the tech industry that is often met with a nervous chuckle.
In my field, I am not afraid to lean on AI to assist my productivity and speed. Within seconds I can convert prototypes from light to dark mode, and generate colour combinations and marketing copy, that require a few tweaks of course. Each requires intentional and well-thought out input in order to garner better results. While I'm yet to unleash the full synergy of AI in my workflow, I know that if AI can do these things now what's stopping it from doing what I do in the future? Alas, the silver lining is in translating how AI can help my vulnerabilities. Unpacking and actioning this will guide the way.
#2 Every day we are collectively designing the future.
And history is watching (Kevin Finn). Big corps are feeling the pressure to take responsibility for their impact on society and the environment. In this era of heightened consciousness, we as consumers hold the key to shaping what these brands do next simply through our purchasing decisions.
"Every time you spend, you cast a vote for the type of work you want to live." Kevin Finn
As designers and developers, consider the work we are taking on as a community and how these digital parcels contribute to the future you want to live in.
"Only promote work you want more of" Kevin Finn
Jim (Dimitris) Antonopolous believes that by embracing the wisdom of influential thinkers and activists like Chimamanda Ngozi Adichie and James Baldwin, creators can gain deeper insights into the social and cultural dynamics that drive change.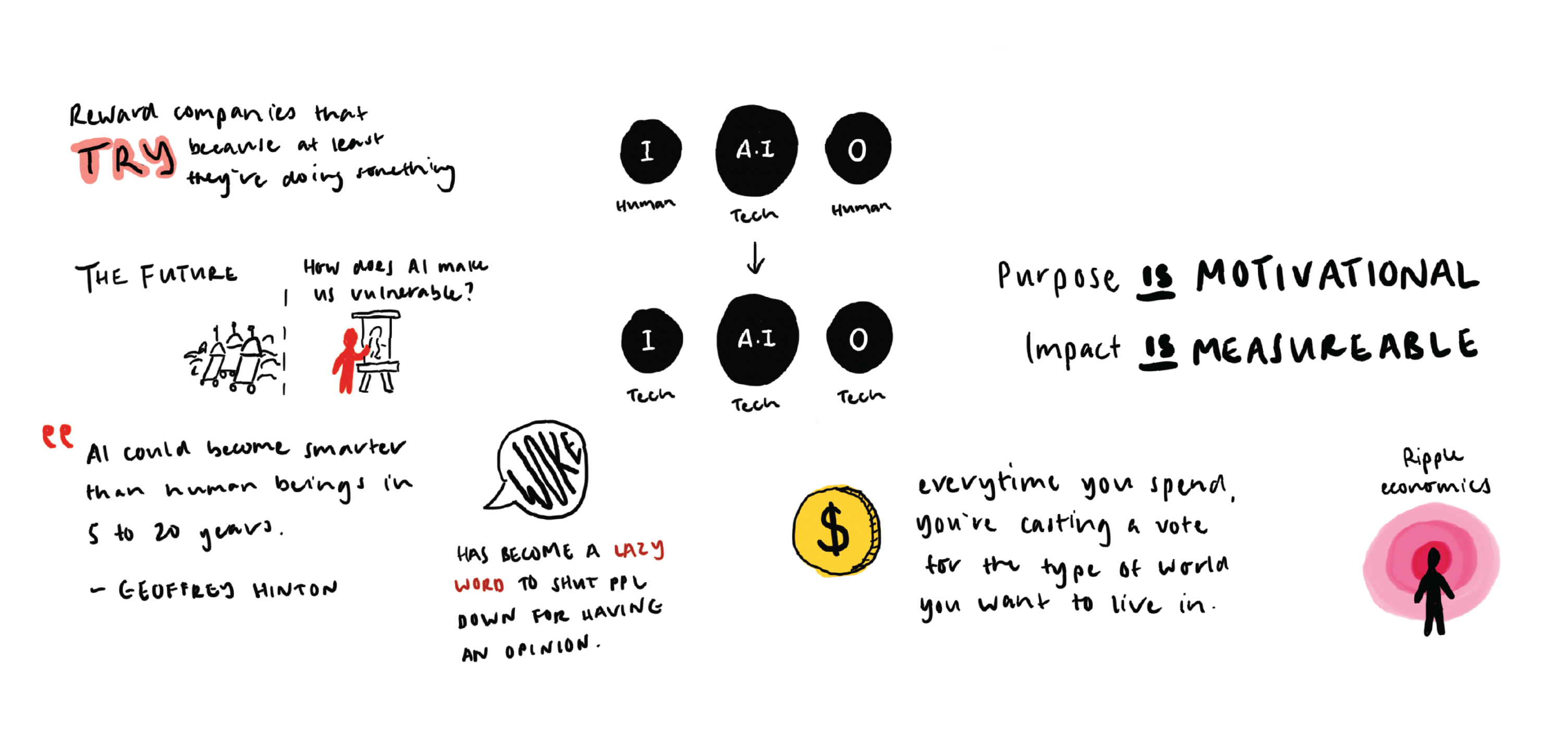 Prompts:
What do you recognise as your vulnerabilities?
In what ways does AI make you vulnerable?
Who are 5 of your biggest influencers?
To provide you a time of reflection, part 2 will be released in a week :)