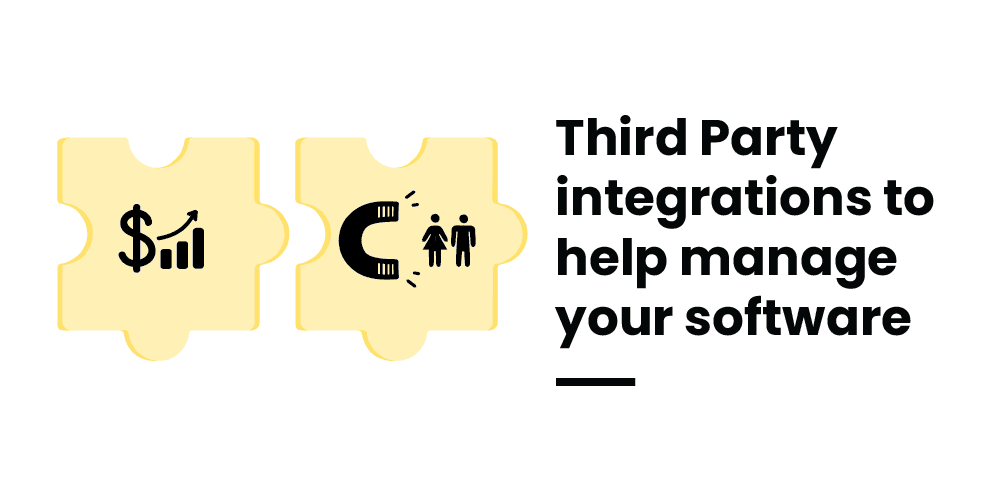 Third Party Integrations to Help Manage Your Software
THIRD PARTY-APIS
Congratulations, you've just suc­cess­fully built the first ver­sion of your soft­ware ap­pli­ca­tion. We call this the min­i­mum vi­able prod­uct. Ideally, it was a smooth process to get to this stage. However the chances are this is­n't your fi­nal vi­sion for the ap­pli­ca­tion. That's ac­tu­ally a good thing. Rather than build all at once, we build, test, val­i­date and build again. But this ar­ti­cle is­n't fo­cused on ag­ile soft­ware de­vel­op­ment or our Way of Working. Rather, this ar­ti­cle is fo­cused on util­is­ing third party ap­pli­ca­tions to gather data and an­a­lyt­ics about how your min­i­mum vi­able prod­uct is be­ing used.
The level of API in­te­gra­tion re­quired for each ap­pli­ca­tion varies de­pend­ing on how it op­er­ates within your soft­ware. Each sec­tor will have ex­ist­ing so­lu­tions in the mar­ket that can be lever­aged. For ex­am­ple in the health care sec­tor there is the Human API which cap­tures and sends data from dif­fer­ent sources (eg. Apple Watch, point of care health sys­tems). We will not dive into the var­i­ous in­dus­tries and their niche in­te­gra­tions. Rather, we have out­lined a few third party ap­pli­ca­tions that have broad ap­pli­ca­tion across in­dus­tries. We rec­om­mend these ap­pli­ca­tions to our clients.
For more on what is an API, see our pre­vi­ous blog.
Hotjar
https://​www.hot­jar.com/
Hotjar is an an­a­lyt­i­cal tool which helps record the us­age and be­hav­iour of users on the ap­pli­ca­tion. It gen­er­ally works best for web ap­pli­ca­tions or sta­tic web­sites. By adding a track­ing code to your ap­pli­ca­tion, Hotjar records site vis­its (much like Google Analytics does). But where Google Analytics fo­cuses on con­sol­i­dat­ing data and dis­play­ing back trends, Hotjar drills in on in­di­vid­ual ac­tions.
The most pop­u­lar func­tion on Hotjar is the abil­ity to cre­ate heatmaps. These are vi­sual rep­re­sen­ta­tions of pages on your site or ap­pli­ca­tion that shows where users are click­ing and whether they are scrolling. It also al­lows you to view which parts of a page are draw­ing mouse move­ments.
Benefits: Granular data. The key ben­e­fit of Hotjar is that you can drill down on a per page ba­sis to a level that is­n't of­fered by more pop­u­lar op­tions like Google Analytics.
Firebase
https://​fire­base.google.com/
Firebase is the lesser known Google of­fer­ing for na­tive ap­pli­ca­tions. If you're de­vel­op­ing a na­tive mo­bile app then Firebase will pro­vide you with valu­able user data. It is pre­dom­i­nantly used for drilling into the de­mo­graph­ics around who users your app as well as how users are in­ter­act­ing with the app.
Firebase of­fers in­te­gra­tions with a num­ber of ad­di­tional tools. This in­cludes BigQuery which al­lows for more com­plex analy­sis like query­ing large data sets and join­ing mul­ti­ple data sources.
Benefits: Provides valu­able data in­sights for mo­bile apps.
Pipedrive
Pipedrive is a CRM and sales con­ver­sion ap­pli­ca­tion. It al­lows you to build your cus­tomer fun­nel and track the progress of sales. There are also a num­ber of other fea­tures in­clud­ing re­port­ing, email in­te­gra­tion, ac­tiv­ity re­minders and goal track­ing.
Some of the more ef­fec­tive uses of Pipedrive that we've seen have come as a re­sult of in­te­grat­ing with the CRM. For ex­am­ple, one client wanted an easy way to track and man­age pro­jects that were cre­ated in their soft­ware ap­pli­ca­tion (in or­der to fore­cast fu­ture man­u­fac­tur­ing re­quire­ments). As a re­sult we built a Pipedrive in­te­gra­tion within the ap­pli­ca­tion. So, when a cer­tain ac­tion is trig­gered it may cre­ate a deal in Pipedrive. When an­other ac­tion is per­formed in the app, it moves the deal to a dif­fer­ent stage in the pipeline. Our tech­nol­ogy plat­form Codebots has also in­te­grated with Pipedrive to track and man­age its cus­tomers.
Benefits: Better vis­i­bil­ity across what's done in your ap­pli­ca­tion with CRM func­tion­al­ity.
Drip & Mailchimp
https://​www.drip.com/
The most com­mon third party app that helps in the prod­uct growth stage is mar­ket­ing au­toma­tion soft­ware. Most peo­ple would be fa­mil­iar with Mailchimp. It has a fan­tas­tic vi­sual builder that helps with cre­at­ing email tem­plates (especially im­por­tant as you're build­ing your brand). We've in­te­grated with Mailchimp in the past to al­low cus­tomers to edit/​up­date au­to­mated emails.
People are usu­ally less fa­mil­iar with Drip. Internally, this is the mar­ket­ing au­toma­tion soft­ware we use. The key ben­e­fit of Drip over Mailchimp is the ad­vanced au­toma­tion work­flows that can be built. We de­cided to in­te­grate the WorkingMouse web­site with Drip. Hence, we can setup a piece of col­lat­eral on the site that when down­loaded trig­gers an email to be sent with the col­lat­eral at­tached. It's worth men­tion­ing that there are other fea­tures to Drip in­clud­ing a vi­sual email builder (similar to Mailchimp) and pre-built sub­scrip­tion forms that can be dropped into your web­site. As with both tools, there are a num­ber of re­port­ing ca­pa­bil­i­ties. There is a dif­fer­ence in the cost. Mailchimp has a lower sub­scrip­tion fee and a de­cent freemium model.
There are other plat­forms (like Hubspot) that we won't go into. They have ex­cel­lent doc­u­men­ta­tion but will likely cost more than Mailchimp and Drip.
These are some tools but there are so many other third party ap­pli­ca­tions in the mar­ket. The key is choos­ing the right tool for your busi­ness. We start as­sess­ing these third party tools dur­ing the Scoping pe­riod of our Way of Working.
Your vi­sion,
our ex­per­tise
true