Startups are hard. There is a reason why so many of them fail. It's good to have a vision of standing on the top of the mountain but in reality it's one ledge at a time. So, with a boost from Advance Queensland, we are better equipped to ascend to our next goals.
WorkingMouse is partnering with the University of Queensland (UQ) over the next 12 months. Professor Paul Strooper from the School of Electrical Engineering and Information Technology (ITEE) will be supervising the graduate as part of the program. Paul is a world renowned expert and brings an extra dimension and depth to the project. This is a key benefit of the KTPP that gives access to these type of experts.
We are proud to announce Taun Vos as the recent addition to our user eXperience (UX) team. Taun graduated from UQ in 2015 with a Bachelor of Multimedia. Taun - in the centre of the picture below - brings enthusiasm and skills to our team. Welcome to the team Taun!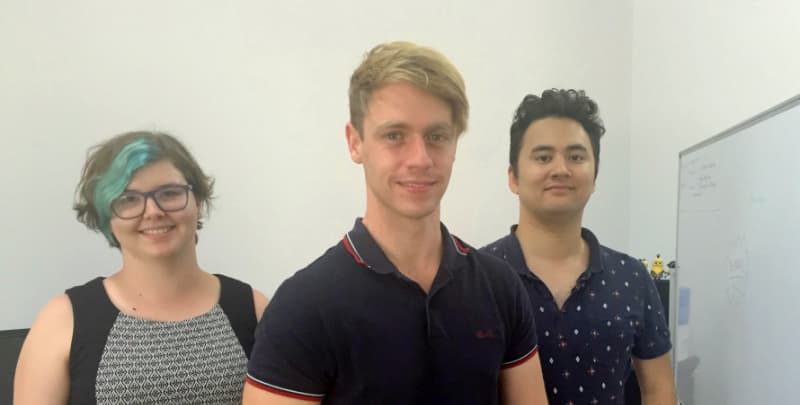 The project that the KTTP is contributing to is an important step in the evolution of WorkingMouse. We have created some robots and code generators that write code. Typically we can achieve an average of 90% code written automatically. Using robots in this way facilitates rapid application development and has a number of benefits to businesses who are innovating.
Our robots are able to generate code with capabilities such as workflows, documents, financials, timelines, mobile-apps, gamification and more. These types of capabilities usually takes months to build but now can be written in seconds.
Our tooling environment is currently installed locally on our software developers computers. The project is about taking these tools and making them available in the cloud as a Platform-as-a-Service (PaaS). The commercial outcome for WorkingMouse will be that we can scale our business model. Like other as-a-Service business models - such as Software-as-a-Service (SaaS) and Infrastructure-as-a-Service (IaaS) - the new business model will be subscription based and on-demand.
If you're a startup in Queensland, you should be taking a serious look at Advance Queensland. They have announced a number of initiatives that could help you. We want to say a big thanks for accepting us to the KTPP and we very much look forward to keeping everyone updated on the progress of our project.
Don't forget to keep up with all things software outsourcing by reading our article exploring the null hypothesis that is offshoring.