No doubt you have heard the phrase Agile project management a few times, either on Linkedin, from a co-worker or in a webinar at some point over the last few years. It seems like every organisation has some form of Agile project management implemented. Today I will be exploring some of the key advantages I see in subscribing to the Agile methodology and how it can impact your business.
1. Change management
The first, and most obvious advantage of Agile project management is that you have the ability to manage change more effectively. This is a result of breaking a project into smaller 'iterations' and reviewing the work through each step of the project as a team. If the team uncovers something that isn't working, or something that could be improved then you can pivot and quickly change direction by adding new or altered backlogged items into the next iteration accordingly.
2. Build what's most important first
When using an Agile software development methodology, you build out the list of requirements in a backlog in order of priority, this in turn ensures your development resources are adding what's most valuable first to the project.
3. Total transparency
Agile software development is highly transparent in nature due to the communication requirements. Daily stand-ups and retrospectives allow for the team and key stakeholders to stay informed on what is happening at each stage of the project allowing for smoother project management.
4. Reduced risk
Agile software development greatly reduces the risk of project failure due to the way it is structured, completing work in short bursts (sprints) ensures you either succeed on that piece of work, or, you fail fast and can re-assess your priorities.
Constant feedback loops through daily scrum meetings and open development team communication through reviews and retrospectives ensure that the project management team are aware of what is happening at each stage.
5. Better team collaboration
All of the team members are required to work together closely in Agile software development. The daily scrum meetings (or huddles) allow a platform for debriefing, collaborating to uncover blockers, future work and team upskilling.
6. Improved cashflow
All of the features and user benefits are discussed and planned prior to work beginning as well as during the build. Because of this, Agile software teams are able to prioritise tasks in order of key features and functionality, allowing the project management team to get an MVP out sooner than traditional development methods. With a product to market sooner, you can begin testing and measuring what additional functionality the user base is asking for.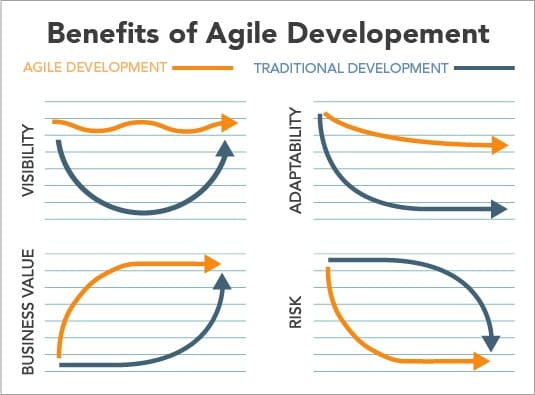 https://www.planview.com/resources/articles/benefits-of-agile-development/
7. Bottom line
Agile project management and Agile software development offer numerous advantages over traditional project management methodologies like waterfall. There will always be risk when embarking on a new project, the characteristics outlined in Agile project management, I believe, offer a way for lowering those inherent risks whilst delivering consistent value.