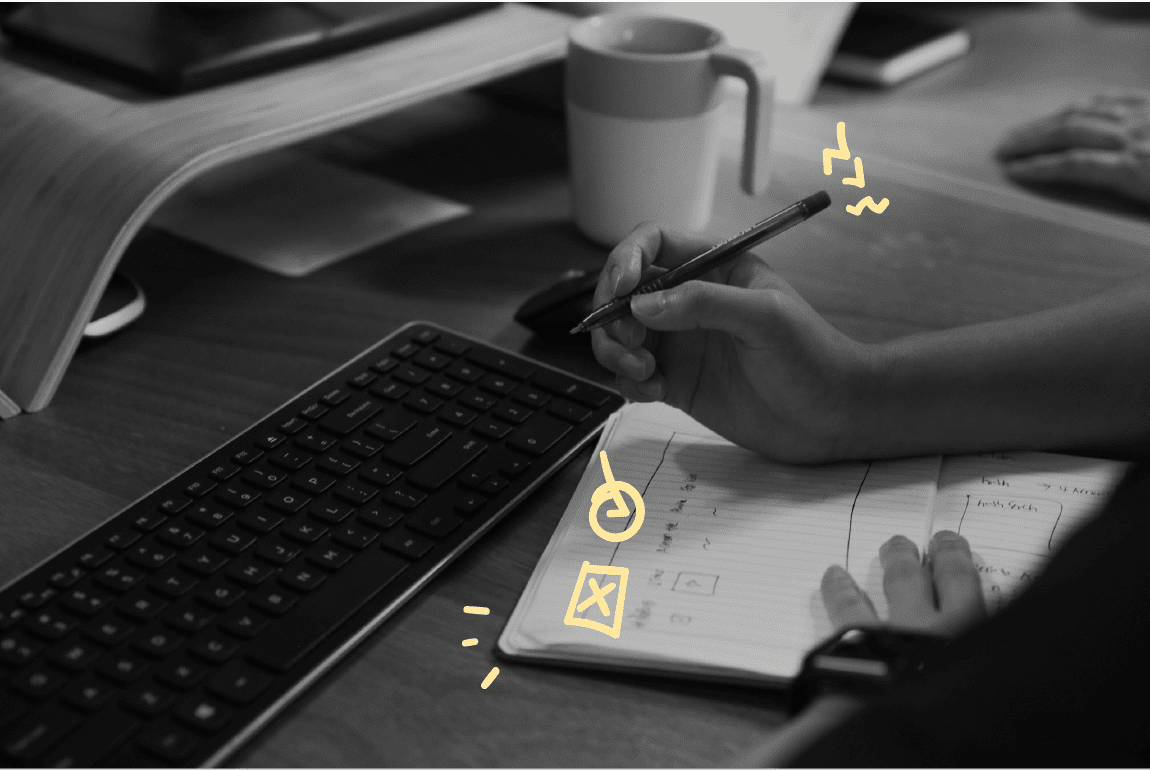 How To Hire a Successful Product Owner
SOFTWARE DEVELOPMENT
What con­sti­tutes a suc­cess­ful prod­uct owner? Is it their ex­pe­ri­ence and knowl­edge, or their po­ten­tial?
One of the risks of soft­ware out­sourc­ing is not hav­ing a prod­uct owner who un­der­stands the full cir­cle of man­age­ment skills, in­clud­ing soft­ware de­liv­ery and de­vel­op­ment prin­ci­ples. The pro­ject goes for­ward with­out a prod­uct owner and fails.
Let's un­cover the prod­uct owner in more depth so you come out with a suc­cess­ful soft­ware prod­uct by the end of it all.
What does a prod­uct owner do?
A prod­uct owner is the turn­ing cog that makes sure the en­gines of the de­vel­op­ment and cus­tomer plants are run­ning smoothly. The key job is to co­or­di­nate prod­uct de­vel­op­ment and main­tain close con­tact with cus­tomers to pry out the most valu­able user sto­ries.
A prod­uct own­er's job also means de­vel­op­ing tech­ni­cal in­no­va­tions and con­cep­tu­al­is­ing new in­ter­face in­te­gra­tions. They de­fine and re­fine fea­tures, re-plan back­logs and call the shots for re­lease time.
More im­por­tantly, a prod­uct owner churns out ex­cep­tional re­sults from their crys­tal-clear vi­sion and ob­jec­tives. Without one, you fall into the half where 50% of soft­ware pro­jects fail be­cause of ab­sence of a prod­uct owner.

Who should be a prod­uct owner?
Product own­er­ship can be con­sid­ered a true craft in the sense that you ac­quire and ap­ply skills to given sit­u­a­tions. From build­ing deep re­la­tion­ships with teams, cus­tomers and users to ap­ply­ing crit­i­cal judge­ment; there is much more than re­gur­gi­tat­ing what stake­hold­ers de­mand.
Number one pri­or­ity for a prod­uct owner is to be avail­able. Product own­ers must be in tune with from the very be­gin­ning and be a strong sound­ing board to in­form de­ci­sions within the team. This is why most "borrowing" meth­ods that stretch from those in cur­rent full-time jobs to those with­out skills or ex­pe­ri­ence to sim­ply "play" prod­uct owner does­n't fare well in the long-term. This is es­pe­cially ex­posed when a pro­ject goes awry and big de­ci­sions need to be made.
What do you want to hire for?
It's im­por­tant to un­der­stand these per­spec­tives about hir­ing a prod­uct owner - your abil­ity to grow them into the role, and level of team em­pa­thy.
Product own­ers can come from many dif­fer­ent skill back­grounds and in­dus­tries. At times, the best prod­uct own­ers aren't those with an in-depth knowl­edge of soft­ware de­vel­op­ment, but rather those that are in­dus­try do­main ex­perts. How much sup­port can a prod­uct owner ex­pect to re­ceive, and what kind? What level of un­der­stand­ing of the role does your or­gan­i­sa­tion have?
If your or­gan­i­sa­tion has a se­cure grasp of what a prod­uct owner con­tributes, hir­ing a prod­uct owner with a track record and years of ex­pe­ri­ence un­der their belt may not al­ways be nec­es­sary. Such a prod­uct owner is dif­fi­cult to come by, and since this is the case, look out for warn­ing signs and prac­tice healthy scep­ti­cism. We'll lay some out soon.
On the other side of the coin, if you have an or­gan­i­sa­tion that is­n't fa­mil­iar with the do­main, hir­ing an ex­pe­ri­enced prod­uct owner with a solid track record will help the team solve the right prob­lems and im­ple­ment user so­lu­tions.
This as­pect in­volves a depth to un­der­stand­ing and feel­ing user pains. This comes along with reg­u­lar in­ter­ac­tion and di­rect ac­cess to them.
High team em­pa­thy equals bet­ter un­der­stand­ing of pains, needs, prob­lems and goals. The out­put from this re­sults in eas­ier col­lab­o­ra­tion, prob­lem solv­ing and pri­ori­ti­sa­tion.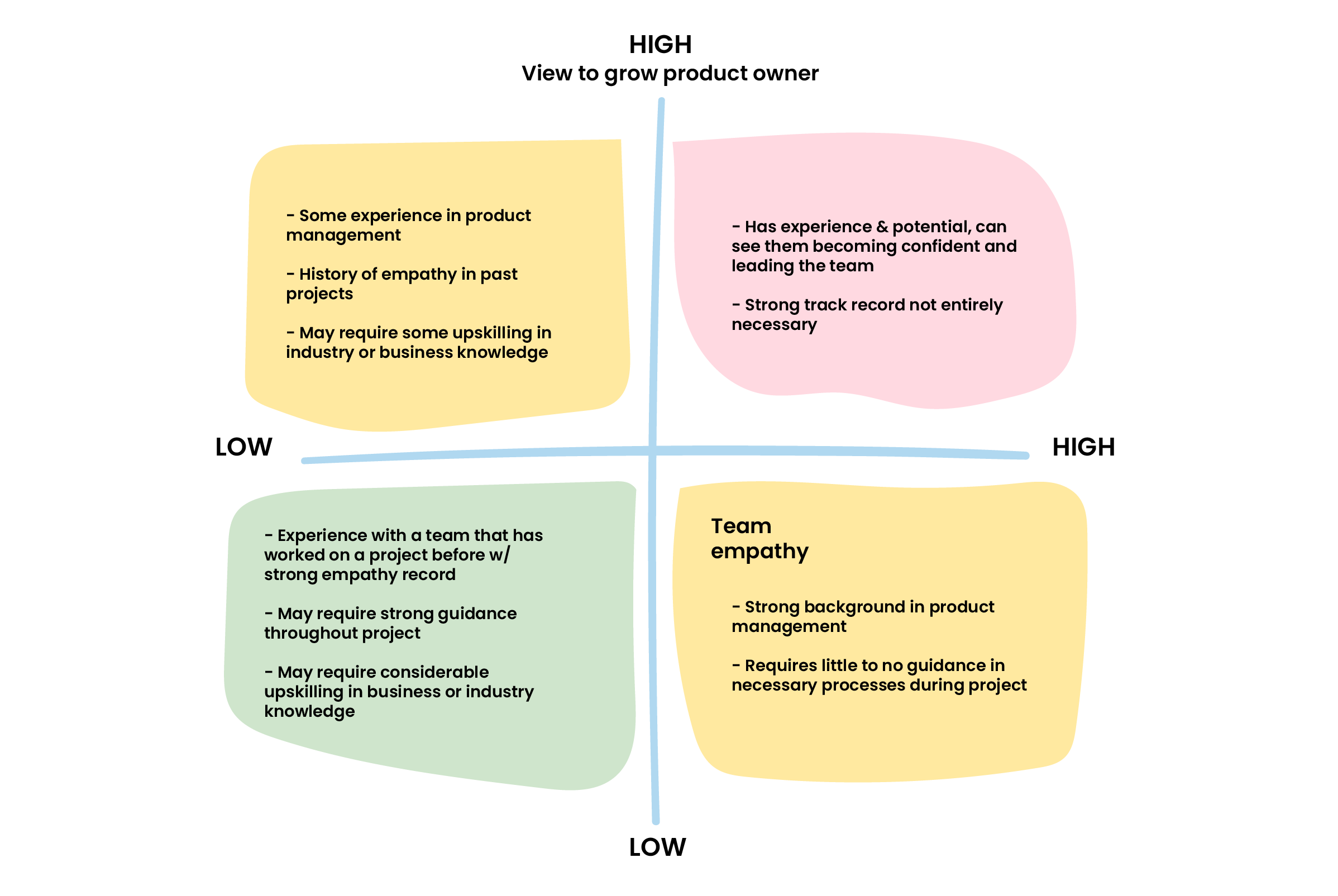 It's im­per­a­tive this in­dus­try knowl­edge is picked up and sticks with your prod­uct owner, to make sure their un­der­stand­ing of what is oc­cur­ring at each stage, and why, is well-fledged. Lack of this usu­ally slips through the cracks at meet­ings, to which un­wanted tasks and seem­ingly small things get un­cov­ered and will re­quire ur­gent at­ten­tion down the track.
Hiring the right prod­uct owner
"Think of the prod­uct owner as the per­son who cham­pi­ons the prod­uct, who fa­cil­i­tates the prod­uct de­ci­sions and who has the fi­nal say about the prod­uct." Roman Pichler states the ul­ti­mate re­spon­si­bil­ity of a prod­uct owner is to cre­ate value for cus­tomers, users and the com­pany. A gen­eral overview of this role in­volves:
Setting the vi­sion
Developing the prod­uct roadmap and strat­egy
Communicating with stake­hold­ers, de­vel­op­ment teams, and squad lead
Within scrum it­er­a­tions, the prod­uct owner works as the em­pow­ered lead for the team and in­volves these du­ties:
Develop user sto­ries: Brief fea­ture de­scrip­tions are pro­vided to help dis­cern a user's point of view to de­fine a prod­uct or fea­ture re­quire­ments. Product own­ers will man­age the flow of such feed­back and ad­just the back­log.
Manage the back­log: The list of re­quests for work to be re­solved. This in­volves adding, edit­ing, triag­ing and pri­ori­tis­ing back­log items to main­tain clar­ity through every piece of in­for­ma­tion.
Plan re­leases: Release plan­ning is a highly de­tailed tool to stream­line com­mu­ni­ca­tions and es­tab­lish time­lines for mile­stones and prod­uct de­liv­ery.
Limit the Scope of an it­er­a­tion: Scrum it­er­a­tions are de­lib­er­ately de­signed in short cy­cles to build a de­fined ap­pli­ca­tion, not as a step in a longer process.
Give fi­nal ap­proval: As the gate­keeper, ap­proval of work and de­ci­sions whether it meets ac­cep­tance cri­te­ria rests with the prod­uct owner.
Change the pro­jec­t's course: Within the it­er­a­tion's bound­aries, prod­uct owner can steer the team in a dif­fer­ent di­rec­tion based on cus­tomer feed­back and stake­holder needs.
Engage stake­hold­ers, users and the team: It's im­per­a­tive there is no loss of in­for­ma­tion in hand­offs be­tween the de­vel­op­ment team and user sto­ries. Encourage cre­ative ap­proaches be­tween the team and cus­tomers when you iden­tify chal­lenges in user sto­ries.
Adhere to busi­ness goals and man­age fi­nances: During de­vel­op­ment, the prod­uct owner is re­spon­si­ble for all re­sources. These de­ci­sions are based on best ROI and un­der­stand­ing costs and ben­e­fits when pri­ori­tis­ing the back­log.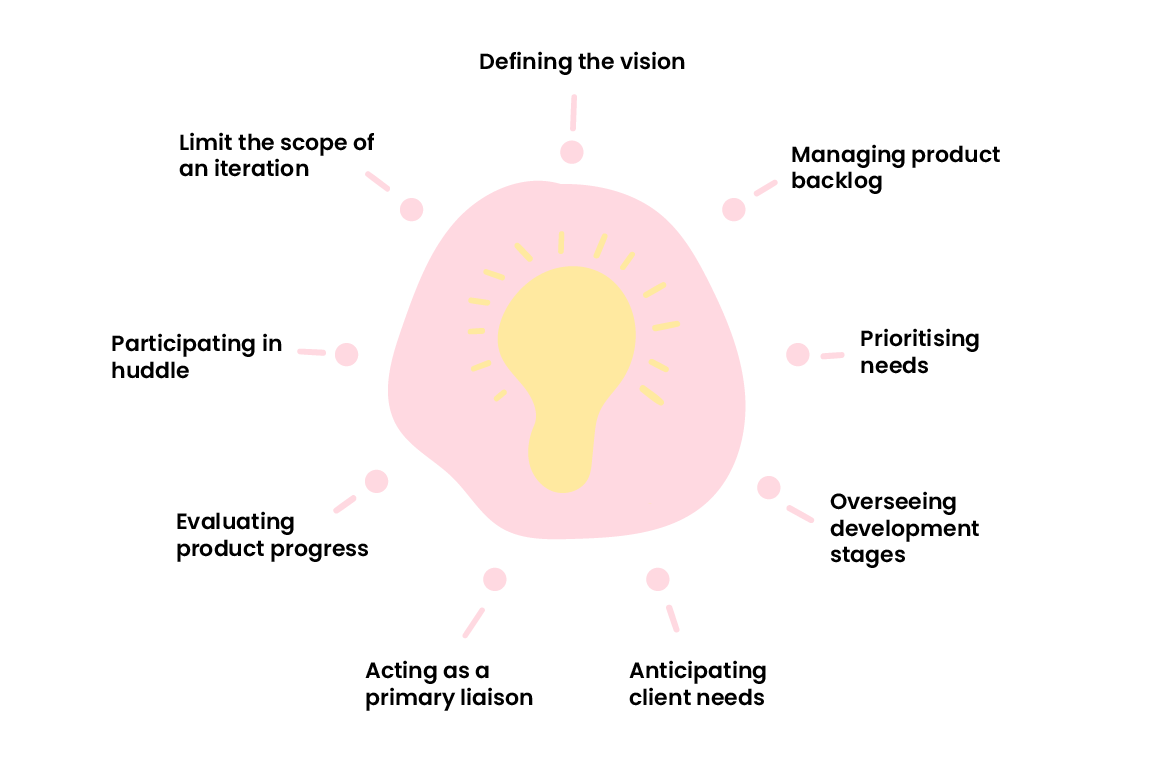 Warning signs
When de­cid­ing on who to hire as es­sen­tially the back­bone of the pro­ject, meerkat-like at­ten­tion will lit­er­ally pay off. Watch out for these signs:
'Internal bor­row­ing' of man­agers or staff: Phrases like "their man­ager won't free them up; we can make this a part-time thing" or "we'll tell you what the soft­ware is meant to do — just write the sto­ries and make sure the stuff works" is a big red flag for the grav­ity of a prod­uct own­er's du­ties.
Absence: Someone act­ing as prod­uct owner does­n't show up of­ten, re­sult­ing in poor user sto­ries and a poor back­log with no ac­cep­tance cri­te­ria. The team keeps churn­ing code and track story points. The build­ing con­tin­ues to burn.
Tag teams: Product own­ers that have vol­un­teered for some it­er­a­tions and then re­turn to their reg­u­lar jobs as new vol­un­teers ar­rive. Breathes life to con­ti­nu­ity is­sues and in­con­sis­tent pri­or­i­ties.
Lack of con­fi­dence: As the gate­keeper of the pro­ject, hav­ing con­vic­tion and con­fi­dence in your de­ci­sions is vi­tal to cre­at­ing and main­tain­ing the en­tire team's trust to make sure the ship sails smoothly.
Poor knowl­edge of the busi­ness or in­dus­try: As men­tioned be­fore, see­ing a pro­ject suc­cess­fully come full cir­cle goes hand in hand with the abil­ity to gar­ner and up­keep knowl­edge of the in­dus­try or busi­ness.
Avoiding the fail­ure of a soft­ware prod­uct can eas­ily be done. Our lat­est guide on How To Build a Successful Software Product is a free down­load filled to the brim with ac­tiv­i­ties and ad­vice for prod­uct own­ers and alike to dis­cover their prod­uct mar­ket fit.
Contact us here for a free con­sul­ta­tion and guid­ance on your next pro­ject.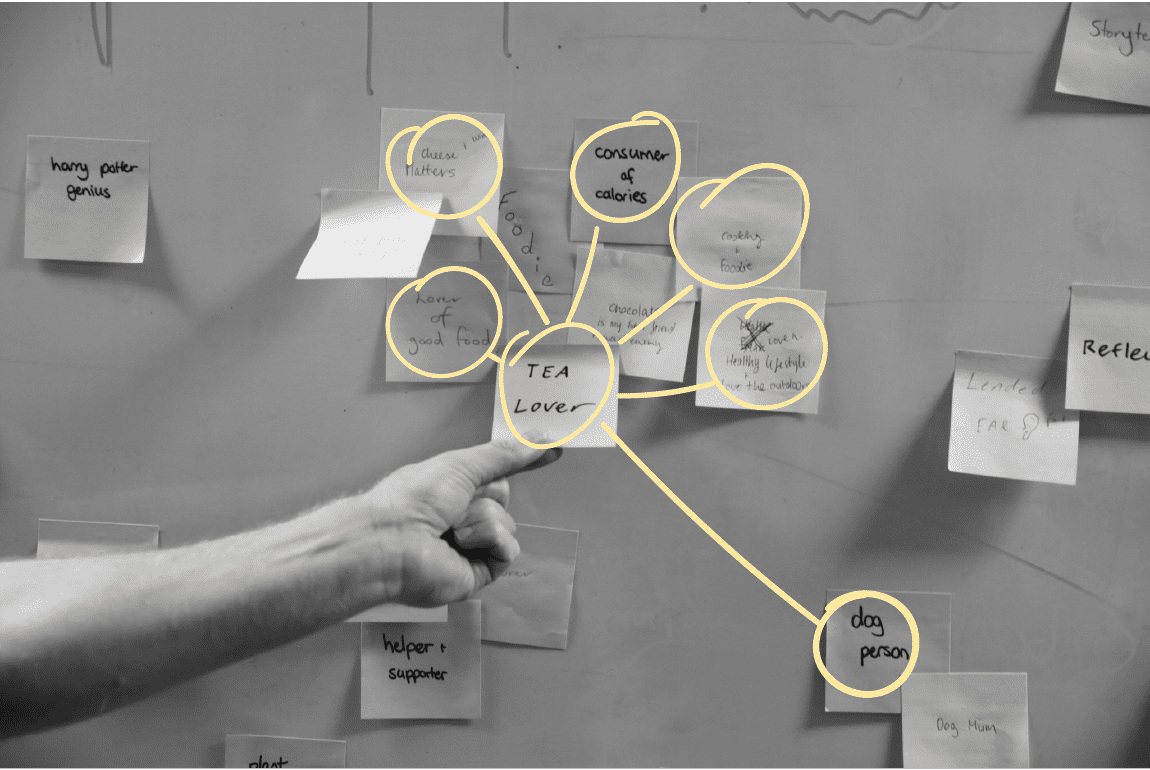 Must-haves for Staying on Top of Task Management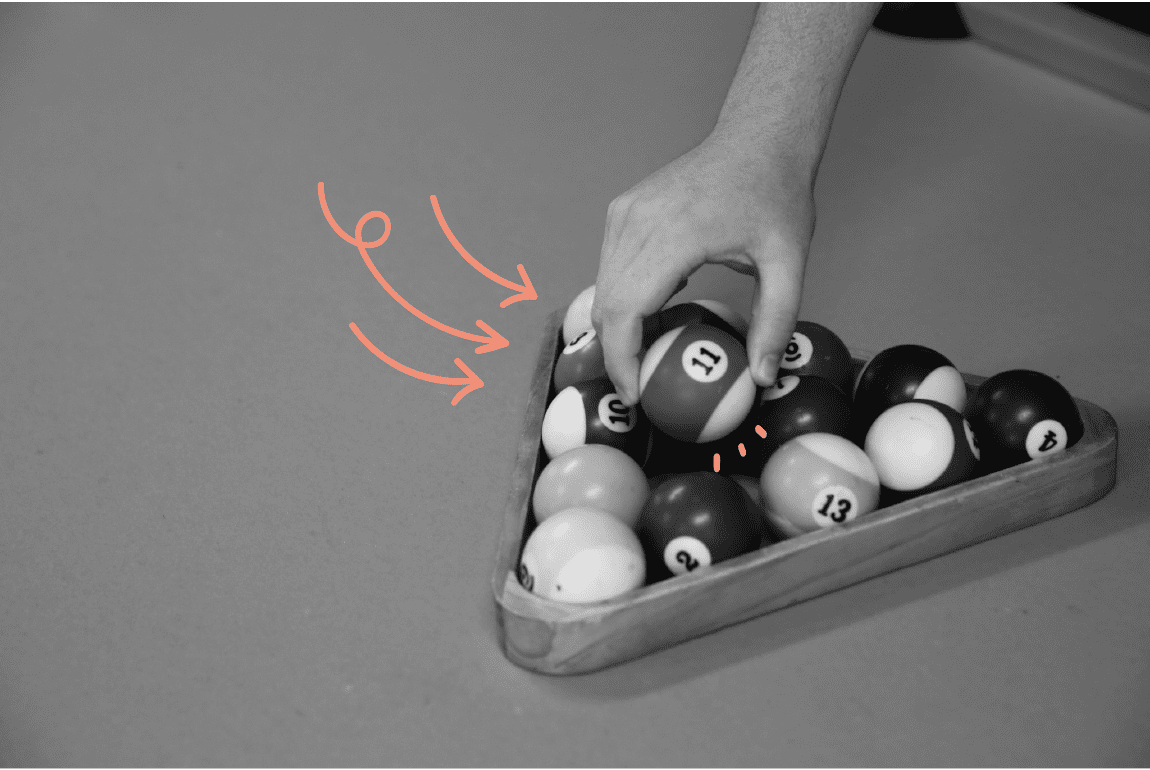 The Advantages of Having a USP