As an island initially perceived as a giant jail in the middle of nowhere, Australia's done pretty well for itself. We have a GDP growth higher than the international average, a lower unemployment rate and higher private business investment rate. I guess this is what Prime Minister Turnbull meant when he was talking about jobs and growth. One particular industry set to benefit from the forecasted growth is Australia's IT industry.
Australia's digital sector is on the rise, and as a result it's a great time to be an IT professional ($$$). According to the 2017 salary guide from Robert Half recruitment, starting salaries for technology professionals in Australia are expected to increase by an average of 2.7%. When it comes to competing with other countries, Australia has ranked relatively well in key performance metrics. The following table lists where Australia ranks for digital indicators.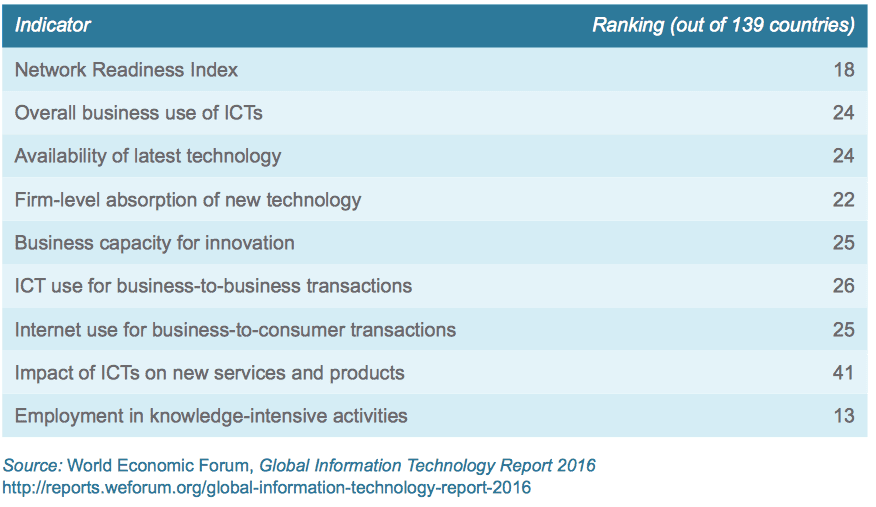 ABS figures showed the most competitive salary increases are being offered in Melbourne, with an average year-on-year increase of 4.1%, followed by Brisbane at 3.2%, Sydney at 2.2% and Perth at 1.1%. Yep, it sure is a great time to be a Brisbane software developer.
Destroy The Retail Environment
Much has been made of Amazon's impending entry into the Australian market with many questioning whether local businesses can compete. In November an investment fund manager quoted an Amazon employee as saying the company aimed to "destroy the retail environment in Australia" by undercutting local prices to the tune of 30 per cent. We won't know how local businesses will compete with the global powerhouse until it enters the market. However many are speculating that the arrival of Amazon can open up a massive new market for small businesses who choose to sell through the internet giant. Earlier this year, Amazon Australia started recruiting people to work on its Amazon Fresh Project, advertising software development roles in Brisbane on its website.
Myriad Festival
Looking locally, there are a number of reasons to be excited if you're a software developer in Brisbane. The Myriad festival took place on the 29th to the 31st of March and showcased Queensland's startups and innovators. It also provided opportunities to meet with international and local investors. While the festival was unfortunately timed - right as Brisbane was hit with flash flooding, many brave entrepreneurs and investors toughed it out. As the startup culture develops further and more 'Myriad type' festivals attract global talent to Brisbane, the demand for software developers will only increase.
Software Developers To Get a Helping Hand
As the demand for software developers increases, there is a concern that supply might not be able to keep up with demand. With a population 7.5% that of the United States, we're already undermanned. So how do we ensure we have the resources to keep up with demand? We believe the Codebots platform will streamline the software development process. Codebots write over 90% of the code that a human software developer would usually have to do. This platform won't replace human software developers. The Codebots vision is for humans to unleash their inner creativity by partnering with bots who can do the heavy lifting that traditionally sinks software projects with technical debt and legacy.
The scene is set, Brisbane's becoming a player on the global stage. In order to keep growing we need to embrace the shift to a tech-centric society. Software developers are in demand and we're ready to give the people what they want.