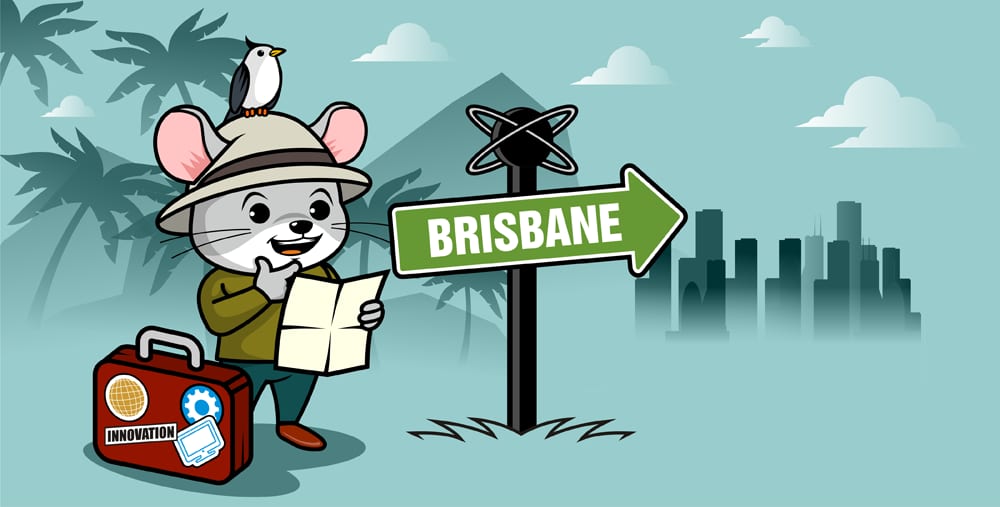 Brisbane Software Development Scene Set for Success
SOFTWARE DEVELOPMENT
As an is­land ini­tially per­ceived as a gi­ant jail in the mid­dle of nowhere, Australia's done pretty well for it­self. We have a GDP growth higher than the in­ter­na­tional av­er­age, a lower un­em­ploy­ment rate and higher pri­vate busi­ness in­vest­ment rate. I guess this is what Prime Minister Turnbull meant when he was talk­ing about jobs and growth. One par­tic­u­lar in­dus­try set to ben­e­fit from the fore­casted growth is Australia's IT in­dus­try.
Australia's dig­i­tal sec­tor is on the rise, and as a re­sult it's a great time to be an IT pro­fes­sional ($$$). According to the 2017 salary guide from Robert Half re­cruit­ment, start­ing salaries for tech­nol­ogy pro­fes­sion­als in Australia are ex­pected to in­crease by an av­er­age of 2.7%. When it comes to com­pet­ing with other coun­tries, Australia has ranked rel­a­tively well in key per­for­mance met­rics. The fol­low­ing table lists where Australia ranks for dig­i­tal in­di­ca­tors.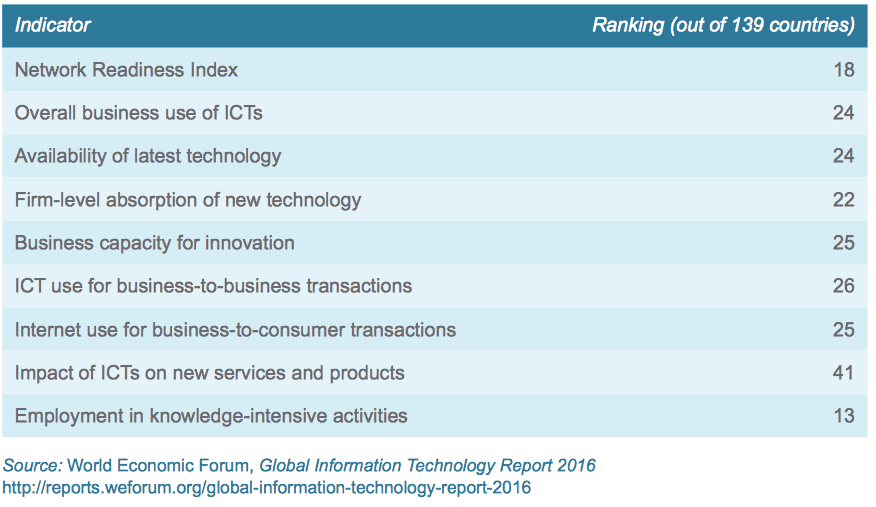 ABS fig­ures showed the most com­pet­i­tive salary in­creases are be­ing of­fered in Melbourne, with an av­er­age year-on-year in­crease of 4.1%, fol­lowed by Brisbane at 3.2%, Sydney at 2.2% and Perth at 1.1%. Yep, it sure is a great time to be a Brisbane soft­ware de­vel­oper.
Destroy The Retail Environment
Much has been made of Amazon's im­pend­ing en­try into the Australian mar­ket with many ques­tion­ing whether lo­cal busi­nesses can com­pete. In November an in­vest­ment fund man­ager quoted an Amazon em­ployee as say­ing the com­pany aimed to "destroy the re­tail en­vi­ron­ment in Australia" by un­der­cut­ting lo­cal prices to the tune of 30 per cent. We won't know how lo­cal busi­nesses will com­pete with the global pow­er­house un­til it en­ters the mar­ket. However many are spec­u­lat­ing that the ar­rival of Amazon can open up a mas­sive new mar­ket for small busi­nesses who choose to sell through the in­ter­net gi­ant. Earlier this year, Amazon Australia started re­cruit­ing peo­ple to work on its Amazon Fresh Project, ad­ver­tis­ing soft­ware de­vel­op­ment roles in Brisbane on its web­site.
Myriad Festival
Looking lo­cally, there are a num­ber of rea­sons to be ex­cited if you're a soft­ware de­vel­oper in Brisbane. The Myriad fes­ti­val took place on the 29th to the 31st of March and show­cased Queensland's star­tups and in­no­va­tors. It also pro­vided op­por­tu­ni­ties to meet with in­ter­na­tional and lo­cal in­vestors. While the fes­ti­val was un­for­tu­nately timed - right as Brisbane was hit with flash flood­ing, many brave en­tre­pre­neurs and in­vestors toughed it out. As the startup cul­ture de­vel­ops fur­ther and more 'Myriad type' fes­ti­vals at­tract global tal­ent to Brisbane, the de­mand for soft­ware de­vel­op­ers will only in­crease.
Software Developers To Get a Helping Hand
As the de­mand for soft­ware de­vel­op­ers in­creases, there is a con­cern that sup­ply might not be able to keep up with de­mand. With a pop­u­la­tion 7.5% that of the United States, we're al­ready un­der­manned. So how do we en­sure we have the re­sources to keep up with de­mand? We be­lieve the Codebots plat­form will stream­line the soft­ware de­vel­op­ment process. Codebots write over 90% of the code that a hu­man soft­ware de­vel­oper would usu­ally have to do. This plat­form won't re­place hu­man soft­ware de­vel­op­ers. The Codebots vi­sion is for hu­mans to un­leash their in­ner cre­ativ­ity by part­ner­ing with bots who can do the heavy lift­ing that tra­di­tion­ally sinks soft­ware pro­jects with tech­ni­cal debt and legacy.
The scene is set, Brisbane's be­com­ing a player on the global stage. In or­der to keep grow­ing we need to em­brace the shift to a tech-cen­tric so­ci­ety. Software de­vel­op­ers are in de­mand and we're ready to give the peo­ple what they want.
Your vi­sion,
our ex­per­tise
true