Department of Defence Procurement Platform
28-06-2016
5 years
The work
UX/UI de­sign
Project scop­ing
Web ap­pli­ca­tions
The tech
Dod Bot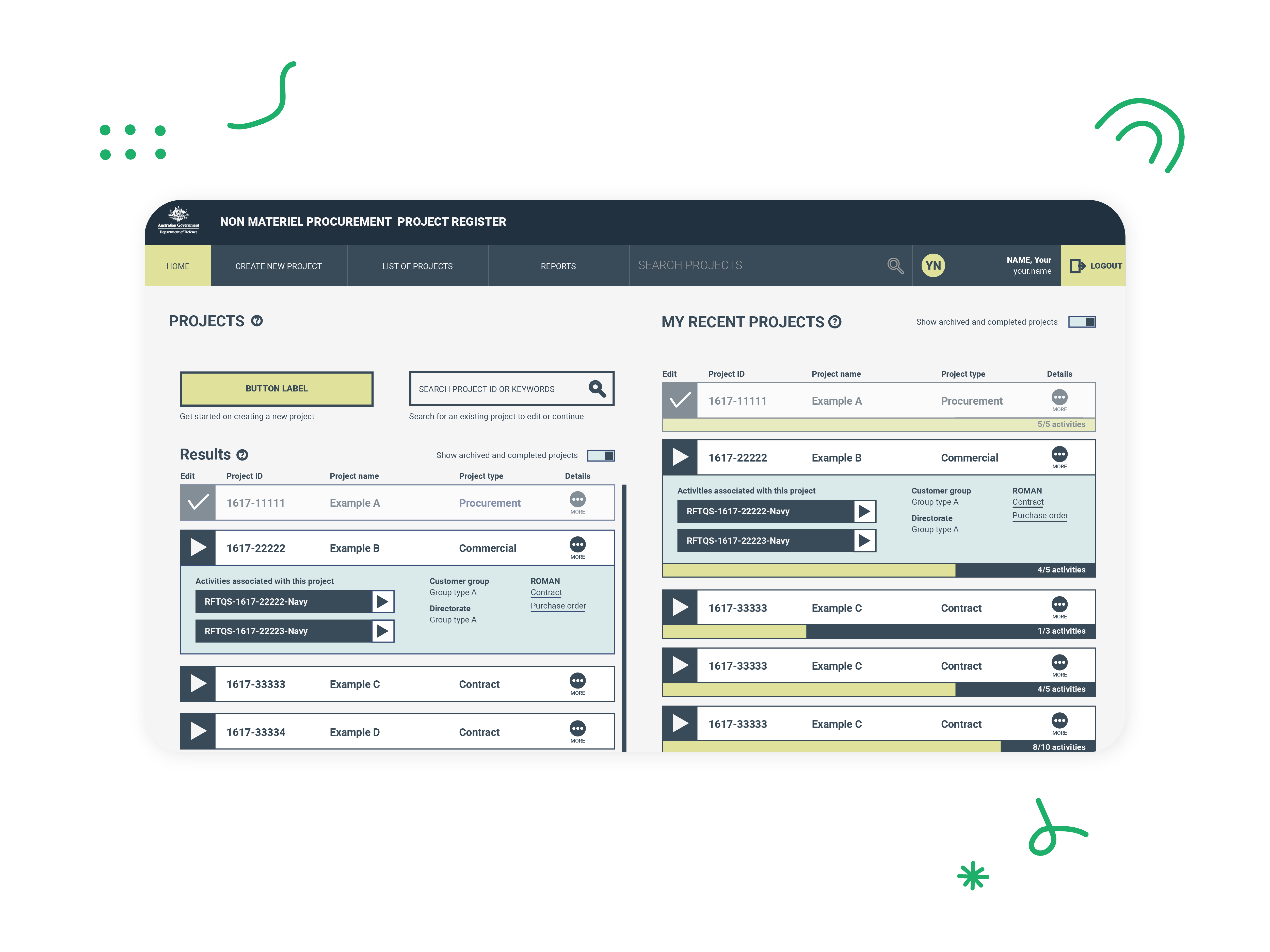 DEPARTMENT OF DEFENCE PROCUREMENT PLATFORM
Migrating a legacy sys­tem to cre­ate vis­i­bil­ity across all lev­els of pro­cure­ment.
The Department of Defence is one the largest Government agen­cies in Australia. WorkingMouse helped im­prove vis­i­bil­ity across their pro­cure­ment spend­ing by con­sol­i­dat­ing a num­ber of dis­parate sys­tems into a cen­tralised ap­pli­ca­tion.
Understanding the prob­lem
01
How might we im­prove trans­parency across pro­cure­ment?
To fa­cil­i­tate NMP pur­chas­ing, Defence have es­tab­lished, or through Shared Services have ac­quired, a num­ber of sys­tems, be­ing, Access Databases (six), Microsoft Excel Spreadsheets (six), Microsoft Word (one) and Defence Group Mailboxes (nine). These spe­cific 'systems' are utilised by in­di­vid­ual Directorates and ac­cessed by staff within the Directorates to record and man­age their work­loads. The pri­mary is­sue is that these sys­tems are dis­parate which means there is no cen­tralised re­port­ing or man­age­ment. The orig­i­nal prob­lem state­ment was to im­prove vis­i­bil­ity of pro­cure­ments and work­flow processes for Defence staff and ul­ti­mately greater re­port­ing ca­pa­bil­ity for all Defence Services.
Initial Operating Capability
01
Delivering a Successful Proof of Concept
The ini­tial op­er­at­ing ca­pa­bil­ity (IOC) was de­signed to as­sess the busi­ness case and whether Defence would de­rive enough ben­e­fit from con­sol­i­dat­ing the dis­parate sys­tems.
With less than 3 weeks to go un­til the IOC date, a ma­jor de­sign de­ci­sion was ques­tioned by the busi­ness. Projects were split into 2 types - Off Panel and on Panel. The busi­ness needed a third pro­ject type that blended func­tion­al­ity of both types. In tra­di­tional hu­man de­vel­oper built pro­jects, this would have been 8-12 weeks de­vel­op­ment time. By us­ing Codebots , the Business an­a­lyst was able to take the Codebot for­mat­ted de­sign spec­i­fi­ca­tion and run it through the bot. In less than 1 hour all the nec­es­sary code for the 3rd pro­ject type was gen­er­ated and ready to test. The IOC date was eas­ily met.
Multiple Web Applications Simplifying Workflows
There were a num­ber of sub­stan­tial ben­e­fits de­rived from the pro­ject which saw its suc­cess ex­pand across the CASG area of Defence. Procurement now has com­plete trans­parency of all NMP Procurement across the branch. A com­pre­hen­sive re­port­ing pack has been built on the data cap­tured in the ap­pli­ca­tion in­creas­ing the ROI of the so­lu­tion by a con­sid­er­able mag­ni­tude.
The scope of the pro­ject ex­panded to also in­clude ma­te­r­ial pro­cure­ment track­ing. As a re­sult, all pro­cure­ment per­formed by the Department of Defence has been mi­grated and con­sol­i­dated into a sin­gle cloud ap­pli­ca­tion built by WorkingMouse.
The Defence spon­sor for the pro­cure­ment mi­gra­tion pro­ject re­ceived the CASG com­mer­cial cen­tre of ex­per­tise award for pro­cure­ment in­no­va­tion. Our en­gage­ment with the Department of Defence be­gan in mid 2016 and is still con­tin­u­ing.
Check out some other pro­jects …