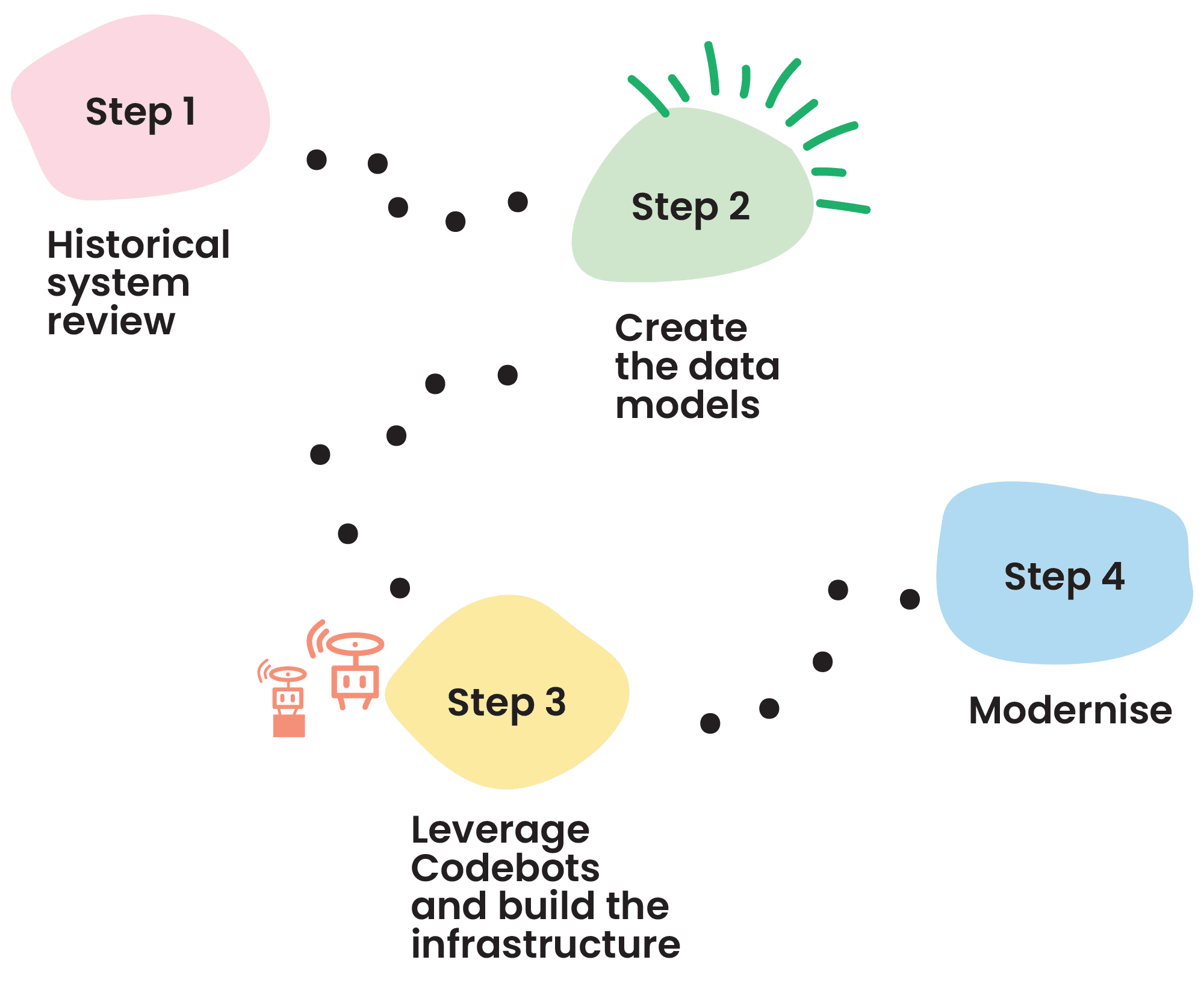 Legacy Modernisation
Feeling trapped with your legacy soft­ware? Let us res­cue you by repli­cat­ing the schema of your ag­ing ap­pli­ca­tion and re­ju­ve­nat­ing it into some­thing more se­cure, more nim­ble and far less costly to main­tain.
Why mod­ernise?
We can eas­ily see with our own eyes when hard­ware and other of­fice equip­ment break down over time. With soft­ware, it is far more dif­fi­cult to no­tice the vir­tual duct tape and su­per­glue hold­ing it to­gether af­ter years in op­er­a­tion.
While legacy ap­pli­ca­tions may per­form vi­tal func­tions for a busi­ness, they can also greatly hin­der busi­ness agility and bur­den your I.T department. Legacy ap­pli­ca­tions also pre­vent busi­nesses from piv­ot­ing and re­spond­ing to changes in the mar­ket in a timely man­ner.
The an­swer to the time and money that is sunk into these older ap­pli­ca­tions is legacy mod­erni­sa­tion.
How it works
Using the Codebots tech­nol­ogy, we can repli­cate the ex­ist­ing schema of a legacy ap­pli­ca­tion. This pre­serves as much of the orig­i­nal data as pos­si­ble while al­low­ing us to up­date the tech­nol­ogy, func­tion­al­ity and user ex­pe­ri­ence.
Our team will delve into your ex­ist­ing soft­ware so­lu­tion and iden­tify the risks and op­por­tu­ni­ties of mod­erni­sa­tion dur­ing scope. The primary goal of legacy mod­erni­sa­tion is to keep the busi­ness logic and data in­tact but al­low for your soft­ware so­lu­tion to be trans­formed.
Typically, this in­volves cre­at­ing a mi­gra­tion path for the data, re­view­ing whether the busi­ness logic is in line with busi­ness prac­tice and mov­ing on to a mod­ern tech­nol­ogy stack.
The Benefits
Updating your soft­ware will re­duce the time and money di­verted into main­tain­ing older ap­pli­ca­tions. This could save your busi­ness lit­er­ally thou­sands of dol­lars and en­able you to put funds into things that ac­tu­ally grow your busi­ness.
By mod­ernising, rather than sim­ply re­plac­ing, there is re­duced dis­rup­tion to your busi­ness while al­low­ing for im­proved user ex­pe­ri­ence and ac­com­mo­dat­ing for in­te­gra­tion with newer tech­nolo­gies.
Our team of ex­perts will guide you through this com­plex process so that you are able to dig­i­tally trans­form the ap­pli­ca­tion while mit­i­gat­ing any risks.
Learn more about Project Rescue