"DevOps will heal the world!"
As you know, we're about to hit ASX reporting season. This means the top companies across Australia have been spending the last few months reviewing their results and planning how they'll take over the world in the coming financial year.
Here at WorkingMouse, we've been planning in financial years for 3 years now and are flattered these companies are emulating our planning model (wink, wink).
So, consider this our round-up and release of our strategy for the 21/22 financial year! You'll be getting the notification of this in your CommSec account shortly…I'm sure. The video below features a few snippets from the strategy day with our CEO and all-round legend, Matt Francis. Matty talks through our strategies for the next financial year.
Retro of the 20/21 Financial Year
Before we let the cat out of the bag on this year's strategy, let's take a look at what happened last year.
Well, we're still here! If not a little more widely dispersed than previously.
To kick off, what was the objective last financial year?
Vision: Foster a culture of creativity and mastery that enables us to deliver valuable products for our clients.
Mission: Broaden our business horizons through a dedication to continuous improvement, with an emphasis on delivering value to our clients and enabling our people to achieve excellence.​
Strategic Pillars:
Consistent quality throughout and between our project phases.
Expand our pipeline and customer reach
Customer retention through delivering value to our customers and their users
People at the heart of software
Upon reflection, we realised that the vision and mission we landed on after hours of deliberation were convoluted and we needed to pull these back in line with our company's mission statement. Essentially, we created it, presented it, and then forgot about it.
As for what went well; we achieved our revenue objective and made solid strides in all pillars. We got a lot better at Mobile App development, onboarding, released our new website and digital Way of Working.
My personal favourite achievement was the success of putting in place a Product Success strategy to help customers make scientific decisions post-development and make sure they are achieving their product objectives.
What didn't go so well was that we broke continuity by adding too many people to the customer relationship. We also focused a bit too much on the process of building and lost sight of the fact that while the Way of Working is our guide, the outcome should be the focus.
We created a project bottleneck in a small DevOps team which caused delays to product releases and was not automated. We also lost sight of internal career progression opportunities as well as merging our Support organisation Rogue2 into WorkingMouse.
Strategy for 21-22 Financial Year
Alrighty, so what's the plan this year?
Let's get straight into it.
Vision: Discover new boundaries (to quote the meerkat, "simples")
Mission: Create exciting opportunities for our employees and clients to thrive through business growth (let's grow through internal experience and enable our customers to grow alongside us)
Strategic Pillars:
Customer Experience: Improve our customer's journey throughout the Way of Working (WoW) stages.
Continuous Improvement: Reignite our culture of collaborative process improvement across the organisation.
Technology Automation: Automate the automatable to increase efficiency and improve quality.
Career Progression: Clearly highlight career progression options and opportunities across WorkingMouse.
Clearly, these are macro-objectives and therefore a little too fluffy to get any value out of at face value.
So, what are the most important, specific items we're aiming for this financial year?
1. Automated DevOps processes on all customer projects
We've created ourselves a bottleneck in just having a dedicated DevOps team. What we're going to do here is shift some key changes from the Way of Working to embrace DevOps more holistically.
This is important as an application spends the majority of time in its lifecycle in the support phase. Therefore, we should be ready for this with quicker releases and a more stable and consistent setup from the get-go. Consider this: testing frameworks and deployment environment/pipelines that are all set up before the team and the bot even writes their first line of code.
Here's a sneak peek of what we think this will look like soon: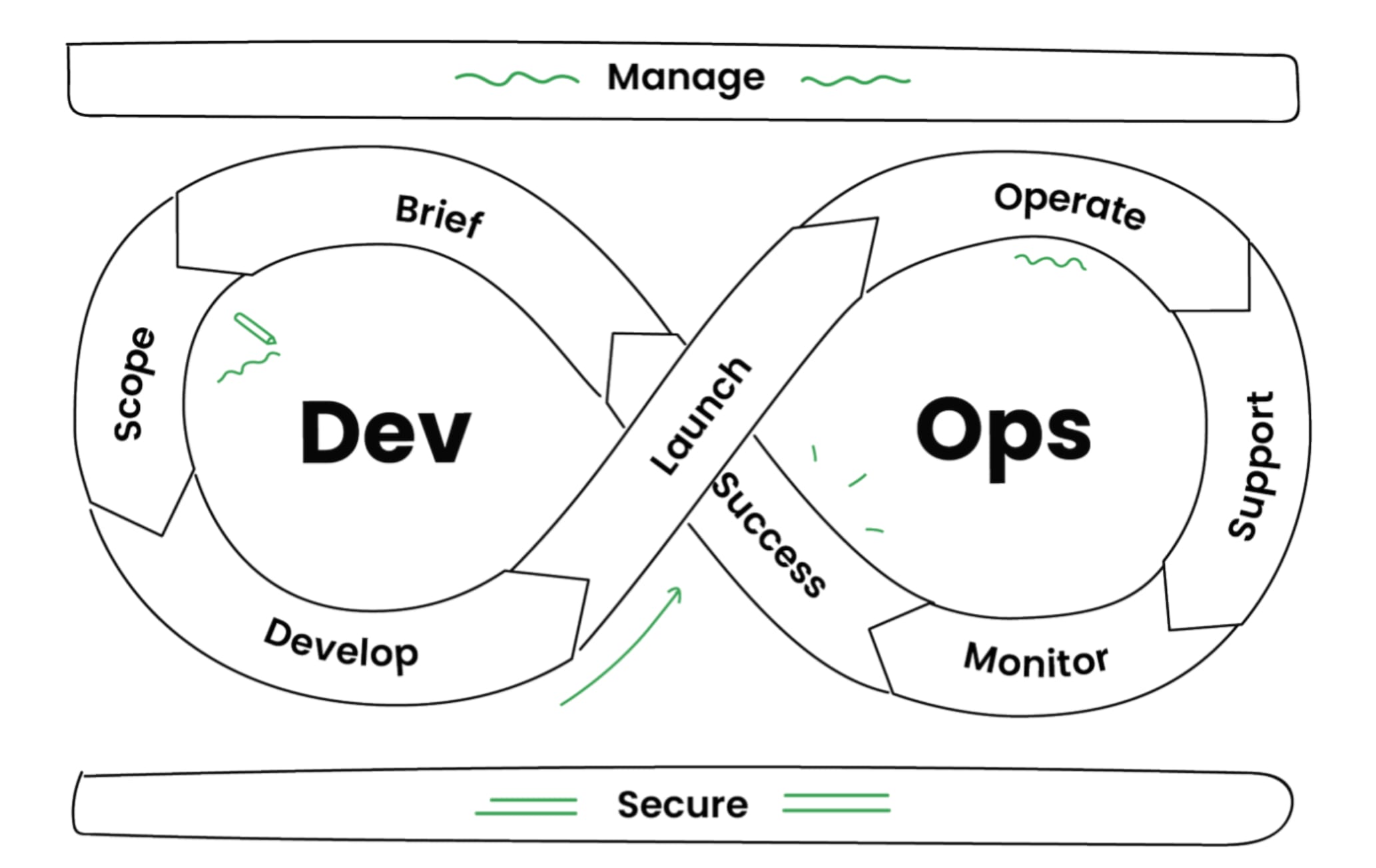 The changes we're implementing to enable this include an organisational shift in moving support to 'Operations'. This will involve Operations from the very beginning to ensure they control the releases, environments and testing suite/quality assurance.
Ultimately, as you can see above, this will add a few stages to our current Way of Working:
Operate – The hardest stage in the software development lifecycle is moving from development to support as it's the first time the software is operated by real-world users. This means we'll be giving hypercare to the product at this point.
Monitor – Traditionally we've not offered our customers active monitoring. We're aiming to enable proactive monitoring as a professional service. This will include greater cyber security and enable patching for security and improvements across all stock and customer libraries, frameworks and integrations.
We're also including the addition of two new perpetual stages, which will be:
Manage – The consistent facilitation of the business relationship and the customer's strategic goals, and;
Secure – Designing, building and releasing secure applications. It needs to never stop being a focus.
Now, you may have taken notice that I've mentioned that DevOps is going to save the world a few times in this blog. Well, this is how we'll level up our service delivery and enable DevOps to do just that (save the world, that is!)
2. Increase the experience within our operational ranks.
Did you know, WorkingMouse started at the UQ iLab accelerator? Many of the undergrads who worked casually for us then are still with us 6 years later!
Also, some of our best team members with us today came in through our Undergraduate program and partnership with the University of Queensland computing society (UQCS).
Therefore, we're going to ensure we fill positions from the ground up, promote team members who want to learn across multiple roles and ensure we always have new talent to level up!
3. Customer Experience
The last key section is ensuring customer experience through our Way of Working. We found that we added too many people to engage with within the customer relationship, as opposed to including just the Designer, Squad Lead and Account Manager to converse with. We've simplified this now.
Secondly, we stopped iterating our Way of Working by not enabling the team to progress their own experiments. We also added some serious steerage weight to the company with too many cross-functional teams, for example, a hit squad, a security team, and the leadership team. Therefore, we've simplified this to reintroduce the Jedi Council!
The Jedi Council is one team that enables team members to democratically nominate their own experiments. This means the people dealing with and seeing the problems can solve them company-wide, allowing the benefits to be felt for all customers.
In summary, we're looking forward to creating exciting opportunities for our employees and clients to thrive through business growth! Here's to another awesome year!