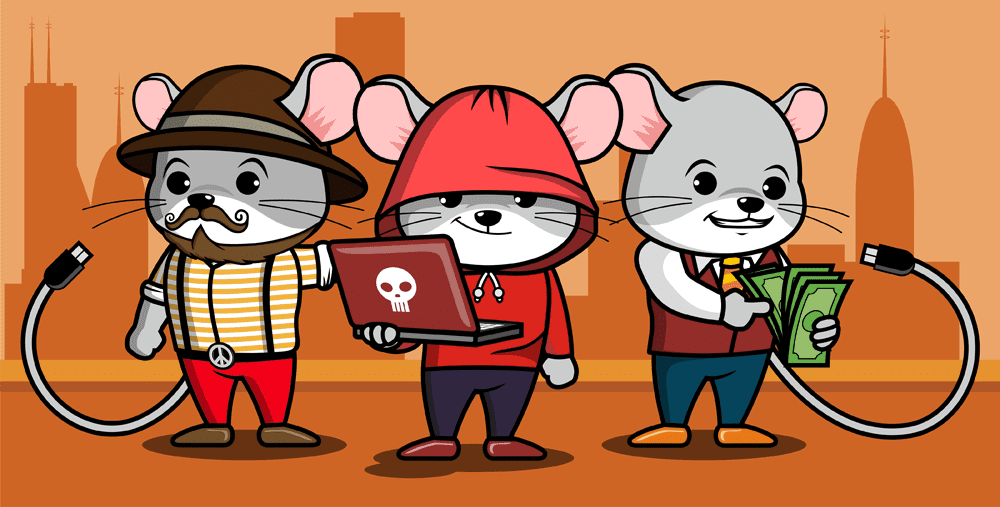 WorkingMouse: the Hipster, the Hacker and the Hustler
INNOVATION
Eban: The Hipster
The hip­ster of an or­gan­i­sa­tion usu­ally ap­pears as a de­signer or cre­ative ge­nius. The hip­ster can be re­lied upon to make sure the fi­nal prod­uct is cooler than any­thing else out there. Known for his cre­ative ge­nius, Eban's imag­i­na­tion has the abil­ity to turn a stick fig­ure into a Picasso mas­ter­piece. Eban has over 20 years of ex­pe­ri­ence as an in­for­ma­tion tech­nol­ogy pro­fes­sional. Despite this ex­po­sure to the IT in­dus­try Eban has man­aged to keep his fin­ger on the style but­ton and is al­ways up to date on the lat­est fash­ions and trends.
When quizzed about sport­ing sweaters in the mid­dle of sum­mer, Eban replied with 'I'm cool enough as it is.′ As the hip­ster of the com­pany, he en­sures Working Mouse's fi­nal prod­uct looks bet­ter than Tom Selleck's mous­tache - which is no small feat. An ex­am­ple of Eban's cre­ative ge­nius is his the­sis; 'A model-dri­ven ap­proach to de­vel­op­ing and test­ing web ap­pli­ca­tions.' This has es­tab­lished him as a thought leader in model dri­ven en­gi­neer­ing. Unfortunately Eban's 'hip­ster' tag does not ex­tend to his taste in mu­sic as artists such as Pitbull and Flo-Rida dom­i­nate his re­cently played.
Matty: The Hacker
The hacker is likely to sit qui­etly through a board meet­ing un­til an­swer­ing the all im­por­tant ques­tion of "how?" the new idea or ini­tia­tive can be brought into re­al­ity. The hacker is the mas­ter of func­tion­al­ity and can be likened to a ma­gi­cian be­hind the pretty face of your prod­uct. I'm con­sid­ered the brains of the com­pany. I love the in­tri­cacy of cod­ing and take pride in en­sur­ing every­thing runs smoothly. My diet con­sists of code, code and more code. In fact, ru­mours are cir­cu­lat­ing that Dan Brown will base a new novel on me called Matty's Code, which is said to be more com­plex and con­fus­ing than the Da Vinci Code.
I lead WorkingMouse's long-term tech­nol­ogy vi­sion, mean­ing I'm re­spon­si­ble for the in­no­va­tion plat­form, re­search pro­gram, uni­ver­sity col­lab­o­ra­tion and in­dus­try thought lead­er­ship. After grad­u­at­ing with a de­gree in Multimedia IT I be­gan work­ing in in­for­ma­tion tech­nol­ogy. My task is to give life to Eban's ideas mak­ing me the 'Brad Pitt' of this Oceans 11 dream team. I'm more than happy to sit back and watch George Clooney (Eban) take credit for my be­hind the scenes ge­nius.
Dave: The Hustler
The hus­tler is tasked with ask­ing the ques­tion "It's cool, but is it some­thing our part­ners and clients want?" They are the per­son who turns the beau­ti­ful idea into some­thing every­one ac­tu­ally has on their phone. Dave is the fil­ter of the com­pany, all the ideas go through him and those that re­main are com­mer­cially vi­able.
Having con­ver­sa­tions with Dave are of­ten in­cred­i­bly dif­fi­cult as he does­n't know what no means. There are even ru­mours he has sold ice to an es­kimo. Dave is tasked with the job of en­sur­ing Eban's ideas are what peo­ple want and then bring­ing it to them. Dave has ex­ten­sive ex­pe­ri­ence run­ning mul­ti­site sales teams and has been in­volved with a num­ber of tech­nol­ogy star­tups. His tech­ni­cal back­ground means that he can use ap­plied knowl­edge to help and drive in­no­va­tion. Dave car­ries a pho­to­graph of the com­pa­ny's busi­ness model in his wal­let and of­ten falls asleep star­ing at it.
A Dream Team
When Eban brings the cre­ative de­sign, I bring my util­ity belt of tech­nol­ogy so­lu­tions and Dave finds the right way to pack­age it, it re­sults in a dy­namic team who con­sis­tently pro­duce qual­ity prod­ucts. As a team our im­me­di­ate goal is to de­velop a prod­uct whereby do­main spe­cific lan­guage is utilised to de­liver web based soft­ware pro­jects faster, bet­ter and with greater reuse. We aim to have this com­pleted by the end of the fi­nan­cial year. From there, the team will be work­ing to­wards de­vel­op­ing an in­no­va­tion plat­form for our soft­ware. The ex­pected date of im­ple­men­ta­tion for this is August 2017.