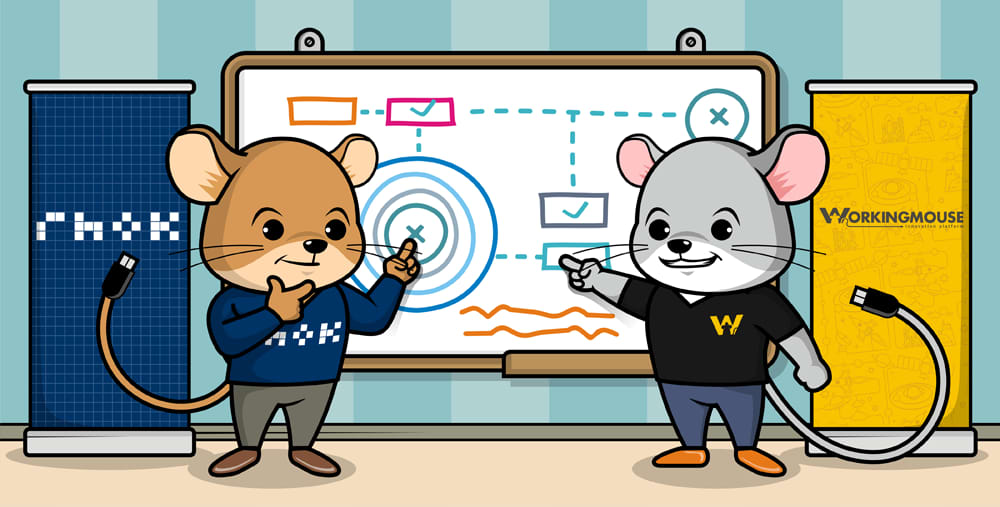 WorkingMouse at the RHoK Hackathon
INNOVATION
RHoK works with grass­roots non-prof­its, com­mu­nity groups and so­cial en­ter­prises that are work­ing to de­liver so­cial im­pact pro­jects for the greater good. Problem own­ers are en­cour­aged to sub­mit a pro­ject to RHoK, who then pre­sent the pro­jects to the hack­ers (us). We teamed up with Lachlan to work on his pro­ject - Cane Enabled. The goal of the pro­ject was to cre­ate a cane which would en­able dis­abled/​el­derly peo­ple's mo­bil­ity with a func­tion to track the cane and vice versa in an emer­gency. This would al­low us to de­ter­mine how ac­tive and mo­bile users are. Cane Enabled was in­spired by one of Lachlan's close fam­ily mem­bers, af­ter watch­ing them suf­fer with mo­bil­ity is­sues for a con­sid­er­able amount of time. Given the time re­stric­tion of the hackathon, we set our­selves the tar­get of cre­at­ing Cane Enabled's min­i­mum vi­able prod­uct (MVP). We were con­fi­dent that our in­no­va­tion group could per­se­vere through the weather con­di­tions and time re­stric­tions to get the job done!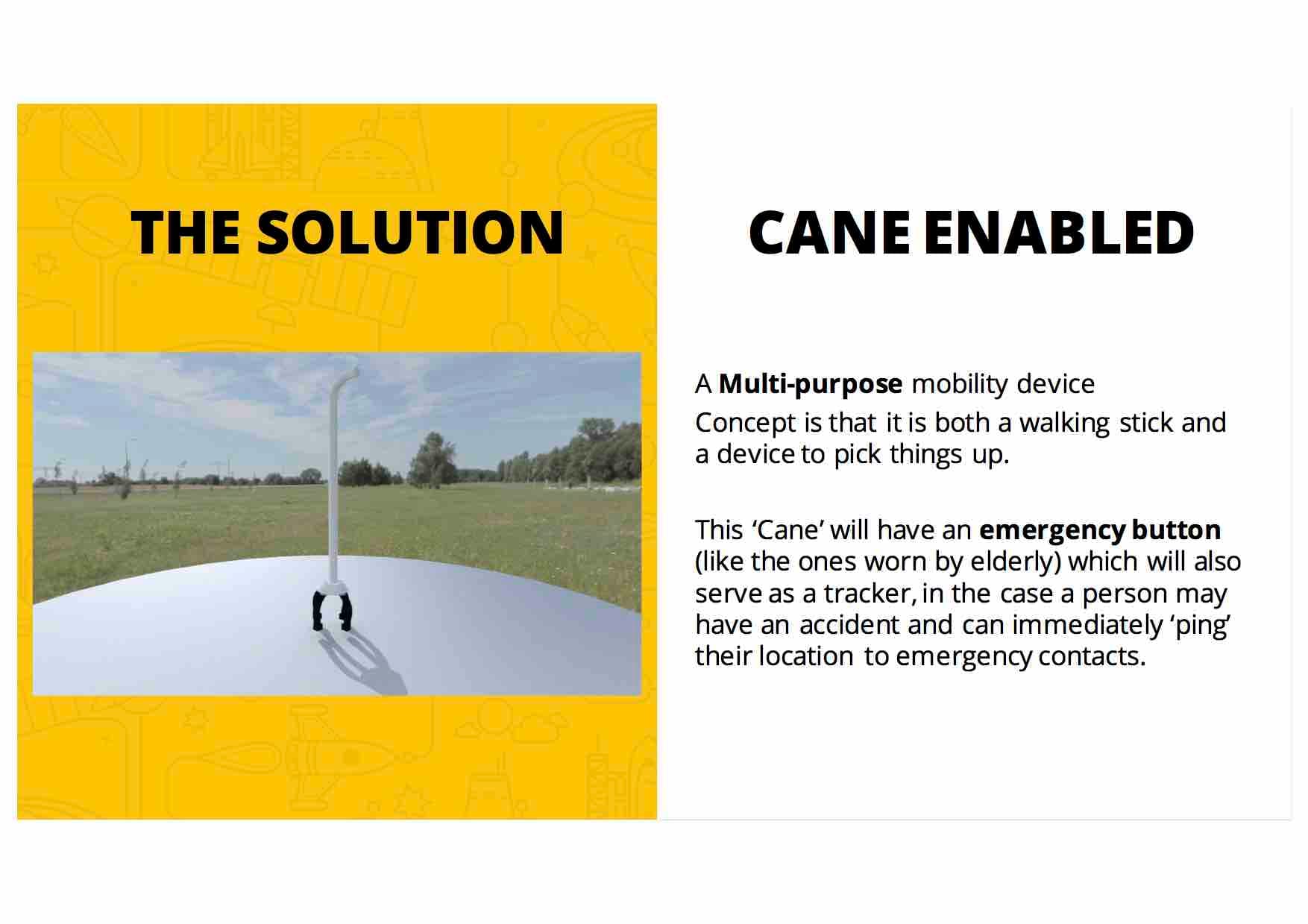 On Saturday the team planned our ex­e­cu­tion. Given that Cane Enabled is a phys­i­cal prod­uct with a soft­ware sup­port sys­tem we fo­cused on our strengths and set a goal to 'Create a fea­si­ble soft­ware MVP for Cane Enabled and a go to mar­ket plan for the hard­ware.' For the hard­ware we strate­gized our route to mar­ket. This in­cluded fund­ing and MVP, mar­ket test­ing and a sales plan. We set a Go Fund Me goal of $110 which was raised by Sunday af­ter­noon and or­gan­ised tri­als of the pro­to­type in a lo­cal aged care fa­cil­ity. The tech­ni­cal MVP com­prised of a PVC pipe, on this we hacked to­gether a buzzer, but­ton, GPS and GSM re­ceiver to fa­cil­i­tate the soft­ware func­tion­al­ity. We cre­ated a sim­ple App to in­put emer­gency num­bers and pro­vide the GPS off the Cane. The smarts came through the in­te­gra­tion of the soft­ware.
To demon­strate we asked the youngest mem­ber of the au­di­ence up to the stage. Upon press­ing the but­ton the Cane flashed green and set off 30-second beep. Everything 30 sec­onds our lucky judges re­ceived an emer­gency mes­sage from the cane with the lo­ca­tion, ad­dress and co­or­di­nates. This en­abled the cane to be ac­ti­vated in an emer­gency. To stop the con­stant emer­gency mes­sages we in­vited the judges to re­spond 'Stop' and the cane re­turned to nor­mal. Just to re­ally show off we asked the judges to re­ply to the cane with 'track'. The cane in­stantly flashed red and gave off a dif­fer­ent tone to show it was be­ing tracked. This was dis­abled by hold­ing the emer­gency but­ton on the cane to stop the track­ing. Just think of the con­fi­dence and se­cu­rity the el­derly and fam­ily would feel know­ing that help is just a press away.
The judges were im­pressed by our demon­stra­tion but also our plan to trial and en­gage the mar­ket. The fact that Lachlan al­ready raised the money for his Prototype over the week­end was fan­tas­tic and we re­ceived the ho­n­our of be­ing placed joint first for the week­end.
Summary
Overall, the hackathon was a great ex­pe­ri­ence and it was fan­tas­tic to work on such a worth­while cause. Well done to Samuel Windall and Lachlan for your ef­fort. Everyone worked in­cred­i­bly hard, re­sult­ing in a pro­fes­sional per­for­mance. Thank you to Lachlan for al­low­ing us to share in his vi­sion and con­tribute to­wards a fan­tas­tic de­vice.
Our prod­uct was just one of many great de­vices. The or­gan­is­ers be­hind RHoK should take a lot of credit for the suc­cess of the event. Without a con­cept and pas­sion­ate peo­ple dri­ving this event, many of these ideas would sim­ply re­main ideas.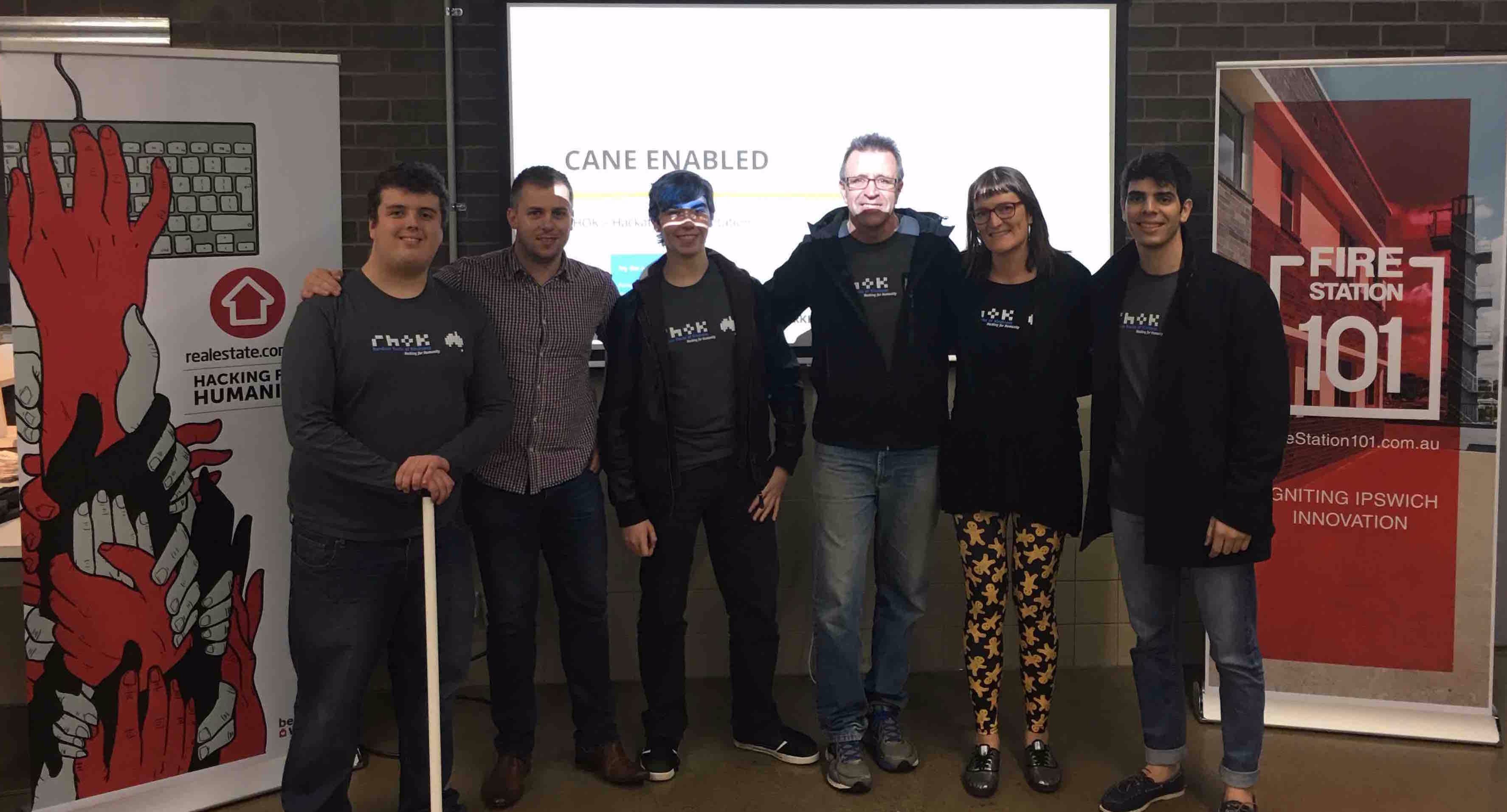 Your vi­sion,
our ex­per­tise
true