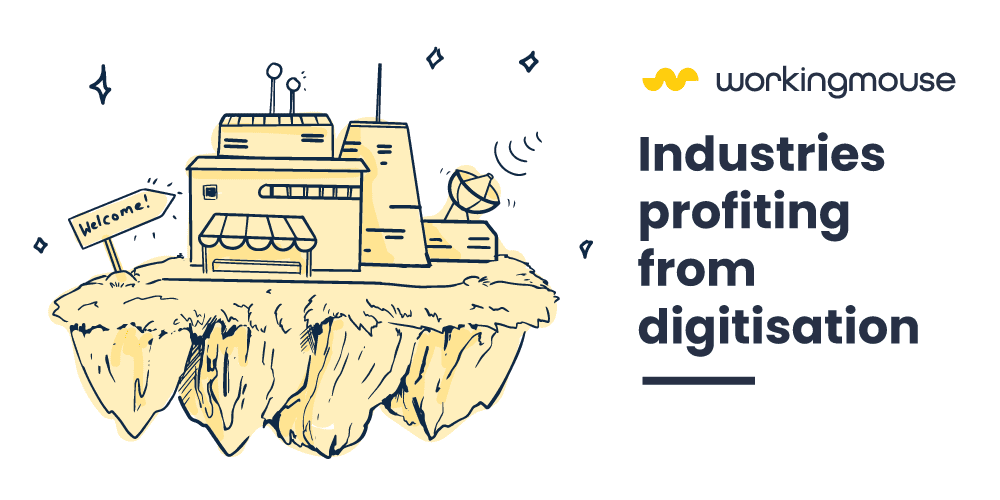 The top in­dus­tries ready to profit from dig­i­tal­i­sa­tion
INNOVATION
With the list of uni­corns (billion dol­lar pri­vate com­pa­nies/​star­tups) grow­ing, it's im­por­tant to con­sider the in­dus­tries that are primed for dig­i­tal­i­sa­tion. As an ex­am­ple, the trans­port in­dus­try has ex­pe­ri­enced a dig­i­tal trans­for­ma­tion over the past 5 years with the growth of Uber and other ride shar­ing ser­vices. The mar­ket re­sisted change and for a while con­sumers ac­cepted it.
Digitalisation
We've pre­vi­ously out­lined the dif­fer­ence be­tween digi­ti­sa­tion and dig­i­tal­i­sa­tion. Digitalisation is the process of lever­ag­ing dig­i­tal in­for­ma­tion to im­prove busi­ness process. This is al­ready a stan­dard amongst most if not all in­dus­tries. The dif­fer­en­ti­at­ing fac­tor is the in­sights and con­sumer ben­e­fits that can be of­fered as a re­sult of dig­i­tal­i­sa­tion.
Real Estate
It's fairly well re­ported that the real es­tate mar­ket is primed for a dig­i­tal trans­for­ma­tion. Companies are ex­per­i­ment­ing with new busi­ness mod­els every­day (with vary­ing de­grees of suc­cess - see Purplebricks. We still pay 5% for the real es­tate agent ex­pe­ri­ence.
Applications like realestate.com are dig­i­tally em­pow­er­ing con­sumers. Rather than hav­ing to en­gage an agent to as­sess prop­er­ties and pre­sent them back to you, the in­for­ma­tion is avail­able on de­mand through an ap­pli­ca­tion. Digitalisation has made the buy­ing ex­pe­ri­ence more con­ve­nient and com­pre­hen­sive than ever be­fore. It will con­tinue to im­prove. With more data and com­plex tech­nolo­gies the buy­ing ex­pe­ri­ence can reach an­other level. For ex­am­ple, util­is­ing al­go­rithms (similar to Netflix and Spotify) to pre­sent back prop­er­ties that we like. Whether we will see the same ben­e­fits from dig­i­tal­is­ing the sell­ing process is a ques­tion yet to be an­swered.
HR & Recruitment
The hu­man re­sources mar­ket has al­ready seen sig­nif­i­cant growth with com­pa­nies like Workday suc­cess­fully reach­ing IPO and a mar­ket cap of al­most $10 bil­lion six years af­ter they were founded. The mar­ket has al­ready dig­i­talised the ap­pli­ca­tion and ad­ver­tis­ing process through soft­ware ven­dors like seek or CareerOne. Yet there is still a sig­nif­i­cant mar­ket for re­cruit­ment agen­cies and the 'personal ser­vice' they of­fer. The fur­ther dig­i­tal­i­sa­tion of em­ploy­ment his­tory and bet­ter match­ing of can­di­dates to job roles could be a huge area for growth over the next few years.
Health
Traditionally, the health in­dus­try has been slow to em­brace dig­i­tal­i­sa­tion. This is pre­dom­i­nantly due to the leg­isla­tive pro­tec­tions for sen­si­tive pa­tient data. According to McKinsey only 10 per­cent of pharma com­pa­nies base their strate­gic de­ci­sions on a quan­ti­fied, gran­u­lar un­der­stand­ing of how dig­i­tal af­fects their com­pet­i­tive en­vi­ron­ment and busi­ness model, com­pared with 22 per­cent across all in­dus­tries and 37 per­cent for dig­i­tal lead­ers.
There is a huge op­por­tu­nity to make health­care more ac­ces­si­ble through tech­nol­ogy. Point of care di­ag­nos­tic tools are gain­ing trac­tion and with that comes a huge amount of mean­ing­ful data. This is where the op­por­tu­nity for dig­i­tal­i­sa­tion and mean­ing­ful in­ter­pre­ta­tion of data lies. There are still a num­ber of chal­lenges in the mar­ket, least of all pub­lic per­cep­tion around se­cu­rity of sen­si­tive data.
Execution
There is so much po­ten­tial for dig­i­tal trans­for­ma­tions across these in­dus­tries and count­less oth­ers. The next ques­tion be­comes how can we ex­e­cute? The first step is to con­sider what is hold­ing us back? This might come down to legacy prob­lems, a skills gap or even a util­i­sa­tion prob­lem. WorkingMouse has the tech­nol­ogy and processes in place to en­able a dig­i­tal trans­for­ma­tion. To start for­mu­lat­ing a dig­i­tal trans­for­ma­tion strat­egy, book a con­sul­ta­tion with one of our con­sul­tants.
Your vi­sion,
our ex­per­tise
true