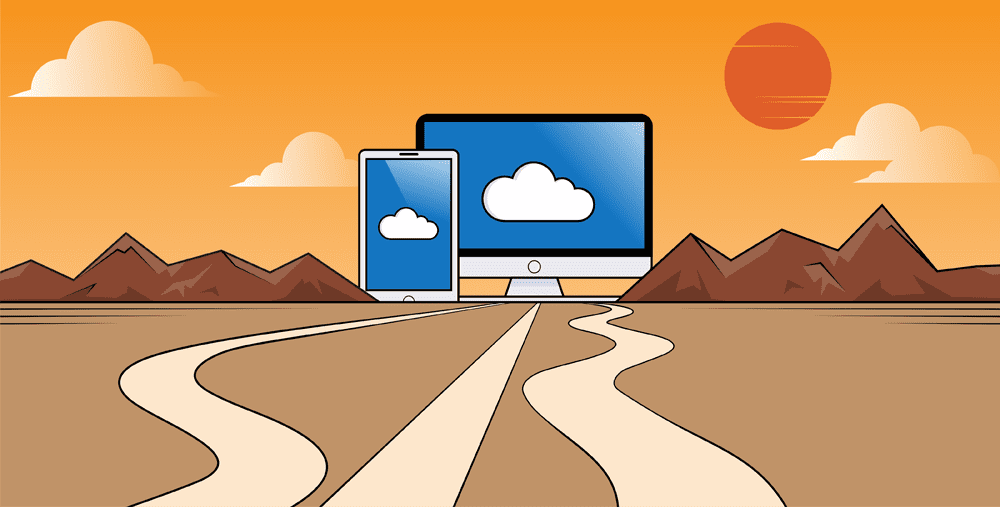 Software Licensing and Cloud Service Models 101
INNOVATION
There has been a tech-wave in the past sev­eral decades that has ush­ered in a vir­tu­ally new world.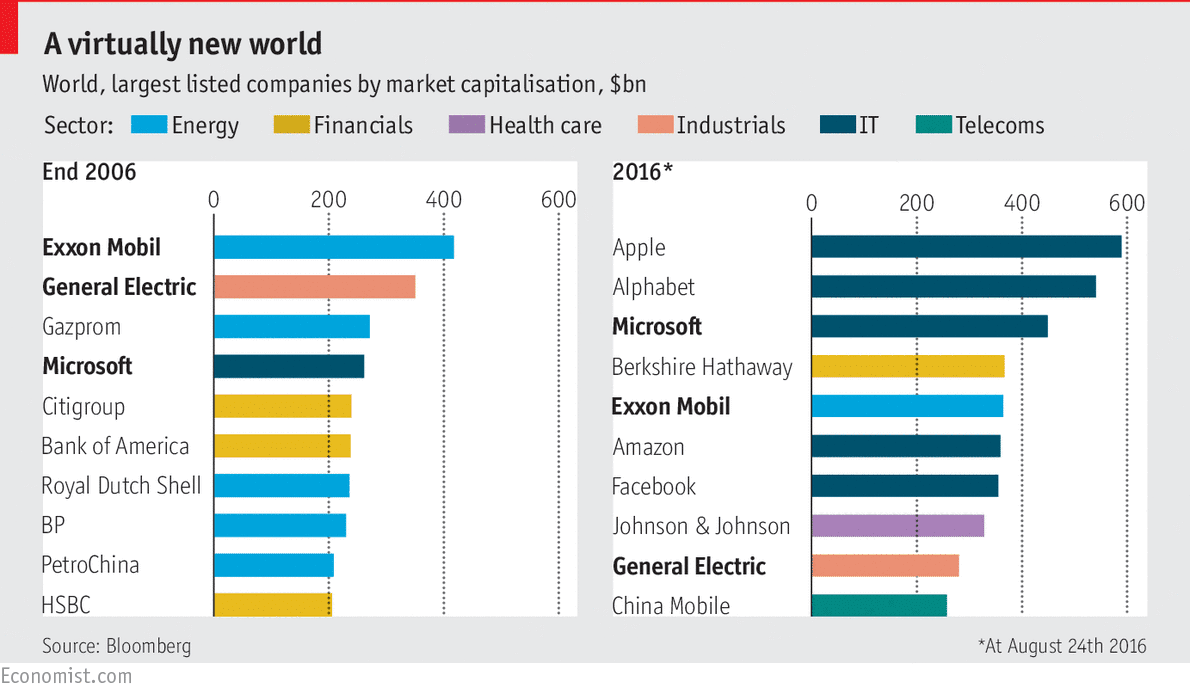 Tech is ris­ing. Apple is king and the Blockbusters and Borders of the world are dis­ap­pear­ing; strug­gling to com­pete with more ag­ile and dig­i­tally ma­ture tech ri­vals.
Invent, Invest, Adapt or Die
Venture Capitalist John Doerr said it was best to in­vent in­no­va­tions and sec­ond best to in­vest in them, and he should have kept go­ing, be­cause adapt­ing to in­no­va­tion is bet­ter than the al­ter­na­tive.
Blockbuster had the chance to buy Netflix in 2000, back when it was a DVD mail­ing ser­vice, but passed on the op­por­tu­nity. In 2007, that DVD mail­ing ser­vice piv­oted and started on­line stream­ing. It in­vented some­thing new and within 3 years Blockbuster was bank­rupt.
Blockbuster did­n't in­vent, in­vest or adapt, and so it died.
Well, bet­ter late than never to catch up on the cloud and soft­ware li­cens­ing band­wag­ons.
Cloud Service Models: SaaS, PaaS and IaaS
Critical to a dis­cus­sion of the types of li­censes are the types of cloud ser­vice mod­els through which some li­censes are de­liv­ered.
The 3 main types of cloud ser­vice mod­els are:
Software as a Service (SaaS)
Platform as a Service (PaaS)
Infrastructure as a Service (IaaS)
Some ad­vo­cate the "everything as a ser­vice" model, or EaaS, but cloud-com­put­ing providers slice and dice ser­vices into the above 3 types (SaaS, PaaS and IaaS).
While SaaS ser­vices are typ­i­cally run on top of PaaS ser­vices, and so on, this is not al­ways the case. SaaS ser­vices can be run di­rectly on hard­ware and pro­grams can be run di­rectly on IaaS ser­vices.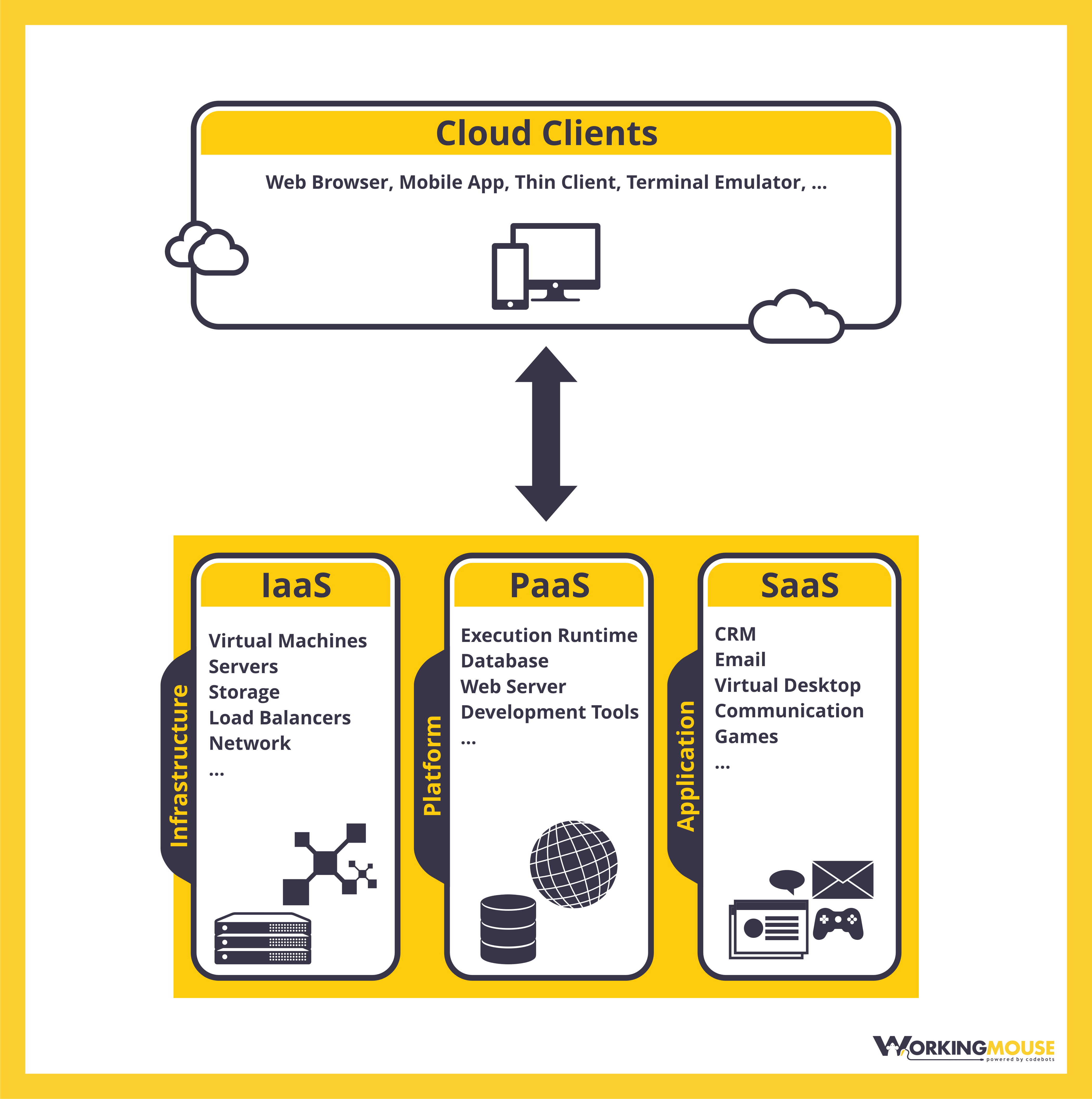 Software as a Service (SaaS)
SaaS ex­am­ples: Gmail, Microsoft Office 365
Common SaaS use-case: Replaces tra­di­tional on-de­vice soft­ware
When peo­ple talk about cloud ap­pli­ca­tions (e.g. Gmail), they are talk­ing about Software as a Service (SaaS).
SaaS rep­re­sents the largest, but slow­est grow­ing cloud mar­ket­place. The SaaS mar­ket­place is also the most frag­mented with thou­sands of play­ers rang­ing from in­ter­net heavy­weights to star­tups.
SaaS uses the web to de­liver ap­pli­ca­tions that are man­aged by a third-party ven­dor but ac­cessed client side. Most SaaS ap­pli­ca­tions can be ac­cessed within a web browser with­out any down­loads or in­stal­la­tions re­quired, but some re­quire plu­g­ins.
Because of the web de­liv­ery model, SaaS elim­i­nates the need to in­stall and run ap­pli­ca­tions on in­di­vid­ual com­put­ers, how­ever, some SaaS prod­ucts can be ac­cessed in-app (e.g. iOS) as well as in browser (e.g. Gmail).
Platform as a Service (PaaS)
PaaS ex­am­ples: Codebots (aPaaS), Apprenda
Common PaaS use-case: Less time cod­ing and more time cre­at­ing (see Codebots)
Cloud plat­form ser­vices, or Platform as a Service (PaaS) typ­i­cally in­clude an op­er­at­ing sys­tem, pro­gram­ming lan­guage ex­e­cu­tion en­vi­ron­ment and a web server, but there is more than 10 sub­cat­e­gories of PaaS, so things are a lit­tle bit messy.
Generally, PaaS is used to cre­ate, de­ploy and man­age SaaS. It rep­re­sents the small­est, but fastest grow­ing of the 3 main cloud mar­ket­places.
When de­vel­op­ing an ap­pli­ca­tion us­ing PaaS, you can em­bed mid­dle­ware (elements of the PaaS) into the app. This al­lows the ap­pli­ca­tion to in­herit cer­tain char­ac­ter­is­tics, such as li­brary or piece of code.
Many busi­nesses choose PaaS be­cause it re­duces the amount of cod­ing needed to main­tain and up­date apps. This is one of the ad­van­tages of be­ing pow­ered by Codebots.
Codebots is a Brisbane based Application Platform as a Service (aPaaS) startup. WorkingMouse uses Codebots, which is a team of uniquely skilled and tal­ented ro­bots that can code, to plan, build, and de­ploy web ap­pli­ca­tions to the cloud.
Infrastructure as a Service (IaaS)
IaaS ex­am­ples: Amazon Web Services
Common IaaS use-case: Hosting web-based ap­pli­ca­tions
Cloud in­fra­struc­ture ser­vices, known as Infrastructure as a Service (IaaS), al­lows users to ac­cess, mon­i­tor, and man­age re­mote as­sets to com­pute or store data. This can is done in lieu of buy­ing phys­i­cal hard­ware.
IaaS users man­age ap­pli­ca­tions, data, run­time, mid­dle­ware, and OSes. IaaS providers man­age vir­tu­al­iza­tion, servers, hard dri­ves, stor­age, and net­work­ing.
Many IaaS providers also man­age data­bases, mes­sag­ing queues, and other ser­vices above the vir­tu­al­i­sa­tion layer. Some peo­ple call this IaaS+.
IaaS rep­re­sents the least frag­mented cloud mar­ket­place, with Amazon Web Services com­mand­ing an al­most 50% mar­ket share.
Types of Software Licenses
Software li­cens­ing has been around since the dawn of com­put­ing. What's dif­fer­ent now is the types of li­cences that are gain­ing trac­tion. Subscriptions are in and CDs are out. These sub­scrip­tion li­censes lever­age mod­ern tech­nolo­gies (such as the above cloud ser­vice mod­els) and align with mod­ern con­sumer habits.
Deloitte es­ti­mates that 40% of work­ers in the US will be free­lancers by 2020! This is part of the rea­son why the Adobe Creative suite went sub­scrip­tion only in 2013.
The fu­ture of work is trend­ing to­wards free­lanc­ing, work­ing from home, cowork­ing, try-be­fore-you-buy and in­stant grat­i­fi­ca­tion. More peo­ple need more apps and they need them yes­ter­day.
Not sure what the big deal is? Discover how li­cens­ing soft­ware can help you!
The main types of soft­ware li­cences are:
Proprietary License
Most soft­ware li­censes are "proprietary" li­censes. This means the soft­ware pub­lisher grants a li­cense to use one or more copies of the soft­ware while re­tain­ing own­er­ship of the soft­ware.
GNU General Public License (GPL)
"Open source" soft­ware is of­ten li­censed un­der a GNU GPL. End users can up­date the soft­ware's source code and dis­trib­ute new ver­sions of the soft­ware, but all up­dates must also have a GNU GPL.
End User License Agreement (EULA)
EULAs are agree­ments be­tween the pub­lisher and the end user (versus a busi­ness).
'Specific Use' Licenses
Some li­censes are based on spe­cific use-cases. Site li­censes al­low un­lim­ited use from a sin­gle lo­ca­tion (e.g. a cowork­ing space). Workstation li­censes al­low un­lim­ited use from a sin­gle, spe­cific de­vice. And con­cur­rent use li­censes al­low un­lim­ited use in terms of lo­ca­tions and de­vices, and in­stead cap the num­ber of con­cur­rent users who can ac­cess the soft­ware us­ing your li­cense. Specific use li­censes can be tai­lored to align busi­ness and end-user goals, which is an awe­some ad­van­tage.
These are a sam­ple of soft­ware li­cences, and the dif­fer­ences be­tween li­cences within a sin­gle one of these cat­e­gories can be large.
Cloud tech­nolo­gies are en­abling busi­ness much more lat­i­tude in terms of li­cens­ing. So em­brace soft­ware li­cenc­ing and dis­cover which li­cences work for your busi­ness and cus­tomers.