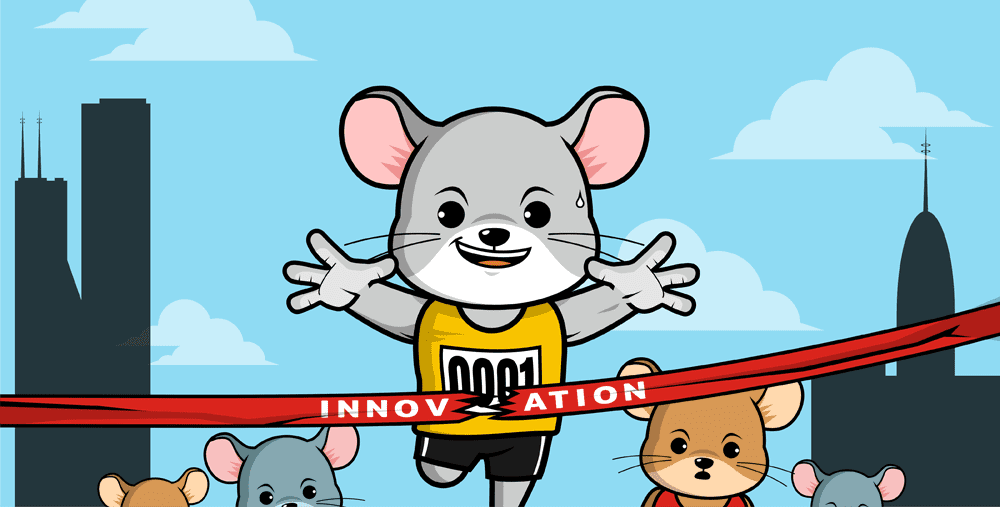 Organisational Innovation: Five Stages of Thinking For Good Businesses
INNOVATION
Innovators and Adopters: The or­gan­i­sa­tional ap­proach to in­no­va­tion
Consider the fol­low­ing table which rep­re­sents the types of or­gan­i­sa­tional re­sponse to an im­por­tant tech­no­log­i­cal in­no­va­tion.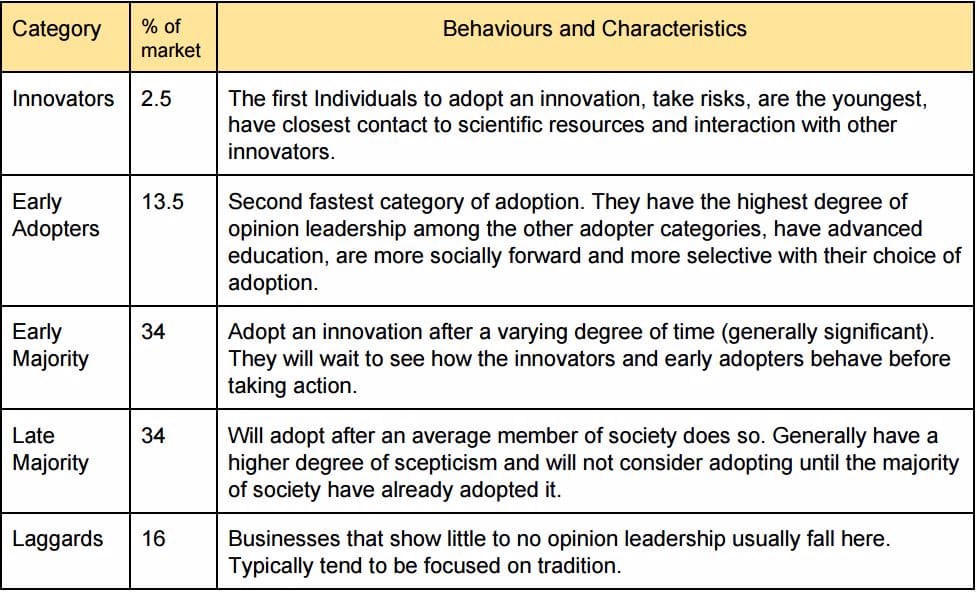 To be at the peak of in­no­va­tion, a busi­ness needs to un­der­stand the cat­e­gories of adopters. For busi­ness in­no­va­tion to suc­ceed, the com­pany should ide­ally tar­get ei­ther early adopters or ma­jor­ity adopters. At these stages enough time has passed to bet­ter judge the po­ten­tial ben­e­fit and as­so­ci­ated risks of the in­no­va­tion prod­uct while still reap­ing a size­able por­tion of the re­wards. This risk vs re­ward can be pre­sented on a chart.
Expanding your think­ing: Five stage vs Three Stage Thought Process
Perhaps the key take­away from the ses­sion was the ap­proach to in­cor­po­rat­ing and grow­ing in­no­va­tion pro­jects. Innovation QLD con­cluded that pro­jects could be bro­ken into five key stages with each one rep­re­sent­ing a cru­cial point on the path to achiev­ing a suc­cess­ful ideas boom.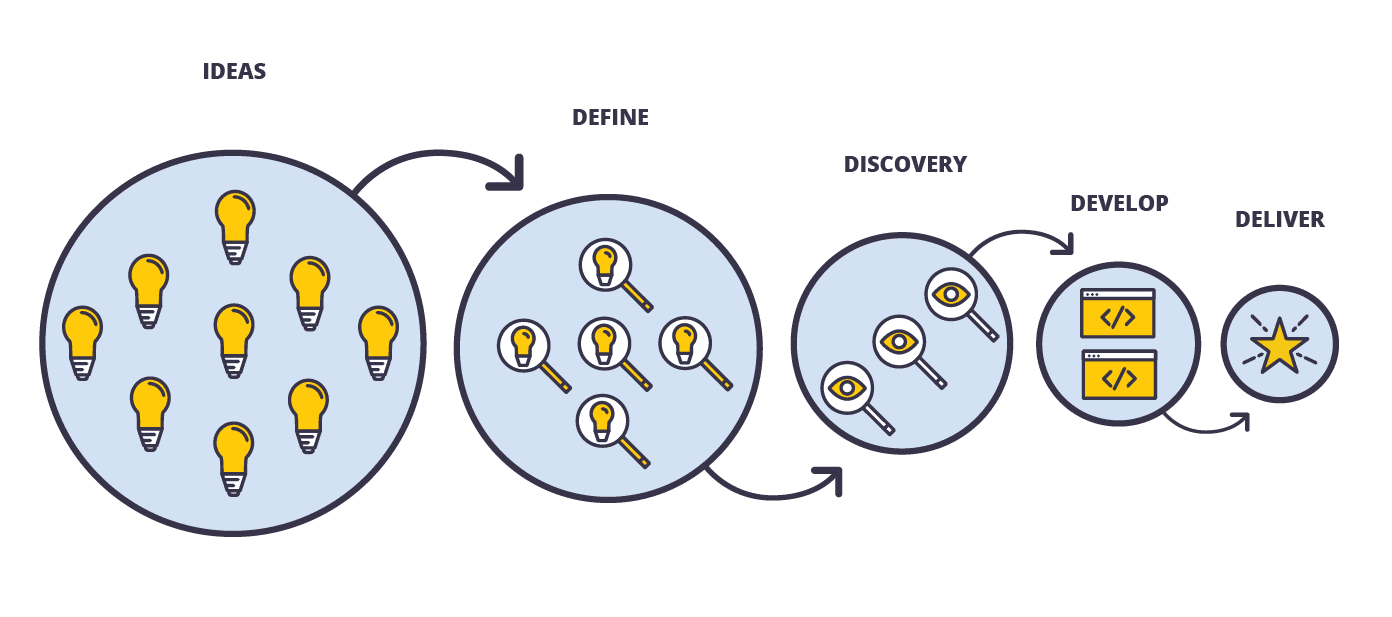 The above di­a­gram is a rep­re­sen­ta­tion of an ef­fec­tive and in­no­v­a­tive thought process. When a po­ten­tially ben­e­fi­cial idea is re­alised, it is first de­fined, hav­ing all its con­structs and fea­tures laid out. From here the best of these are nit­picked and ex­panded fur­ther in the dis­cov­ery phase. Only once this has been done are these ideas put into prac­tice in the de­vel­op­ment phases. Innovation QLD went on to ex­plain how­ever that cur­rently many or­gan­i­sa­tions only ap­ply a three stage thought process by­pass­ing both the de­fine and dis­cov­ery stages.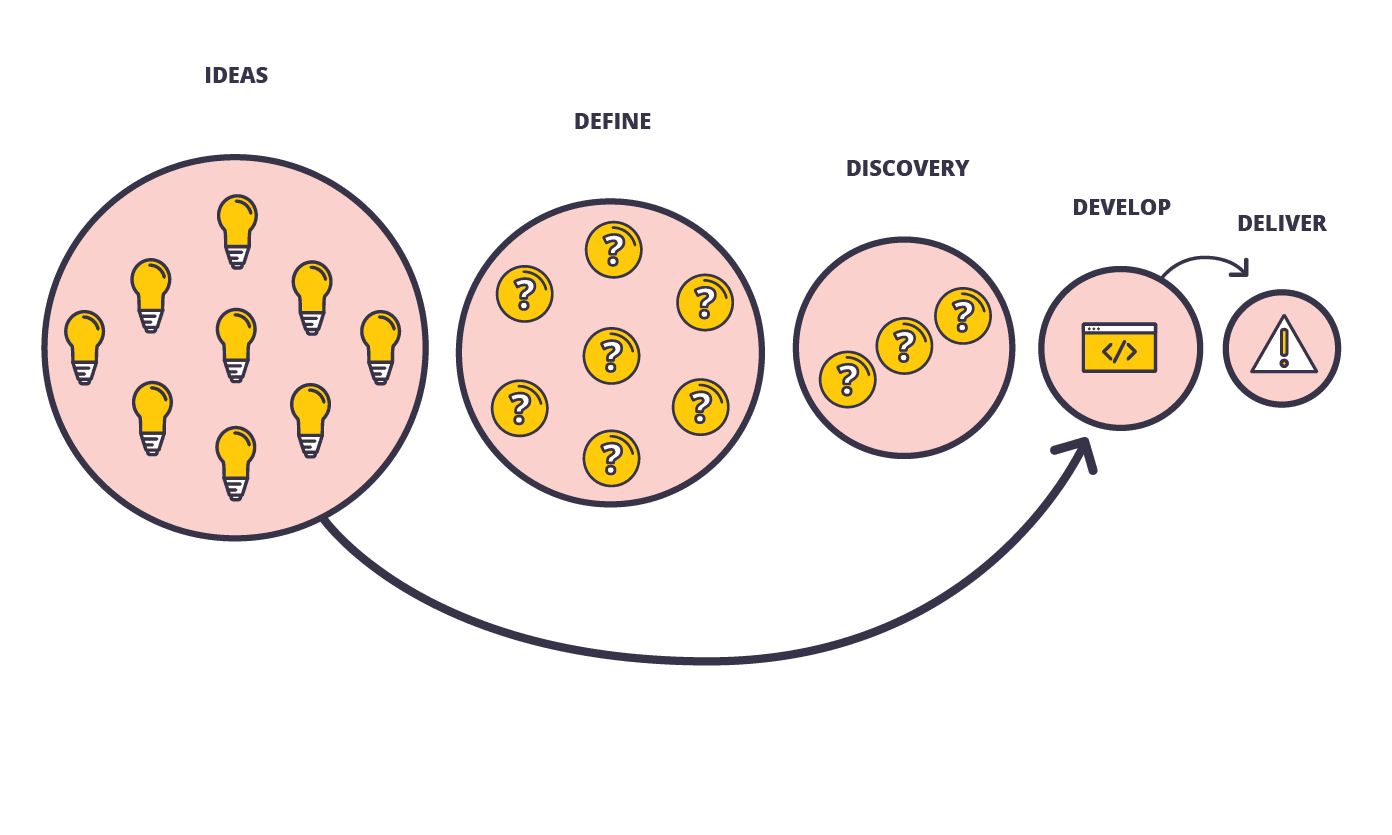 Often, busi­nesses will blame this on time con­straints or in­cor­rect processes which are only ex­cuses for lack of plan­ning. Successful busi­nesses will make time for these stages as they are fully aware that fail­ing to plan is plan­ning to fail. When we ap­ply a five stage thought process, ideas are clearly de­fined, out­lin­ing a wide va­ri­ety of di­men­sions of ap­pli­ca­tion sev­eral that maybe have been fully imag­ined with­out this re­search. We at WorkingMouse have since taken this ide­ol­ogy in our stride, aim­ing to make it the back­bone of our soft­ware in­no­va­tion. Innovation is a for­ever evolv­ing con­cept re­quir­ing us to stay on our feet at all times, ready to find and grasp the next op­por­tu­nity to push us fur­ther ahead of the com­pe­ti­tion.