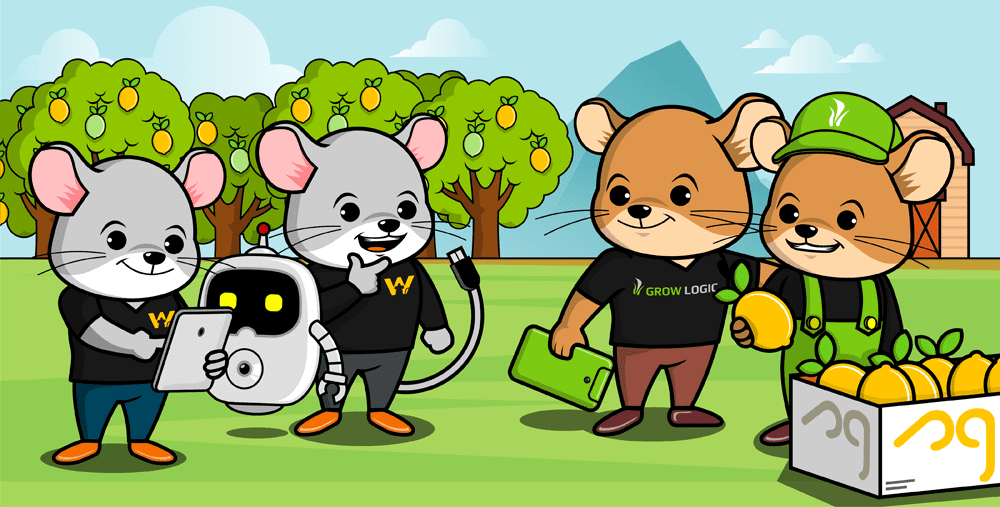 Innovation Partnership: Grow Logic Teams up with WorkingMouse
INNOVATION
Grow logic was cre­ated be­cause it is no longer just ac­tivists stand­ing up for the en­vi­ron­ment; more and more peo­ple are join­ing forces to cre­ate a pos­i­tive change in the world. Sustainability is more than just a hot topic, it is a real is­sue and if the Earth's de­mands for food and wa­ter out­strip sup­ply, the re­sults will be felt glob­ally. There was a need for the de­vel­op­ment of so­lu­tions which can in­crease plant pro­duc­tiv­ity while re­duc­ing the im­pact on the en­vi­ron­ment. The ra­tio­nale is that an in­crease in sus­tain­able plant pro­duc­tiv­ity leads to an in­crease in prof­itabil­ity while si­mul­ta­ne­ously re­duc­ing the risk to grow­ers. Grow Logic was founded by one such per­son who cares deeply about the en­vi­ron­ment of to­day and more im­por­tantly to­mor­row; Peter Bail has a solid ca­reer re­volv­ing around crop man­age­ment, high-tech ir­ri­ga­tion sys­tems, and busi­ness de­vel­op­ment.
Grow Logic pro­vides farm man­age­ment tools to grow­ers in Australia who want to be on the fore­front of farm­ing in­no­va­tion. The tools Grow logic can sup­ply in­clude:
Unmanned Aerial Vehicle's (UAV's) for real time, high de­f­i­n­i­tion crop imag­ing
Web based farm map­ping soft­ware
On-line Planning and Scheduling soft­ware
Integration with Irrigation Control & Monitoring sys­tems
WorkingMouse came onto the scene when the need to out­source the IT side of the busi­ness was re­alised. Utilising the Innovation Platform, Grow Logic and WorkingMouse part­nered up to de­velop a web and mo­bile so­lu­tion that en­ables grow­ers Australia wide to in­crease the ef­fi­ciency of their pick­ing labour. This so­lu­tion will not only re­duce waste labour es­pe­cially dur­ing har­vest time, it will also cut on­site costs, pay­roll ad­min­is­tra­tion and fi­nally it will en­sure a fairer re­ward sys­tem for the labour force.
The jour­ney of in­no­va­tion is­n't al­ways smooth and easy go­ing. With only one founder, Peter Bail has cho­sen to join in­no­va­tion hub FireStation 101 based in Ipswich. This al­lows for strong strate­gic moves to be made rather than re­ly­ing on one per­son's in­tu­ition to make cal­cu­lated de­ci­sions.
Grow Logic is work­ing closely with suc­cess­ful cit­rus grow­ers Stensgroup in Queensland. Workers, leg­is­la­tion, com­pen­sa­tion, and hu­man re­sources are all con­sid­er­a­tions that need to be in­te­grated with the de­vel­op­ing soft­ware in or­der to build the best prod­uct pos­si­ble for all par­ties in­volved. The fi­nal prod­uct will al­low grow­ers like Stensgroup to have a faster sys­tem, less pa­per­work, and over­heads as well as more con­trol over the en­tire process start­ing from plant­ing right through to de­liv­er­ing the fresh pro­duce to the su­per­mar­kets.
WorkingMouse has taken on the role of be­ing the tech­ni­cal team for Grow Logic and as such, the Grow Logic pro­ject team was for­tu­nate enough to take a road trip north to Bundaberg where the Stensgroup farm is based. Accompanied by Grow Logic founder, Peter Bail, the Working Mouse team were for­tu­nate to see first hand the ex­panse of cit­rus trees that pro­duce lemons, limes, and man­darins that can be pur­chased back home in lo­cal su­per­mar­kets. The pur­pose of the road trip was to demon­strate the day to day op­er­a­tions of the type of or­chard that the tech­nol­ogy be­ing built would be im­ple­mented into.
Gaining an in­sight into the daily op­er­a­tions was a ter­rific op­por­tu­nity. One of the more mod­ern tech­no­log­i­cal as­pects of the day to day op­er­a­tions on the farm was the use of a drone. Once con­nected to a screen, a drone was flown over the farm al­low­ing the WorkingMouse team to see the vast and beau­ti­ful rows of cit­rus trees be­low. An in­crease in the use of tech­nol­ogy such as drones are be­com­ing more use­ful to farm­ers in terms of crop and farm man­age­ment. Being able to in­te­grate mod­ern tech­nol­ogy into long stand­ing prac­tices such as farm­ing is crit­i­cal for mov­ing for­ward and be­ing in­no­v­a­tive.
As sum­mer ap­proaches, su­per­mar­kets are con­tin­u­ally be­ing stocked with fresh pro­duce some of which is lo­cally sourced from grow­ers such as the Stensgroup who is work­ing closely with Grow Logic to in­no­vate and cre­ate change for the bet­ter. Working Mouse wishes Grow Logic the very best! Watch this space for more suc­cess sto­ries!
If you want to see the fresh pro­duce the Stensgroup pro­duces, check out their Twitter feed.
If you are in­ter­ested in de­vel­op­ing with us, con­tact us here.