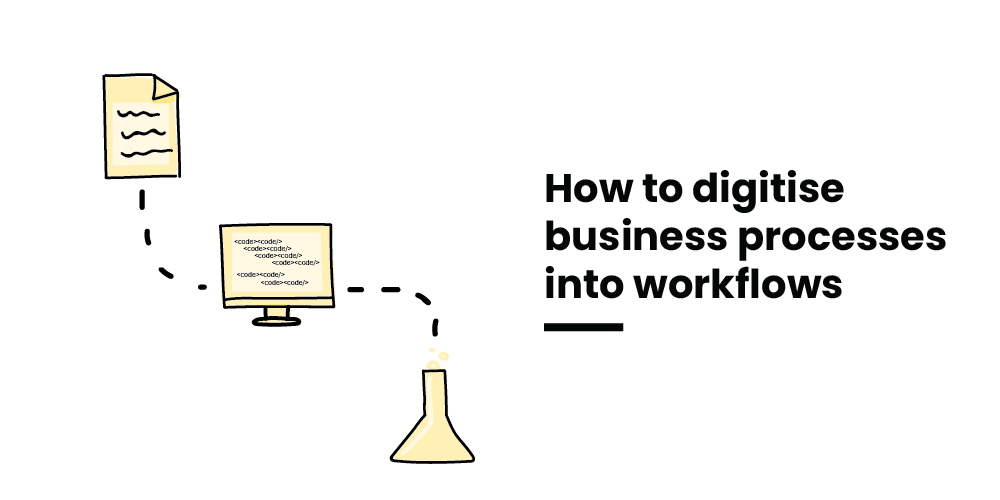 How to digi­tise busi­ness processes into work­flows
INNOVATION
What's your busi­ness process? I bet that a sig­nif­i­cant por­tion of both your day and your com­pa­ny's is taken up with ful­fill­ing busi­ness processes. A good busi­ness has solid processes, how­ever a great busi­ness en­sures that they don't de­tract, but en­hance the value their or­gan­i­sa­tion of­fers. This ar­ti­cle ex­plores how busi­ness processes can be digi­tised into work­flows. This en­sures con­sis­tency, re­duces busi­ness risk and en­ables you to scale.
Your busi­ness process IP
Your busi­ness processes are every­where, let's de­fine and agree upon how to iden­tify a busi­ness process. For this ar­ti­cle we'll use Techopedia's de­f­i­n­i­tion "A busi­ness process refers to a wide range of struc­tured, of­ten chained, ac­tiv­i­ties or tasks con­ducted by peo­ple or equip­ment to pro­duce a spe­cific ser­vice or prod­uct for a par­tic­u­lar user or con­sumer."
As you can tell, this is very broad. The key how­ever is that the ac­tiv­i­ties or tasks are chained. This means that for some­thing to hap­pen, one or mul­ti­ple steps need to take place. This usu­ally leaves you check­ing your in­box for some­one to sign off or send some­thing through!
The ac­tual busi­ness process can look very dif­fer­ent across in­dus­tries and do­mains. Infact, you've likely de­vel­oped spe­cific in­tel­lec­tual prop­erty through your own busi­ness processes. If you trade on this then it's of spe­cific value to be doc­u­mented and re­peat­able. Look at the list be­low and think if you've de­vel­oped any spe­cific IP for part of your busi­ness to solve these com­mon ex­am­ples?
Manufacturing: or­der pro­cess­ing, en­gi­neer­ing change con­trol, prod­uct as­sem­bly, prod­uct line process, qual­ity as­sur­ance, main­te­nance
Finance: in­voic­ing process, risk man­age­ment process, the billing process.
Health: med­ical as­sess­ment process, drug ap­proval process, fi­nan­cial process.
Banking: cus­tomer on­board­ing process, credit check process, the risk as­sess­ment process
Travel: agent billing, trip book­ing, leave man­age­ment process, busi­ness travel man­age­ment process.
Procurement: Purchasing, in­voice rec­on­cil­i­a­tion, ac­counts re­ceiv­able.
Advertising: Cost es­ti­mat­ing, cost ap­proval, cost re­view­ing.
Sales and Marketing: Product de­liv­ery process, prod­uct de­vel­op­ment process, the mar­ket­ing re­search process.
What is a work­flow
Ideas are great, but now what? How do you ac­tu­ally digi­tise your busi­ness process? Excellent ques­tion! The an­swer in short is work­flows.
When de­vel­op­ing soft­ware ap­pli­ca­tions, we lever­age the Codebots Technology set. This en­ables us to quickly im­ple­ment and cus­tomise a soft­ware be­hav­iour into an ap­pli­ca­tion. As a soft­ware owner you can (in a much eas­ier way) digi­tise your process into a work­flow. You con­trol the work­flow within the ad­min sec­tion of the ap­pli­ca­tion and we cus­tomise it to fit your busi­ness process.
"In its most ba­sic form, the Workflow be­hav­iour does what it says on the box. It en­ables an ad­min­is­tra­tor to cre­ate a se­ries of states which can be ap­plied against an en­tity (Database table), along with a se­ries of tran­si­tions which can be used to move be­tween them. Essentially, is it used to track the sta­tus of some­thing." - Codebots Workflows Blog
To il­lus­trate, we've cre­ated the fol­low­ing video to ex­plain how you can setup and con­trol your busi­ness process via work­flows.
What's the busi­ness value in digi­ti­sa­tion?
Now that you've thought about your busi­ness process and iden­ti­fied some ar­eas where you have likely cre­ated some unique IP, why should you digi­tise them? As with all good things in busi­ness this comes down to in­creas­ing rev­enue and re­duc­ing costs to boost mar­gins. There are many rea­sons to do this but here are our top three.
Save costs and in­crease ef­fi­ciency through per­son­nel hours
Let's be hon­est, hu­mans are pretty de­mand­ing. All these re­quire­ments; feed me! Pay me! I need sleep! Or the clas­sic, I just did­n't feel like do­ing it! All in all we're not the most suited to fol­low­ing busi­ness processes in a timely and cost ef­fi­cient man­ner. Amazon are fa­nat­i­cal about this, so much so that they're now us­ing ro­bots to ful­fil their re­quire­ments.
Your peo­ple should be do­ing what they do best, cre­at­ing and work­ing with other peo­ple. If you can in­crease ef­fi­ciency to save costs, scale and in­crease your mar­gins, this is the per­fect busi­ness case to digi­tise your processes.
New Revenue - Licensing
The sec­ond rea­son eluded to ear­lier is Intellectual Property (IP). Have you cre­ated a unique process for deal­ing with a prob­lem in your do­main? If you've solved the prob­lem for your­self, it's highly likely that other peo­ple are still deal­ing with the same prob­lem. Tanda are a great ex­am­ple of solv­ing a prob­lem and li­cens­ing the soft­ware so­lu­tion. WorkingMouse spe­cialises in cre­at­ing SaaS (software as a ser­vice) so­lu­tions from your IP.
Redundancy - Key Person Risk
Lastly, there are risks as­so­ci­ated with not digi­tis­ing your busi­ness process. If par­tic­u­lar peo­ple are in­dis­pens­able to you it likely means that they are hold­ing knowl­edge that is crit­i­cal to your IP. The best way to look at this is through the 'bus test.' Which per­son­nel would your busi­ness not be able to func­tion with­out and why? Naturally, we never want to think about this ques­tion. And in a per­fect world, we would­n't have to. But to mit­i­gate the risk of key staff turnover, ask your­self whether you can digi­tise and doc­u­ment their process. If the an­swer is yes (or maybe) then mit­i­gat­ing re­dun­dancy is a good busi­ness case for digi­tis­ing a work­flow.
We re­cently had a cus­tomer come to us that had iden­ti­fied an op­por­tu­nity that closely matches all three pri­or­i­ties. Aptus have de­vel­oped a unique busi­ness process for de­sign­ing and quot­ing the spec­i­fi­ca­tions for new build­ings. The is­sue was that their IP was trapped in an Excel spread­sheet. Second to that, only 1-2 peo­ple knew how to use it. We mi­grated and digi­tised the busi­ness process into a web ap­pli­ca­tion so that the com­pa­ny's part­ners and em­ploy­ees could self serve us­ing the sys­tem. This re­duces costs and al­lows the com­pany to scale up.
How to get work­flows cus­tomised to your process
Excited to get your processes digi­tised into your own work­flow? To do this, we start by defin­ing your busi­ness prob­lems and scop­ing a so­lu­tion. No mat­ter what tool you use, if it's not wielded prop­erly the out­put will be off. Therefore, we have an in-depth scop­ing process that is so­lu­tion fo­cused. This en­ables us to solve the prob­lem of digi­tis­ing your busi­ness processes in the most valu­able way.
To be­gin the jour­ney we rec­om­mend you head over to down­load our Way of Working to learn more about the scope and de­vel­op­ment process.
Your vi­sion,
our ex­per­tise
true