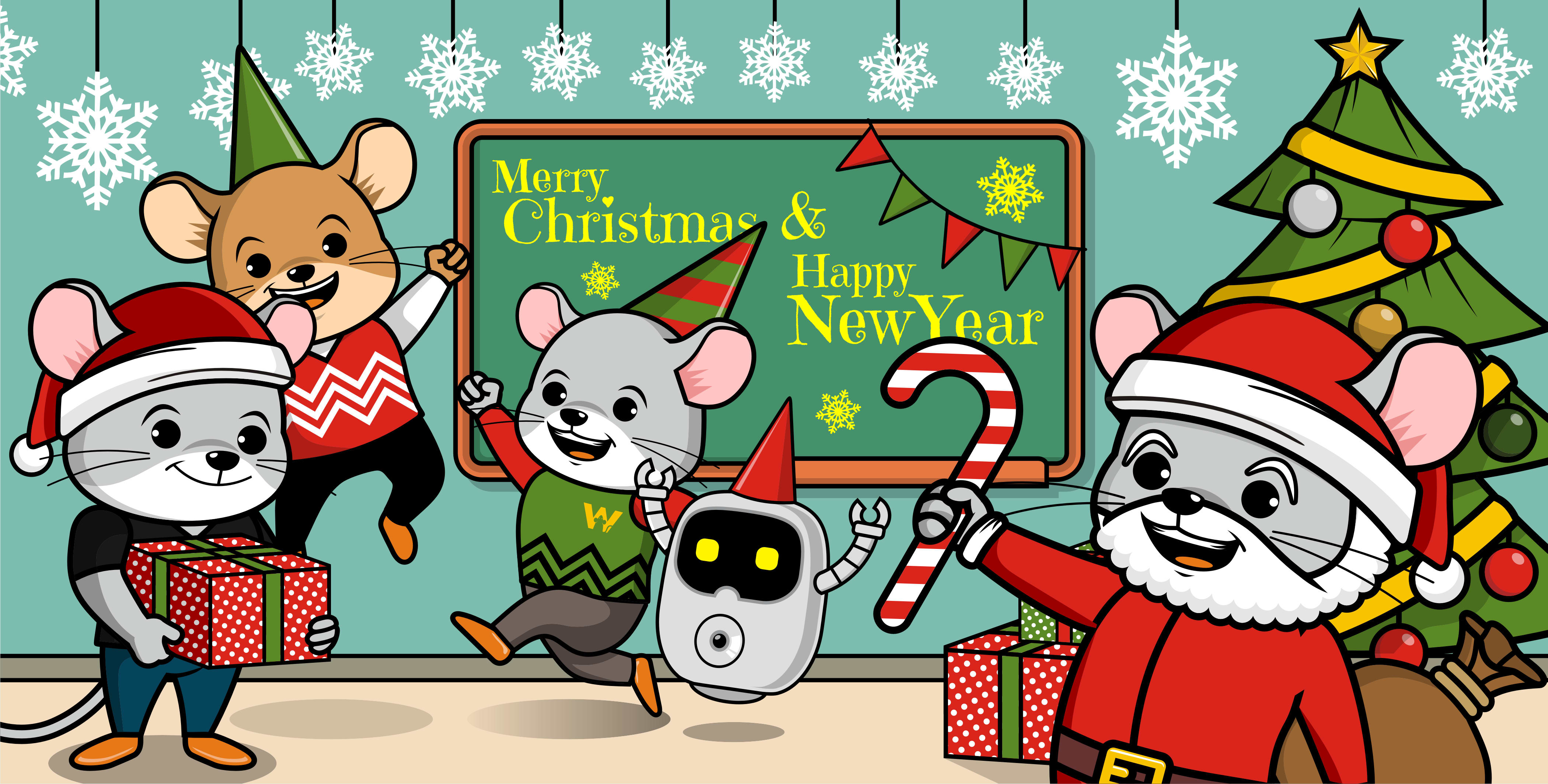 Here's What We Did in 2017
INNOVATION
It has been pos­si­bly the biggest year yet for WorkingMouse! If you don't be­lieve us check out our rank­ing on Deloitte's fastest 500 in the Asia Pacific (spoiler alert: we came 70th with 800% growth in rev­enue since 2015). WorkingMouse has had to grow rapidly to keep up with the grow­ing de­mand for soft­ware in Brisbane. In fact our team grew by over 30% this year in­clud­ing de­vel­op­ers, de­sign­ers, com­mu­nity man­agers and part­ner­ship man­agers (stay tuned for a new of­fice in the new year).
With so many awe­some and tal­ented peo­ple at the com­pany we were able to at­tend some pretty cool events and achieve some even cooler things in 2017. I am so proud of what we ac­com­plished this year so I wanted to share with you just some of our 2017 high­lights. I also want to take the chance to thank every­one in­volved in our epic year!
January
WorkingMouse be­gan the year with 27 staff and two sep­a­rate of­fices. Excited to con­tinue our work from 2016 we kicked off our fa­mous monthly net­work­ing lunches in January. It was so great to talk to every­one who at­tended these events at the Regatta. We hope you all had as much fun ex­chang­ing ideas about the fourth in­dus­trial rev­o­lu­tion as we did.
February
With our growth hack­ers in full swing post­ing great con­tent, the team was ho­n­oured to re­ceive third place on SmartCompany's Best Business Blogs 2017.
The team also got to en­joy Australia's pre­mier in­no­va­tion event, Pausefest. We flew down to Melbourne to hear talks on women in tech, AI and gam­i­fi­ca­tion. Of course we made sure we checked out the hov­er­boards too! The con­fer­ence was re­ally well or­gan­ised and the talks gave us a few ideas for the re­main­der of 2017.We can't wait to do it all again at Pausefest 2018. If you are as ex­cited as us you should grab one of only 1000 tick­ets here. I will be open­ing Day 2 of Pausefest 2018 talk­ing about the fu­ture of work, so come and have a chat.
March
WorkingMouse was break­ing down bar­ri­ers all through March. The wall di­vid­ing our two of­fices was smashed down early in the month to cre­ate one big open plan space. We also got to wel­come our first fe­male de­vel­oper Monika!
March also in­volved the rise and fall of Myriad in Brisbane. The team had an awe­some time on the open­ing night. It was great to see every­one from the Brisbane tech scene out in full force. Unfortunately cy­clone Debbie brought an abrupt end to the week­end, but thanks to the ben­e­fits of tech­nol­ogy, many of the talks were able to be streamed on­line for those who could­n't make it in the storm.
April
In April we re­ceived the news that Codebots was a re­cip­i­ent of a $250K grant cour­tesy of Advance Queensland's Ignite Ideas Fund! This meant we were ready to hire even more team mem­bers and get more cre­ative with our in­ter­nal pro­jects.
We also in­tro­duced the vari­a­tion met­ric to the com­pany and our part­ners. The vari­a­tion met­ric is WorkingMouse's so­lu­tion to scope creep. I have writ­ten a whole blog post ded­i­cated to ex­plain­ing how this tool is utilised by mea­sur­ing the vari­a­tion dur­ing re­quire­ments and com­par­ing it with the orig­i­nal scope.
May
The WorkingMouse team was full steam ahead, with May be­ing one of our busiest months of the year. The Codebots hype started grow­ing, in­clud­ing a fea­ture on page 4 of the Queensland Business Monthly Magazine.
May was the month for events at WorkingMouse with the whole UX team at­tend­ing the Design Conference 2017. Our growth hacker Elena also spoke on the UQ Ideas Hub panel along­side some other big names in the Brisbane startup scene. Indi and my­self were hon­ored to rep­re­sent WorkingMouse as men­tors dur­ing the iLab Mentorblaze8.
June
In June the team was hard at work. We fin­ished the very first Codebots in­ter­nal MVP, had a ridicu­lous amount of new vi­sion meet­ings and de­liv­ered three new scopes.
July
By the time July came around we were so ex­cited about what was hap­pen­ing within the com­pany that we launched our first ever WorkingMouse newslet­ter! If you haven't al­ready done so, you should sub­scribe to our newslet­ter to keep up to date with all our events and news. For those of you who have been fol­low­ing us for a while, check out how far we've come by read­ing our first ever newslet­ter.
In July I at­tended the Venturer Program at the Whitsundays and some­how made the front cover of the Whitsunday Times (must have been my good looks). This pro­gram was de­signed to build char­ac­ter and so was ex­tremely chal­leng­ing and char­ac­ter build­ing. If you want to know more about how kayak­ing in the deep blue lead to some deep thoughts you should read my blog post on my lessons learnt from the pro­gram.
However, per­haps the biggest news in July was the in­ter­nal re­lease of Codebots! This al­lowed pro­ject teams to utilise the ben­e­fits of writ­ing up to 300,000 lines of code in 1 minute, while also work­ing out some of the kinks in the lead up to the pub­lic launch of our prod­uct.
August
The month of August brought fi­bre in­ter­net to WorkingMouse (and co­in­ci­den­tally some much hap­pier de­vel­op­ers and de­sign­ers). Another in­crease to pro­duc­tiv­ity was the in­tro­duc­tion of new Frank Green sus­tain­able cof­fee cups. The WorkingMouse and Codebots branded cups have pow­ered many of our client meet­ings since.
I also got the chance to speak on an episode of the Morgan's 40 un­der 40 pod­cast hosted by Chris Titley. Later in the month #Ventured vis­ited the of­fice and Codebots had the chance to fea­ture on the se­ries by our favourite video­g­ra­pher Hugh Whitehouse.
August also brought a new 457 visa em­ployee, Nina from Germany! Nina has been an in­cred­i­ble ad­di­tion to the UX team, bring­ing some im­pres­sive qual­i­fi­ca­tions and tal­ent to the com­pany.
September
September is the month of wa­ter­fall. WorkingMouse has been a loyal ag­ile fol­lower since its in­cep­tion. However, af­ter re­al­is­ing the high risk of scope creep when us­ing ag­ile method­olo­gies, I ended up re­search­ing al­ter­na­tives. WorkingMouse is now an ad­vo­cate of both the wa­ter­fall and ag­ile method­olo­gies. If you want to know more about my rea­son­ing be­hind this de­ci­sion, I have writ­ten a blog post on the dif­fer­ences be­tween ag­ile and wa­ter­fall and how to pick the right fit for your pro­ject.
October
In October we got to crack out our bow ties for the Lord Mayor's Business Awards where we had been nom­i­nated as a fi­nal­ist in two cat­e­gories (Product Innovation and High Growth Startup). Unfortunately we did­n't win but it was an ho­n­our to be nom­i­nated con­sid­er­ing the cal­i­bre of the other fi­nal­ists.
I was also in­vited to speak at FuckUp Nights on the Gold Coast along­side Uber Eats' Queensland General Manager Susan Anderson and Mark Sowerby who was the pre­vi­ous Queensland Chief Entrepreneur. The event was a huge suc­cess, and as a big be­liever in learn­ing from fail­ures I have no doubt FuckUp Nights will only grow stronger.
Perhaps our biggest achieve­ment in the month of October how­ever, was our Partners' Handbook. This is the on­line re­source we now pro­vide to all our part­ners. It out­lines the soft­ware de­vel­op­ment jour­ney and high­lights their re­spon­si­bil­i­ties dur­ing the process. Providing our part­ners with this in­for­ma­tion al­lows them to make in­formed de­ci­sions and help mit­i­gate the risks as­so­ci­ated with soft­ware de­vel­op­ment.
November
I some­how made the news again in November, this time fea­tur­ing in the Courier Mail to talk about our is­sues in get­ting NBN to our com­pany of­fice in St Lucia. I was also hon­ored with the op­por­tu­nity to speak about Australia's slip­ping po­si­tion in the global dig­i­tal econ­omy at the National Digital Strategy Consultation Workshop at QUT.
This month it was Matty, our CTO's turn (alongside our Codebots rep­re­sen­ta­tive Tiah) to at­tend the Venturer pro­gram, which was held in Tasmania. To learn about how go­ing into the wilder­ness has any­thing to do with star­tups, you can read Codebots' blog ar­ti­cle "Venturer Mission II".
December
No one fin­ishes a year like WorkingMouse. We had such a great year in 2017 we wanted to make sure we went out with a bang. That's why we had our launch party and our first pub­lic live demos for Codebots this month!
Our first live demo was at my favourite kind of con­fer­ence, Brisbane AI. I sac­ri­ficed a small lamb to the demo gods and crossed all our fin­gers and wires in the lead up to the event. While we had suc­cess­fully used our Codebots ap­pli­ca­tion in client demon­stra­tions and in­ter­nally, you never know what's go­ing to hap­pen as soon as you stick a hun­dred or so peo­ple in front of your screen. Luckily it all went off with­out a hitch! Following that night we opened our beta ap­pli­ca­tions to the pub­lic, so if you are in­ter­ested you should ap­ply to use AI that writes code.
A week later it was time for the Codebots launch! We had over 150 peo­ple in at­ten­dance in­clud­ing cus­tomers, po­ten­tial cus­tomers, col­leagues and staff mem­bers so the pres­sure was on. Massive thanks to every­one who came along and shared our ex­cite­ment. It was very cool to fi­nally show every­one how awe­some our prod­uct is, af­ter talk­ing about it for so long. If you want to hear more about how the launch went, you should have a read of the ar­ti­cle the Brisbane Times wrote.
To wrap up an awe­some 2017, we had our Christmas party last week. In true WorkingMouse style we all went to the movies to see Star Wars: The Last Jedi. While I will let you all make your own minds up about the movie, it did in­clude one of my new favourite quotes "the great­est teacher, fail­ure is" (I won't spoil who that came from).
WorkingMouse fin­ished this year with ten new clients, over fif­teen scopes, a new prod­uct and 15 new staff mem­bers. We look for­ward to be­ing even big­ger and bet­ter in 2018 (we are hir­ing more than 10 new staff and Codebots is get­ting ready to go pub­lic)! I hope you have all had an equally great year. Merry Christmas and happy new year from the en­tire WorkingMouse team.
Let me know on Twitter what your favourite achieve­ment, event or learn­ing was this year.
Your vi­sion,
our ex­per­tise
true