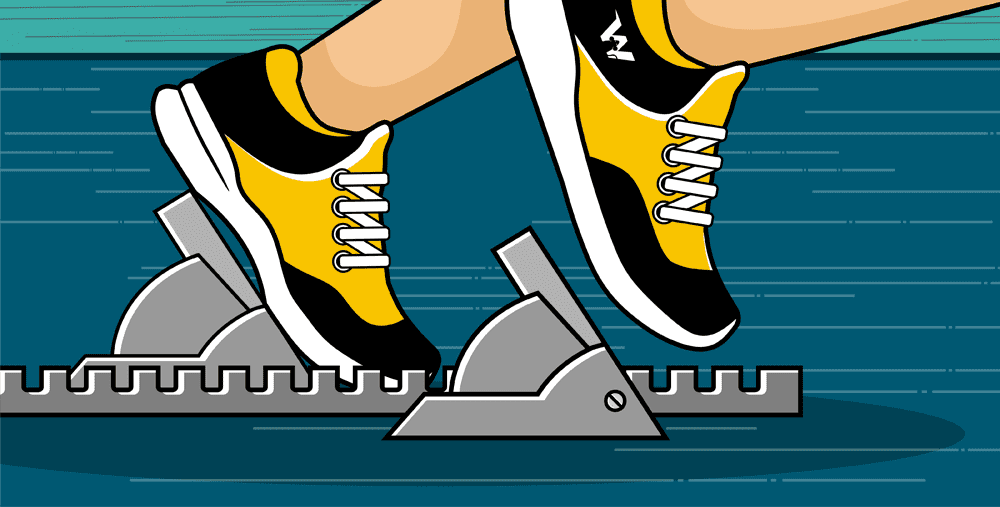 Government and Startups: Innovation Partners
INNOVATION
Local coun­cils and gov­ern­ments are look­ing for in­no­va­tion part­ners to help shape the Queensland of to­mor­row. This is the pur­pose of the Partners in Technology (PiT) sem­i­nars in­tro­duced by the Queensland de­part­ment of Information Technology and Innovation.
"By 2025 tech­nol­ogy will be em­bed­ded in every­thing we do. Some jobs will be made eas­ier, oth­ers will be­come au­to­mated and much of our cur­rent tech­nol­ogy will be re­placed or made ob­so­lete" - Leeanne Enoch, QLD Minister for Science and Innovation
At the event on the 27th of May 2016, four well known speak­ers dis­cussed the goals they have to make Queensland the "innovation state." It was great to hear about their vi­sion of the fu­ture and that gov­ern­ments are be­com­ing in­creas­ingly en­gaged with the startup com­mu­nity.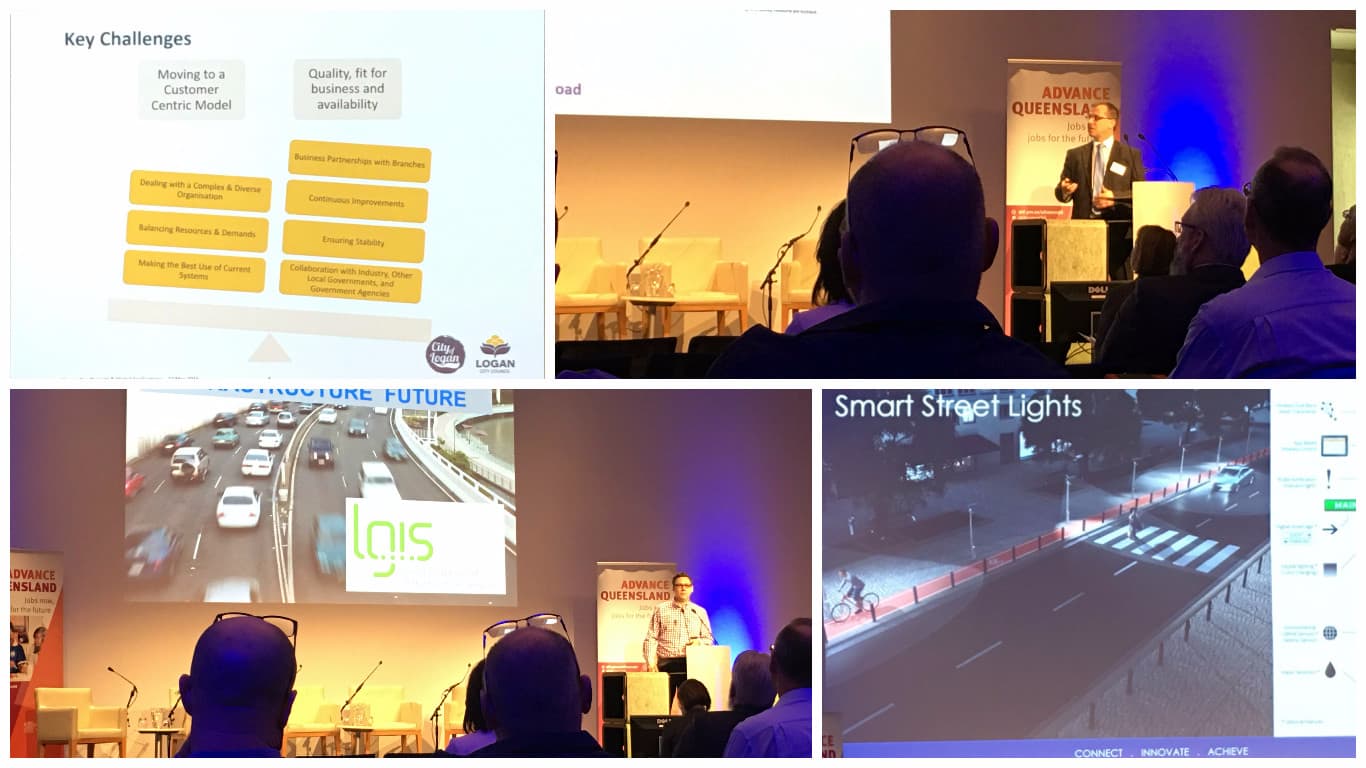 Queensland's Innovation Partners
Lou Boyle, Local Government Association of Queensland
Lou Boyle works as the in­no­va­tion ex­ec­u­tive at the Local Government Association of Queensland (LGAQ) a not-for-profit or­gan­i­sa­tion who have been ad­vis­ing, sup­port­ing and rep­re­sent­ing lo­cal coun­cils since 1896. This gives them the ex­pe­ri­ence nec­es­sary to im­prove their op­er­a­tions and strengthen re­la­tion­ships with their com­mu­ni­ties. He spoke pri­mar­ily on the sig­nif­i­cance of gov­ern­ment de­mand for tech­no­log­i­cal in­no­va­tion and the need for more au­to­mated processes. Currently an es­ti­mated 67% of all gov­ern­ments are ac­tively look­ing for new tech­nol­ogy to en­hance their cur­rent sys­tems and im­prove their over­all ef­fi­ciency and abil­ity to serve their dis­trict. Lou broke down au­to­mated process into a se­ries of smaller scale im­prove­ments that would col­lec­tively make the dif­fer­ence in the com­ing years. An ex­am­ple of this is pro­gram­ma­ble light posts that go dim when there is no-one in the area.
Clinton Parker, Director of Business Solutions at Local Government Infrastructure Services
The sec­ond per­son to pre­sent was Clinton Parker, the Director of busi­ness so­lu­tions at Local Government in­fra­struc­ture ser­vices (LGIS). For the past 15 years he has worked with lo­cal gov­ern­ments in Australia and the United Kingdom across a range of is­sues in­clud­ing wa­ter, waste and nat­ural re­source man­age­ment. Clinton used the time in his pre­sen­ta­tion to dis­cuss the mas­sive growth in vol­ume of data that has been gen­er­ated over the past 2 years. Likening it to a 'tsunami' of data, over 2.5 quin­til­lion bytes of data is pro­duced a day with 90% of all data ever gen­er­ated be­ing cre­ated in just the past two years! With sta­tis­tics like these it is no won­der ex­perts are call­ing this era the fourth in­dus­trial rev­o­lu­tion.
Bryan Beswick, CIO of Sunshine Coast Regional Council
Current CIO of the sun­shine coast re­gional coun­cil Bryan Beswick spoke third and shared his vi­sion for the fu­ture of the Sunshine Coast. He be­lieves that with the for­ever in­creas­ing ca­pa­bil­i­ties of tech­nol­ogy, the Sunshine Coast can be built into one of the first "smart" cities. Backed by the motto "Smart coun­cil with a smart agenda" he en­vi­sions what such a city would be like. From read­ing in­for­ma­tion off "smart glass" on the bus to au­to­mated sprin­klers which read the mois­ture level in the soil - re­leas­ing wa­ter only when nec­es­sary. What may have seemed like only a fan­tasy a few years ago could now be a very real pos­si­bil­ity in the near fu­ture.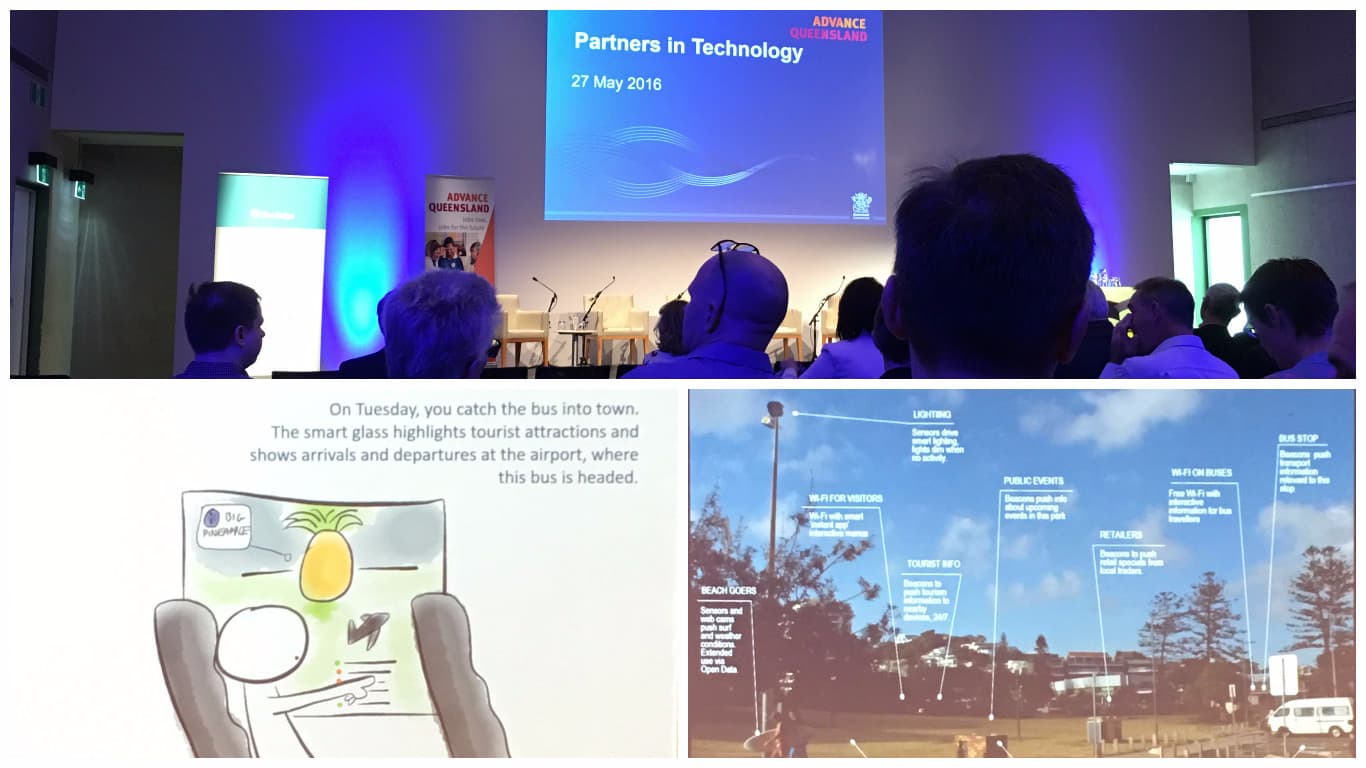 Jim Barclay, CTO of Logan City Council
The fi­nal speaker for the pre­sen­ta­tion, Jim Barclay, is the chief tech­ni­cal of­fi­cer of the Logan city coun­cil and ex­plained his take on the IT Industry in QLD and how smaller busi­nesses fit in with the gi­ants. He be­lieved that es­tab­lished IT pow­er­houses such as IBM are go­ing to be­come more in­flu­en­tial than ever, re­quir­ing smaller busi­nesses to be able to gen­er­ate soft­ware that can work with their sys­tems. This trend is great for Working Mouse, pri­mar­ily due to the API func­tion­al­ity of our Innovation Platform. With the ex­ten­sive cross-ca­pa­bil­ity of our soft­ware, Working Mouse would be ready to work with and feed data into larger ven­dors should the need ever arise.
Summary
After the speak­ers had pre­sented we were in­vited to stay for a net­work­ing event af­ter­wards. I found that be­ing able to meet other pro­fes­sion­als with a sim­i­lar mind­set and de­sire to in­no­vate was ex­tremely ben­e­fi­cial. Not only did I find it in­ter­est­ing to ex­change in­for­ma­tion with other peo­ple but I also got to hear about about in­no­v­a­tive busi­ness ideas. Steve Mardon and Sujata Karandikar are co-founders of Unscramble - a busi­ness spe­cial­is­ing in con­nect­ing with other com­pa­nies, their sup­pli­ers and cus­tomers. They aim to sim­plify the process and im­prove the over­all ef­fi­ciency of the process of in­ter­ac­tion be­tween the par­ties. I also had the op­por­tu­nity to meet Daryn Lewis from IT gi­ant NEC. They were the minds be­hind the po­lice face recog­ni­tion soft­ware cur­rently be­ing im­ple­mented in the Northern Territory. Gaining in­sight into how such an es­tab­lished IT com­pany han­dles it­self was an en­light­en­ing ex­pe­ri­ence. I hope to see both of these busi­nesses at events in the fu­ture.
Overall, the event ex­ceeded my ex­pec­ta­tions. If you are part of an up and com­ing busi­ness look­ing for in­no­v­a­tive ideas, I would whole­heart­edly rec­om­mend com­ing along to the next part­ners in tech­nol­ogy event. I know I'll be there.For more on in­no­va­tion.