Verinote is a secure note taking web application. It was a six week development project completed by WorkingMouse in November 2019.
Problem
The founders of the Verinote app work in the area of law enforcement and understood that law enforcement professionals amongst many others have a requirement, often driven by legislation, to record interactions, conversations and observations with clarity and detail. This information may be needed in future to provide critical context for example in a court hearing or tribunal and in many cases is highly confidential or private in nature. The problem they identified was that hand written notes can and often did lack important details that were later needed, for example exact times and locations of interactions. They also saw a risk that notes could be manipulated by unscrupulous or corrupt actors to support a false narrative post event.
Another major problem was the safe and secure storage of this information. Hand written notes are often contained in notebooks or ledgers and these could be misplaced, lost or worse stolen and, in the case of law enforcement, this could lead to a loss of critical evidence as was most famously the case in the recent Lawyer X hearings.
Solution
We undertook a 2 week scope during which time the WorkingMouse team worked closely with the founders to find the most valuable MVP for the available budget. After extensive user interviews and prototyping we were able to create a mobile responsive web application. It provides the target users with a tool that simplifies the task of note taking and enables the secure storage, sharing and editing of data. Certain data such as time and location are automatically recorded to save time and ensure accuracy and all interactions with the tool are recorded for audit purposes. The solution has the capability to categorise entry types and treat each different category of data in accordance with a pre-defined set of rules.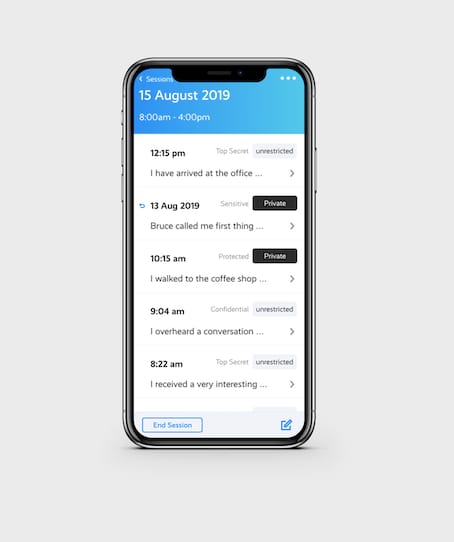 The end product is highly usable with a straightforward UX flow that is clear and functional. This is incredibly important given the less than ideal circumstances in which the tool may be used. Also inherent in the tool is the ability to search contents by text or keyword, filter by content type or category and export data to PDF. Finally and crucially, we were able to include audio recording and hand writing recognition into the application.
Technology
Verinote utilised one of our oldest and most popular bots - Lampbot. This is built off a LAMP tech stack. It was then deployed into the clients cloud hosting provider of choice (see Vault Cloud).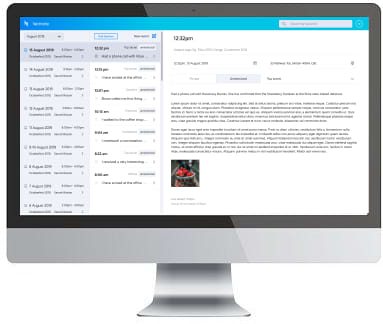 Process
Verinote adopted a fixed time, variable scope approach to the project. This meant prioritising the backlog in order to meet a hard deadline. The application needed to be up and running in six weeks to be showcased to a number of key potential client users. WorkingMouse delivered the project on time and on budget.