Australia's gross expenditure on R&D ranks 15th out of 37. When it comes to the proportion of high growth firms in the private sector, the ISA review ranks Australia last out of the 27 rich countries. We've also slipped to 27 out of 37 for the proportion of international patents with foreign co-inventors.
This is reflected in the Global Innovation Index. The report provides detailed metrics about the innovation performance of 127 countries and economies around the world. It uses 81 indicators to rank a country's innovation performance. This year Australia was ranked 23rd in the world, which isn't necessarily bad considering we're competing against 194 other countries. However we were ranked 19th last year (and New Zealand's two places ahead) so improvement is needed.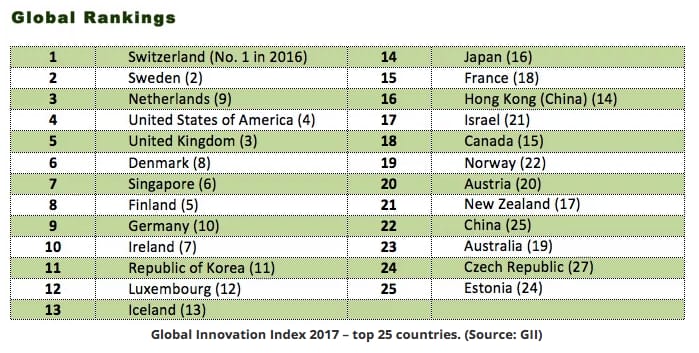 When we look at other sectors, we can see why we're dropping. The table below illustrates where Australia ranks for key areas such as digital competitiveness and education.

Considering the high benchmark we set for ourselves, these figures aren't good enough. Our unemployment rate is one of the lowest in the world (top 10) yet our digital skills and education is falling. We're working, we're just not working in the innovation/tech industries. An alternative theory is that we are great at generating new ideas, but struggle when it comes to commercialising them. Australia is leading the world in per-capita peer-reviewed papers, patents and research & development (R&D).
Danielle Cross, Program Head for Curtin Universities Centre for Entrepreneurship believes that 'failing quickly, failing fast' is a really important concept. "It's OK if you find that maybe there isn't a market for your product or idea — at least it means you won't spend the next 10 years, and potentially $100,000 of your money, wondering if that product or service can be commercialised."
Improving Innovation
So how do we rectify this? To start, Prime Minister Turnbull has pledged $100 million to strengthen the ties between industry and academia. This includes the formation of six dedicated Industry Growth Centres for: advanced manufacturing; cyber security; food and agribusiness; modern technologies and pharmaceuticals; oil, gas and energy resources; and mining equipment, technology and services. However it's more than a funding issue, it's an attitude issue. We need to create and embrace new technologies. Part of this comes down to modernising processes that are out of date. That's where custom software development and WorkingMouse plays an important role.
While we're slipping, there's no need to sound the panic alarms just yet. There are some great government initiatives giving startups and innovators every chance to succeed. The real problem area is high growth companies moving offshore. More needs to be done to keep successful Australian businesses in Australia.