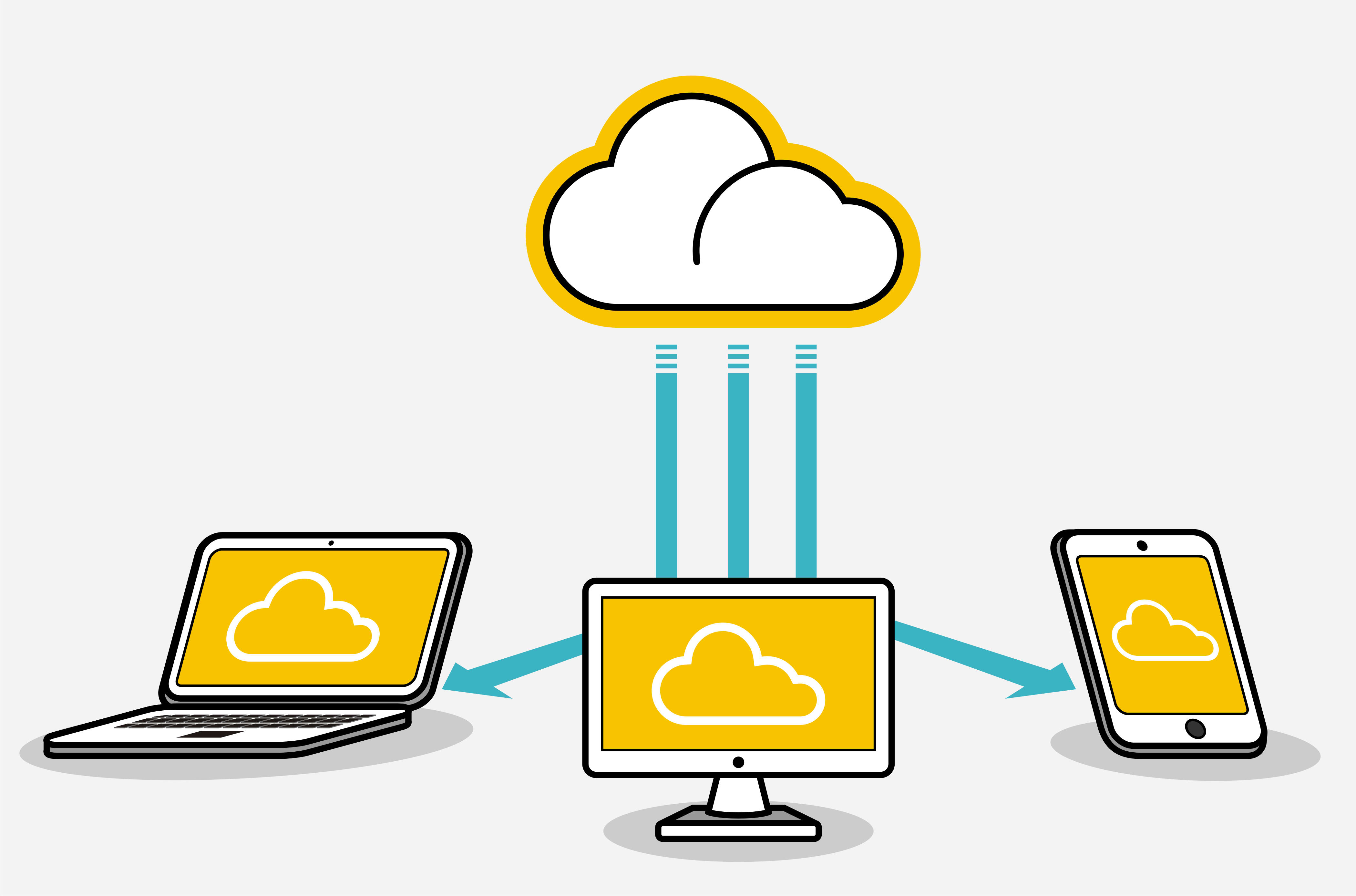 Trends in Cloud Computing Infographic
CLOUD MIGRATION
Cloud Computing is no longer the fu­ture of busi­ness com­put­ing " it is the pre­sent. According to Synergy Research Group, the world­wide rev­enue of cloud com­put­ing crossed the $110 bil­lion mark in 2015, and is ex­pected to grow at a rate of 28% an­nu­ally in 2016. According to the techies at IBM, Cloud Computing, of­ten re­ferred to as sim­ply "the cloud", is the de­liv­ery of on-de­mand com­put­ing re­sources " every­thing from ap­pli­ca­tions to data cen­tres " over the in­ter­net on a pay-for-use ba­sis.
The ad­van­tages of mov­ing to the cloud are man­i­fold. Some of the fun­da­men­tal ben­e­fits of cloud com­put­ing for en­ter­prises are that it al­lows busi­nesses to in­crease their rev­enue, de­crease their costs, and in­crease their cus­tomer sat­is­fac­tion at the same time. Our team at WorkingMouse has pre­pared an in­fo­graphic en­com­pass­ing the growth trends in cloud com­put­ing, so you can make a sound de­ci­sion about whether mov­ing to the cloud suits your larger busi­ness goals.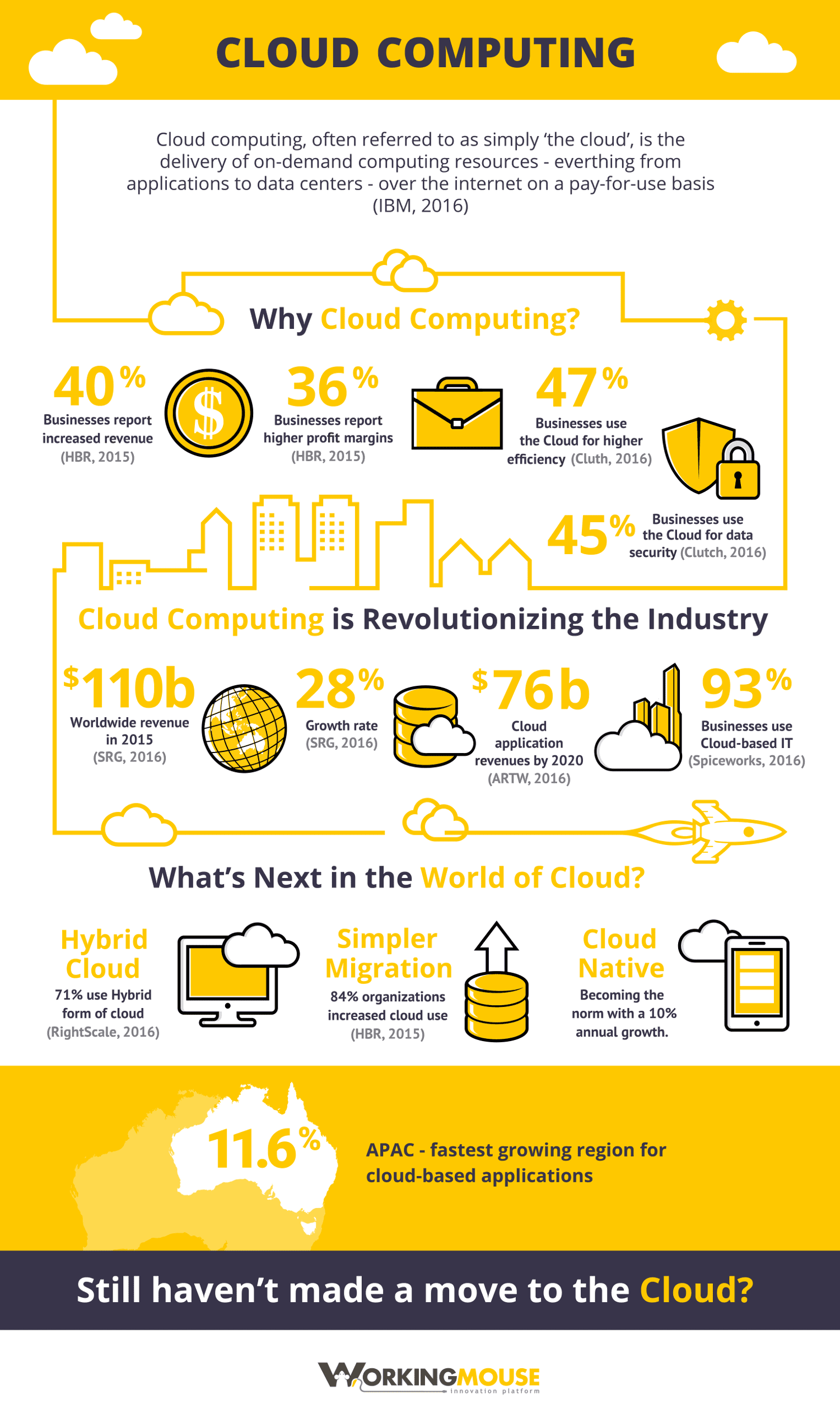 Given the fun­da­men­tal ben­e­fits of cloud com­put­ing to busi­nesses, it is no won­der that it is rev­o­lu­tion­iz­ing the in­dus­try, and is ex­pected to grow fur­ther in the com­ing years. Hence, while 93% or­ga­ni­za­tions now use cloud-based IT ser­vices, 90% busi­nesses plan to in­crease their cloud spend­ing in 2016.
Cloud Computing al­lows busi­nesses to re­duce their IT costs be­cause they are not re­quired to in­vest in the day to day man­age­ment and main­te­nance of the IT sys­tems.
Cloud Computing al­lows busi­nesses to ac­quire flex­i­ble scal­a­bil­ity, i.e. the com­puter ser­vice provider can ac­com­mo­date a busi­ness' data stor­age needs de­pend­ing upon the up­scal­ing and down­scal­ing of op­er­a­tions with­out run­ning out of ca­pac­ity.
Cloud Computing al­lows busi­nesses to en­sure ef­fi­cient col­lab­o­ra­tion across busi­ness lo­ca­tions and de­part­ments, and ef­fec­tive shar­ing of in­for­ma­tion across third par­ties and con­trac­tors. Moreover, it al­lows busi­ness em­ploy­ees to be flex­i­ble in their work prac­tices.
At WorkingMouse we un­der­stand how im­por­tant choos­ing the right cloud provider is for you. Our model-dri­ven Innovation Platform helps star­tups, restarts, and cor­po­rate op­er­a­tions in­no­vate faster and bet­ter by de­liv­er­ing cloud-based soft­ware. Contact us to know more about our in­no­va­tion plat­form and how it can help your busi­ness grow. If you'd like to know more about how our in­no­va­tion plat­form can help you make the much-needed move to the cloud, then con­tact us or head to our Legacy Modernisation Resource Hub.
Learn about Why Picking the Right SAAS Vendor is Important for Cloud Security, and How you can Make a Move to the Cloud by Overcoming the Security Threats.