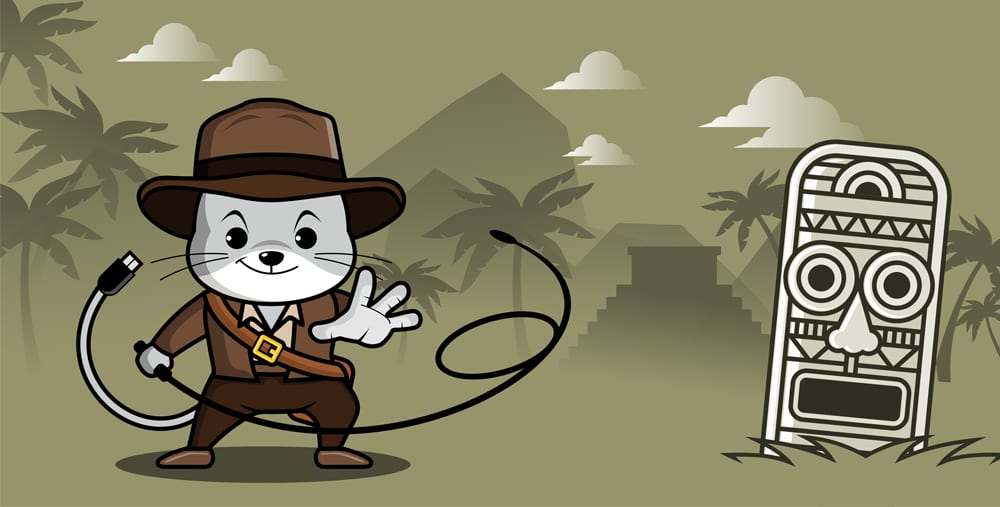 The Archaeological Dig: Migrating Applications to the Cloud
CLOUD MIGRATION
Intellectual prop­erty (IP) is the se­cret source that is a busi­ness's com­pet­i­tive ad­van­tage. In a world of mod­ern tech­nol­ogy 64% of Small & Medium Businesses (SMBs) have al­ready moved to us­ing cloud-based ap­pli­ca­tions in or­der to best utilise their IP. A fur­ther 78% of busi­nesses have in­di­cated that they are con­sid­er­ing pur­chas­ing new so­lu­tions such as these in the next 2-3 years. This makes it clear, main­tain­ing your busi­ness's com­pet­i­tive edge means dig­ging up your IP and mod­ernising your soft­ware from legacy to cloud. As the fa­ther of the qual­ity evo­lu­tion, W. Edwards Deming says,
"It is not nec­es­sary to change. Survival is not manda­tory".
Excavating your IP from the legacy ap­pli­ca­tion in­volves a tricky process rid­dled with a few nav­i­ga­tional is­sues and booby-traps. When find­ing the true IP of a legacy soft­ware you are only ac­tu­ally look­ing for a very small amount of code (sometimes as small as a few hun­dred lines). The rest of the legacy ap­pli­ca­tion is in­fra­struc­ture code that has been writ­ten to ex­pose the IP to the end-users. Software de­vel­op­ers of­ten spend a dis­pro­por­tion­ate amount of time on this in­fra­struc­ture code in­stead of fac­ing the real busi­ness prob­lem of mak­ing im­prove­ments to the IP. From here, the chal­lenge is twofold; firstly how to re­tain the IP mov­ing into the new cloud ap­pli­ca­tion. Secondly, how to man­age the ef­fect the new ap­pli­ca­tion has on the peo­ple us­ing it. In the Lean startup world, this is part of the chal­lenge when find­ing a prod­uct/​mar­ket fit. Luckily, soft­ware en­gi­neers have been work­ing hard be­hind the scenes to find ways to com­bat these chal­lenges in­volved in the process of legacy ap­pli­ca­tion mi­gra­tion.
The tech­ni­cal chal­lenge
Dealing with the first prob­lem, the tech­ni­cal chal­lenge of cre­at­ing a sys­tem­atic path from legacy to cloud, in­volves cre­at­ing a clever data mi­gra­tion strat­egy. The strat­egy must be able to smoothly tran­si­tion ex­ist­ing cus­tomers to the new ap­pli­ca­tion. In ad­di­tion, the new cloud ser­vices must have com­pa­ra­ble be­hav­iour to the legacy sys­tem. To achieve this and un­leash the IP onto an in­no­va­tion plat­form there are a few op­tions for a busi­ness to take:
Application Programming Interface (API)
Shared data­base
Rewrite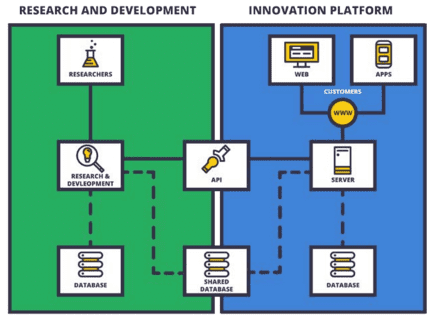 All processes can lead to suc­cess­fully mov­ing to the cloud, but de­ter­min­ing which path is right for your busi­ness can be a lit­tle trick­ier. Rewriting is usu­ally only done if the IP is rel­a­tively small or a busi­ness process. This is due to the huge cost and time as­so­ci­ated with start­ing from scratch. There of course are still awe­some ad­van­tages to this strat­egy, the main one be­ing that you can com­pletely re­design the user in­ter­face and make it bet­ter suited to your mar­kets' mod­ern day needs. Alternatively, us­ing an Application Programming Interface (API) or a shared data­base are both use­ful for un­cov­er­ing valu­able but com­plex IP. As seen in the di­a­gram above, the­ses op­tions can be used to ex­pose or make a cer­tain func­tion­al­ity avail­able in the cloud, no mat­ter which pro­gram­ming lan­guage was used to de­velop the IP.
The new cul­ture chal­lenge
Once you've dug out your IP, mod­ernising is go­ing to re­quire care­ful con­sid­er­a­tion of your prod­uct/​mar­ket fit. The key here is to avoid your busi­ness re­ceiv­ing a 'cul­ture shock' when you ini­tially im­ple­ment the new cloud tech­nol­ogy. To man­age this you should con­sider the two ma­jor booby-traps in the tran­si­tion process:
Forgetting a light­house client
Not adapt­ing your man­age­ment method
The first tech­nique you should adapt in or­der to man­age the cul­ture change is to find a light­house client. A ma­jor flaw of mi­grat­ing com­pa­nies and star­tups these days is the pres­sure they put on them­selves to have one gi­ant re­lease of their new soft­ware. Staging the re­leases to be done in it­er­a­tions al­lows for a "build, mea­sure, learn" process to take place. The light­house client is the key to this process. Once you have a light­house client you should be­gin work on the Minimum Viable Product (MVP). A MVP is de­scribed by the founder of the lean startup, Eric Ries, as the "version of a new prod­uct which al­lows a team to col­lect the max­i­mum amount of val­i­dated learn­ing about cus­tomers with the least ef­fort". As your first cus­tomer, the light­house client comes along and helps in the de­vel­op­ment process of your ap­pli­ca­tion by val­i­dat­ing the func­tion­al­ity and us­abil­ity of what you have cre­ated. Building on their feed­back you can then de­velop the best user ex­pe­ri­ence for fu­ture re­leases of your soft­ware.
For star­tups, the man­age­ment process you will need to im­ple­ment dur­ing the tran­si­tion, might re­quire some adap­ta­tions com­pared to your legacy soft­ware. New tech­nol­ogy can be quite con­fronting to a busi­ness that has be­come ex­tremely de­pen­dant on an out­dated sys­tem. To get em­ploy­ees well-ac­quainted, the key is to slowly in­te­grate the changes. This might start by send­ing out an email with links to the new soft­ware or tri­als for them to use. Delivering fair warn­ing and ed­u­cat­ing em­ploy­ees on how to use the sys­tem in ad­vance will en­sure a smooth tran­si­tion from legacy to cloud.
The com­bined processes in­volved in mi­grat­ing to the cloud can seem a lit­tle daunt­ing from the start, but the op­tions avail­able for dig­ging out IP and the strate­gies for de­vel­op­ment of your new soft­ware can mas­sively re­duce the bur­den on your com­pany. With 78% of busi­nesses poised to make the move to the cloud, main­tain­ing a com­pet­i­tive edge means dig­ging up your IP and mod­ernising. So if just like Indiana Jones, you are ready to em­bark on your next arche­o­log­i­cal ad­ven­ture, check out our Legacy Modernisation Resource Hub to get your start­ing co­or­di­nates!