How the Use of Legacy Systems Impacts Your Customers' Experience
CLOUD MIGRATION
Have you ever heard the word "clunky" used to de­scribe an app?
Clunky, as a term, is kind of like "bug" - we don't nec­es­sar­ily know where its soft­ware ori­gins lie. But it is a recog­nised term in the in­dus­try that we all agree holds the same de­f­i­n­i­tion. For any­one think­ing I have lost my mar­bles and have in­tro­duced bugs into this ar­ti­cle on a whim, bugs (in soft­ware) are er­rors, faults or de­fects. They can be in­tro­duced in nu­mer­ous ways and they range from pesky lit­tle an­noy­ing flick­able bugs to huge poi­so­nous at­tack­ing crea­tures!
Anyway, enough about bugs, let's get back to clunky. The English lan­guage de­fines clunky as, heavy, old-fash­ioned and not-pretty. So, if we take that de­f­i­n­i­tion into the soft­ware space what we imag­ine is a dated and low func­tion­ing plat­form that has no con­sid­er­a­tion for cur­rent UX (user-experience) best prac­tices.
An im­por­tant part of this in­dus­try de­f­i­n­i­tion is the cur­rent UX as­pect. User pref­er­ences change: colours or im­ages are no longer trendy, shapes and lines do not fit within the norm and lan­guage styles are dated. These are all facets of the user ex­pe­ri­ence that can make the app feel clunky or smooth sail­ing.
But, if this is a legacy sys­tem, then can we make the as­sump­tion that these end-users (and just to clar­ify an end-user who is the ac­tual per­son who con­sumes the prod­uct [or ap­pli­ca­tion]) are just used to the ap­pli­ca­tion look­ing and func­tion­ing like that?
Honestly, yes and no. If the legacy sys­tem is some­thing a com­pany uses and can't live with­out it, then yes, the end-users are go­ing to be­come ac­cus­tomed to its quirks and workarounds.
We are go­ing to fo­cus on when end-users find a bet­ter ex­pe­ri­ence some­where else and why they would change.
Go back to your Marketing 101 class, or even your first Microeconomics class when the con­cept of switch­ing costs ap­peared. These are the phys­i­cal, psy­cho­log­i­cal and/​or fi­nan­cial costs in­volved with switch­ing a brand or prod­uct.
Let's com­pare the switch­ing costs be­tween chang­ing banks (e.g. your sav­ings ac­count) and a fit­ness app us­ing 4 dif­fer­ent mea­sures.
1. Competitor Analysis
This is when we want to weigh up our op­tions that are avail­able to us in the mar­ket.
Banking App
Most sav­ings ac­counts are rel­a­tively the same across all big 4 banks in terms of func­tion­al­ity and pric­ing
Fitness App
This is a sat­u­rated mar­ket, and the end-user might ex­pe­ri­ence choice paral­y­sis which can be quite ef­fort­ful
2. Payment Plan
Next we want to re­search how each app is go­ing to take our cash!
Banking App
Fees are deb­ited straight from the ac­count (if there are any fees at all)
Fitness App
Subscription based, di­rect deb­ited through bank ac­count de­tails or card de­tails
3. Set Up
So we have re­searched the best of the mar­ket and are happy with the pay­ment plans, but now we need to set it up.
Banking App
Documents, IDs, em­ploy­ment his­tory…the list goes on! All this to set up one ac­count!
Direct deb­its. How many pay­ments do you have link­ing back to the one ac­count?
Payers. Friends who have your bank de­tails saved to quickly trans­fer you cash — to be hon­est, keep the old one open be­cause of this…there is no easy way around it.
Fitness App
Three let­ters, SSO. Single sign-on makes ac­count cre­ation a piece of cake! Create an ac­count with your cre­den­tials from a highly recog­nised ac­count (eg. Google, Facebook, iCloud, etc.)
4. Ongoing Maintenance
We have down­loaded, set up and now it is time to use it! The main­te­nance of an ap­pli­ca­tion might be your make or break, it will come down to its fea­tures and func­tion­al­ity.
Banking App
Tracking spend­ing and set­ting lim­its/​goals re­quires some ef­fort, but if the fea­ture set of the app has that in­cluded, then I would deem this el­e­ment low.
Fitness App
The user work­flows of these ap­pli­ca­tions are de­signed to do most of the "admin" work for you, so you can only tap into the nec­es­sary part — the work­out!
As we can see from the above com­par­i­son table, there are many con­sid­er­a­tions needed in chang­ing from one ap­pli­ca­tion to an­other. What is cru­cial here is how each in­di­vid­ual end-user deems the pri­or­ity of these as­pects.
For ex­am­ple, you use a fit­ness app and have been us­ing it for 6 months with no re­sults, and are keen to try some­thing new. Therefore, your pri­or­ity on the High Switching Cost of com­peti­tor analy­sis is some­thing you are will­ing to pay for.
On the other hand, if you don't have all the nec­es­sary items ac­ces­si­ble for set­ting up a new bank ac­count, then weigh this up with the low level at­trib­uted to the com­peti­tor analy­sis, you might re­think that pur­chase.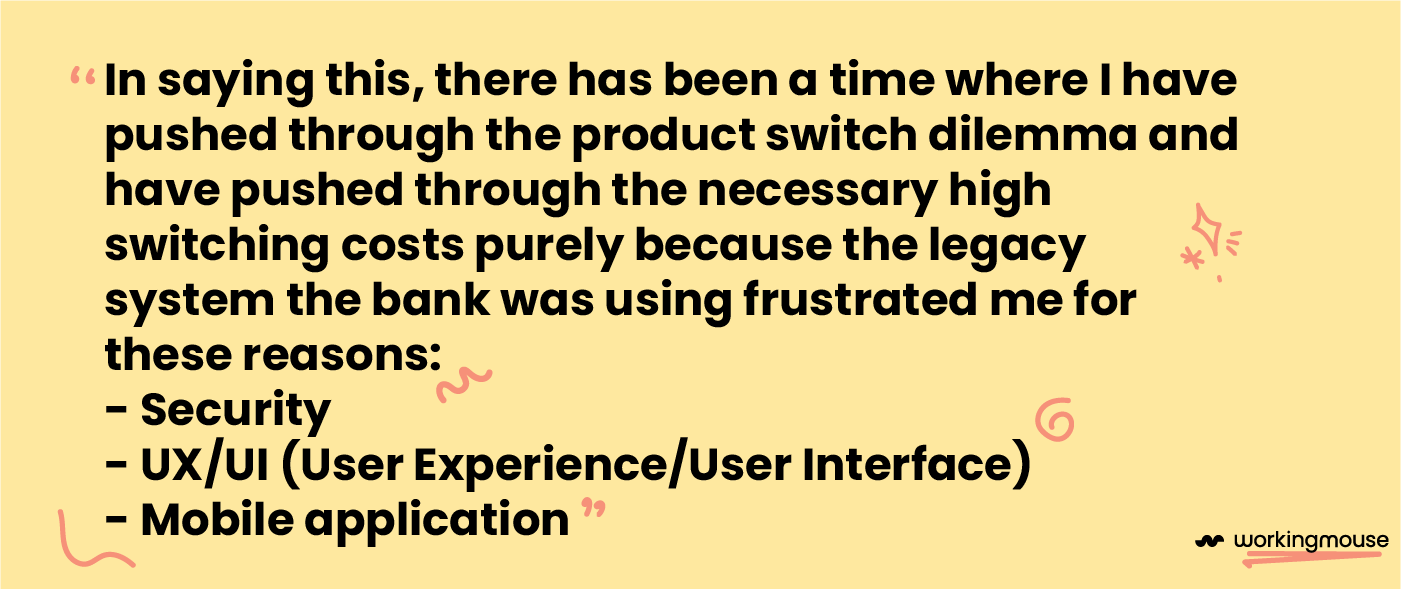 These are my tip­ping-point rea­sons (and I'm sure I'm not alone); the rea­sons that change my de­ci­sion-mak­ing process from a want to a need.
Let's carry on with the bank­ing app ex­am­ple be­low to dis­sect these rea­sons a bit fur­ther.
Security
Realistically, we trust the banks we de­posit and save our money with to be se­cure. That makes sense, right? Well, the legacy sys­tem I was us­ing for my old bank ac­count did not seem se­cure. Sure, to pass Australian bank­ing laws it needs prove that it is, and I am sure it did, but the sys­tem it­self and the us­abil­ity of it made me think oth­er­wise.
It is nor­mal that when an end-user heads to their bank­ing web­site and wants to log on to in­ter­net bank­ing from there, they are di­rected to an­other por­tal, win­dow or tab. This was the case with my old bank ac­count, but some­thing that made me ques­tion this was the new win­dow opened for the in­ter­net bank­ing site had a dif­fer­ent com­pa­ny's logo on it!
Truth be told, they were do­ing a merger with an­other com­pany — but that did­n't calm my nerves en­tirely. Migrating sys­tems, es­pe­cially in soft­ware, is a very del­i­cate process, so my trust in their sys­tem started to de­crease, rapidly.
This trust could have been strength­ened through care­ful com­mu­ni­ca­tion of the merg­ing brands there­fore man­ag­ing my ex­pec­ta­tions.
UX/UI
I re­mem­ber be­ing ex­ceed­ingly frus­trated by this sys­tem, con­tin­u­ously, be­cause I strug­gled to nav­i­gate through the work­flows they had cre­ated. Unlike typ­i­cal legacy sys­tems, where things don't change, their but­tons, CTAs and in­for­ma­tion shuf­fled around all the time.
It should­n't take me twice as long every time to process a sim­ple trans­fer.
As some­one who works in Customer Success I can see how users are in­ter­act­ing with sys­tems to rec­om­mend im­prove­ments where pos­si­ble. Although, changes such as these were on a large scale and needed suf­fi­cient ed­u­ca­tion to go along­side it, such as tooltips or app-cues that pin-point the changes and ori­ent the end-user be­fore they get frus­trated.
Similar to strength­en­ing the trust lev­els through ed­u­ca­tion — chang­ing el­e­ments of a sys­tem that dis­rupt the cur­rent work­flow can cre­ate large amounts of dis­rup­tion to the end-users needs to be han­dled care­fully. Engagement prac­tices go a long way to mit­i­gate the risk of frus­trated end-users.
Mobile App (or lack there-of)
Mobile bank­ing apps have come a long way in the last 10 years, es­pe­cially with re­gards to fea­tures and func­tion­al­ity. This was not the case for my old bank ac­count, and as I was on the move be­tween uni­ver­sity, causal work, and the odd travel ad­ven­ture, I needed my bank­ing app to suit my lifestyle.
Yes, this was a few years ago — but when I could see the leaps and bounds the com­peti­tors were demon­strat­ing in their func­tion­al­ity ad­vance­ments, it was a no-brainer to switch.

---
I am just one end-user out there, and I know I men­tioned that switch­ing costs are mostly per­sonal, but there are ways to mit­i­gate the num­ber of end-users switch­ing be­cause of a legacy sys­tem's lim­i­ta­tions. These in­clude:
MRR (or ARR) and Churn Rate
MRR is your monthly re­cur­ring rev­enue and ARR is your an­nual re­cur­ring rev­enue. If your ap­pli­ca­tion is a sub­scrip­tion-based pric­ing model, these fig­ures should con­tinue to in­crease if you are con­tin­u­ing to hold onto your end-users (or cus­tomers).
If not, the ev­i­dence will be in the churn rate. This is the rate to which end-users are leav­ing your ap­pli­ca­tion, usu­ally on a month-to-month ba­sis.
Just in case you need a lit­tle more in­for­ma­tion on these terms, read my Software KPIs blog!
Fun fact — this is a great case study of how ac­knowl­edg­ing these fig­ures is cru­cial to the growth of your busi­ness, and it cen­tres around a very well-known legacy ap­pli­ca­tion, Salesforce!
Feedback
That age old say­ing of "know your cus­tomer" re­ally should be "listen to your cus­tomer"! How can you know them with­out lis­ten­ing to them?
Listen to their frus­tra­tions, and con­tinue to ask "why"? Why does this frus­trate them?
By ac­tively lis­ten­ing, you may dis­cover things that you were not aware of in your ap­pli­ca­tion.
Analytics
Probably my favourite (and I am def­i­nitely bi­ased!) be­cause num­bers don't lie, but it's also a huge part of my every­day job (hehe!!).
Look into your an­a­lyt­ics of your ap­pli­ca­tion (and if you do not have one…get one! but first check out this blog where I dis­cuss my favourite an­a­lyt­ics tools), un­der­stand the trends, the drop-offs and the range of end-users you are ser­vic­ing.
These are my go-to 3 ways to au­dit your ap­pli­ca­tion and check if your legacy ap­pli­ca­tion is be­ing switched out for the next best thing, or if your users are re­luc­tantly stick­ing around be­cause they feel like they have to. If you are feel­ing that these 3 points will not cover your ap­pli­ca­tion, head to our Legacy Modernisation page and down­load out e-book man­ual to help you get started.
It goes with­out say­ing, if you have no idea how to track your MRR (or ARR), churn rate or feed­back that come from your an­a­lyt­ics then reach out and chat to me or any­one in our team. You can get in con­tact with us here.