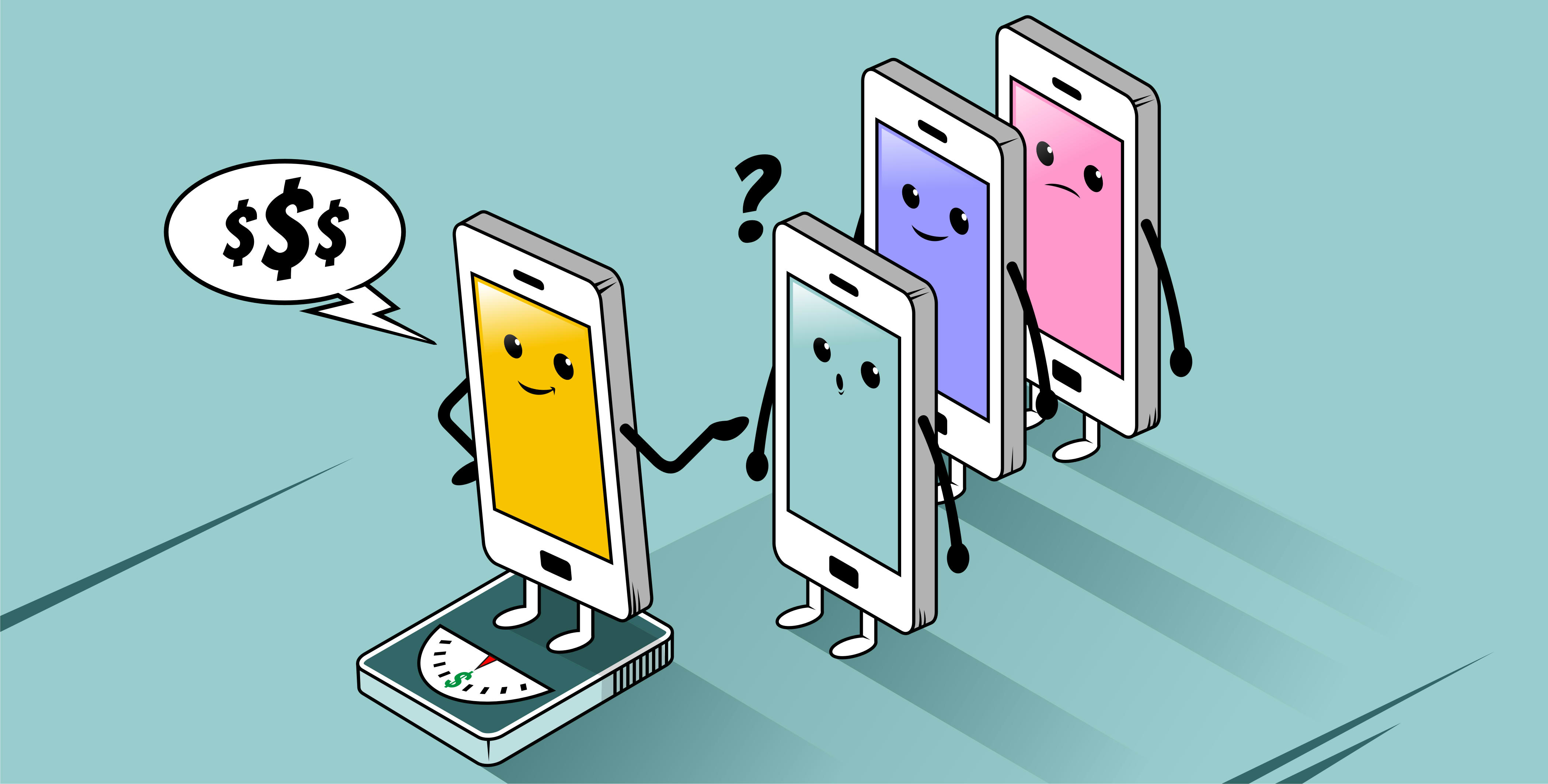 Recouping App Development Costs By Monetising Your App
APP DEVELOPMENT
Every day, some­one be­lieves they have the next big idea. The app to beat Facebook, Uber and Spotify. While this is cer­tainly pos­si­ble, the 'head in the clouds' ap­proach of­ten leads to prob­lems down the track. The key to a last­ing, prof­itable app is how it has been mon­e­tised. There are a num­ber of tech­niques avail­able for app de­vel­op­ers where the right tech­nique(s) de­pend on the in­di­vid­ual app. These tech­niques have be­come in­creas­ingly im­por­tant given the fi­nan­cial bur­den caused by app de­vel­op­ment costs.
Advertising
The most com­mon tech­nique used to mon­e­tise an app is in­cor­po­rat­ing ad­ver­tise­ments through­out the app. However you need to be wary when adopt­ing this strat­egy. Society has be­come im­pa­tient and will grow in­creas­ingly frus­trated if your ad­ver­tise­ments are too pushy or un­re­lated to the users needs. Good in­te­gra­tion of ad­ver­tise­ments within the con­tent of the app is an ef­fec­tive way of avoid­ing un­wanted fric­tion. Another con­sid­er­a­tion is how en­gaged users are with your app and its ad­ver­tise­ments. Higher en­gage­ment (along with more users) will at­tract ad­ver­tis­ers. Competition amongst ad­ver­tis­ers and the per­cep­tion that users en­gage with your app al­lows you to charge a pre­mium for ad­ver­tise­ments.
Download Fee
While they are some­what of a rar­ity, paid apps mon­e­tise their idea at the ear­li­est pos­si­ble stage. The ob­vi­ous risk is that users will avoid the app in favour of a free al­ter­na­tive if one is avail­able. The temp­ta­tion to down­load an app that costs as low as $0.99 fades as soon as a free al­ter­na­tive is found. Evidence for this can be found in the graph be­low. App de­vel­op­ers won't cre­ate a paid app when there's no mar­ket for it. There are ex­cep­tions where charg­ing to down­load an app is an ef­fec­tive means of col­lect­ing rev­enue. For ex­am­ple; apps that al­low users to cre­ate mu­sic, plan trips or play in­ter­ac­tive games.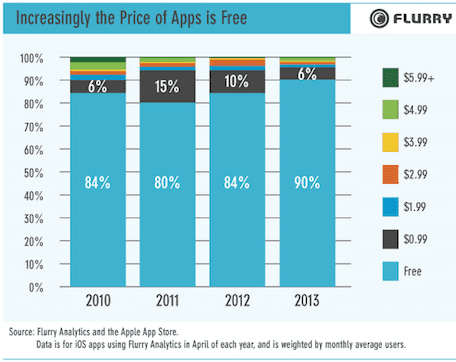 One strat­egy that may per­suade users to even­tu­ally pay to use the app is to de­velop two ver­sions, a freemium and a pre­mium (paid) ver­sion. The freemium ver­sion in­tro­duces the app to the user, per­mit­ting ac­cess to some fea­tures. However to un­lock all fea­tures, the user would need to pur­chase the pre­mium ver­sion.
Alternatively, a free app does­n't need to be mon­e­tised through a sep­a­rate pre­mium ver­sion. Recently, many app de­vel­op­ers have grav­i­tated to­wards in-app pur­chases as a mon­eti­sa­tion strat­egy. This strat­egy is best ex­plained through an ex­am­ple. Let's take the pop­u­lar gam­ing app Clash of Clans. The only ver­sion is free, how­ever the app al­lows users to pur­chase items that would oth­er­wise re­quire a huge time in­vest­ment to ob­tain. This gives users an op­tion; ei­ther con­tinue to grad­u­ally im­prove or fast track your player de­vel­op­ment by mak­ing in-app pur­chases. Notably, there's no cap on the amount that can be spent, with some highly en­gaged users ca­pa­ble of spend­ing hun­dreds of dol­lars. Just re­mem­ber not to keep your credit card near your chil­dren with one fif­teen year old spend­ing $50,000 on in-app pur­chases.
Sponsorship/Partnership
If you find a part­ner with a sim­i­lar cus­tomer base who can add value to your app then there may be an op­por­tu­nity to in­crease ex­po­sure to your app. While the part­ner­ship arrange­ment may merely in­volve rec­i­p­ro­cal ad­ver­tis­ing (ie. not a rev­enue stream), it can in­crease your user base which leads to mon­eti­sa­tion op­tions. The end goal is for users on an­other app to stum­ble across your logo or a fea­ture of your app. That ex­po­sure may con­vince them to down­load your app.
Subscription Tiers
If your of­fer­ing is a sub­scrip­tion ser­vice, you may be able to cre­ate dif­fer­ent sub­scrip­tion tiers. Take Atlassian as an ex­am­ple. They have a num­ber of dif­fer­ent sub­scrip­tion lev­els de­pend­ing on your us­age lev­els. As users (and ad­min­is­tra­tors) in­crease, so to does the sub­scrip­tion level. This is a good way of max­imis­ing re­turn for us­age.
Ultimately, the best mon­eti­sa­tion tech­nique will de­pend on your app of­fer­ing. You may choose more than one tech­nique or even run at a loss for a pe­riod of time to grow your user base be­fore com­mer­cial­is­ing your app. Before you can mon­e­tise your app, you must first build it. Don't get bogged down with app de­vel­op­ment. There are ways to avoid slow and ex­pen­sive app de­vel­op­ment!
Your vi­sion,
our ex­per­tise
true