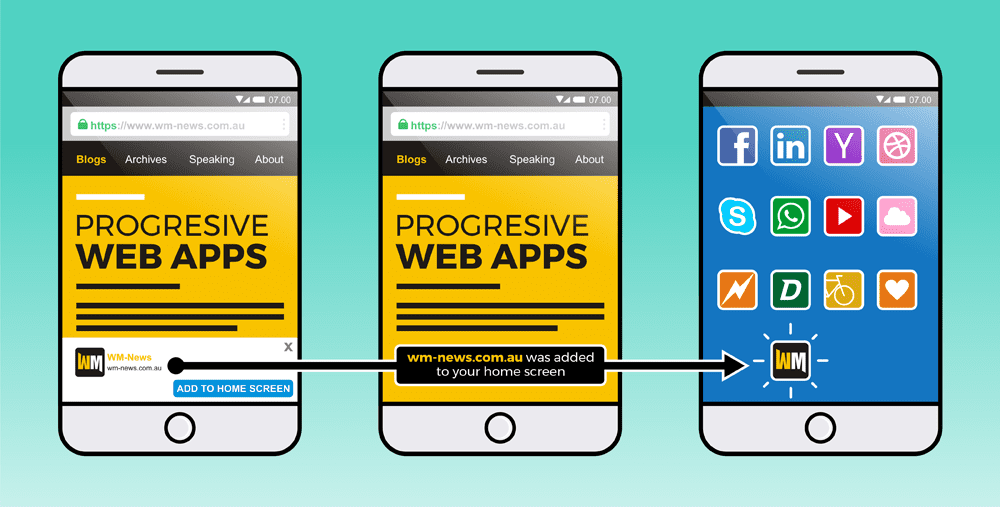 Progressive Web Apps Are the Next Big Thing
APP DEVELOPMENT
Modern cul­ture is a 'now cul­ture'. We don't want things to­mor­row, or even in a minute, we want them now. It's not sur­pris­ing then that every step you put be­tween your po­ten­tial users and your prod­uct/​ser­vice re­duces your on­board­ing rate by 20%! And then there are the po­ten­tial block­ers be­yond your con­trol, such as a user for­get­ting their Apple ID or Google Play lo­gin or a user's phone run­ning out of stor­age space. Anything and every­thing that ham­strings com­ple­tions is a prob­lem, which is why Progressive Web Apps (PWA) are so ex­cit­ing. They skip the crit­i­cal down­load step from the on­board­ing process, and in so do­ing, also skip a bunch of block­ers that were pre­vi­ously be­yond your con­trol. PWA are one way you can hack growth and gain an edge on your com­peti­tors.
Progressive Web Apps 101
Progressive Web Apps are web­sites with the ca­pa­bil­i­ties of apps. This is ac­com­plished us­ing the lat­est tech­nolo­gies and tech­niques, such as HTML5. Google de­scribes these apps as pro­gres­sive, dis­cov­er­able, link­able, re­spon­sive and app-like.
Progressive Web Apps have sev­eral ad­van­tages on tra­di­tional apps, with dis­cov­er­abil­ity and link­a­bil­ity be­ing the most ap­par­ent. Discoverability and link­a­bil­ity sim­ply mean the app can be dis­cov­ered on search en­gines and linked to on de­vices with an in­ter­net con­nec­tion. Factor in pro­gres­sive and re­spon­sive and po­ten­tial users should be able to open the app on any de­vice by click­ing on a link. While there are things PWA can­not do, this is some­thing only they can do.
Progressive Web Apps vs. Traditional Mobile Apps
App de­vel­op­ment can be slow and ex­pen­sive, but Progressive Web Apps should be less so than tra­di­tional apps. This is partly be­cause they are web based, which means they have ac­cess to the wider web ecosys­tem of plu­g­ins and APIs. Being coded to work on browsers also helps with cross-de­vice com­pat­i­bil­ity.
But it's not all rain­bows and sun­shine. Progressive Web Apps also have dis­ad­van­tages. While they have an edge on tra­di­tional apps dur­ing on­board­ing, the re­verse is true when it comes to re­ten­tion.
Localytics re­ports that 52% of users will opt-in to push mes­sages and that these users have an 88% higher en­gage­ment rate. Overall, push no­ti­fi­ca­tions lead to higher re­ten­tion rates.
The prob­lem is, al­though new APIs al­low web­sites to send push no­ti­fi­ca­tions to mo­bile, users are three times more likely to re­open an app than a web­site.
Also, be­cause apps run di­rectly on the mo­bile de­vice, rather than on a browser, they can be bet­ter op­ti­mised and con­sume less on­line data. However, as it is still early days, it's likely the lim­i­ta­tions and dis­ad­van­tages that are hold­ing Progressive Web Apps back will be over­come.
Android Instant Apps
It's per­haps no sur­prise that Google, who coined the term Progressive Web App, is mak­ing the biggest waves in this space. Google has re­cently be­gun lim­ited test­ing of Android Instant Apps (AIA): which could seam­lessly com­bine PWA and tra­di­tional, na­tive apps.
App own­ers will not need to de­velop and main­tain a Progressive Web App sep­a­rate to its na­tive app, in­stead Google will al­low users to dis­cover the app on Google Play and ei­ther down­load the na­tive app or in­stantly ac­cess the PWA.
Android Instant Apps have the po­ten­tial to make the best of both worlds. Users can eas­ily dis­cover an app us­ing a search en­gine or a link and drive straight into en­gag­ing with its core ser­vice or prod­uct of­fer­ing with the ad­di­tional op­tion to down­load a na­tive app.
Where are we now, where are we go­ing
Overall, it's still early days for Progressive Web Apps and Android Instant Apps, but there's a lot of promise here. I'm cer­tainly ex­cited.
Android Instant Apps shows a sweet spot meld­ing of Progressive Web Apps and tra­di­tional apps. Where an app can be dis­cov­ered on Google or in a Facebook mes­sage, ac­cessed once with­out a down­load and then, later, saved to the mo­bile's home screen or (in the case of Android Instant Apps) even down­loaded.
Your vi­sion,
our ex­per­tise
true