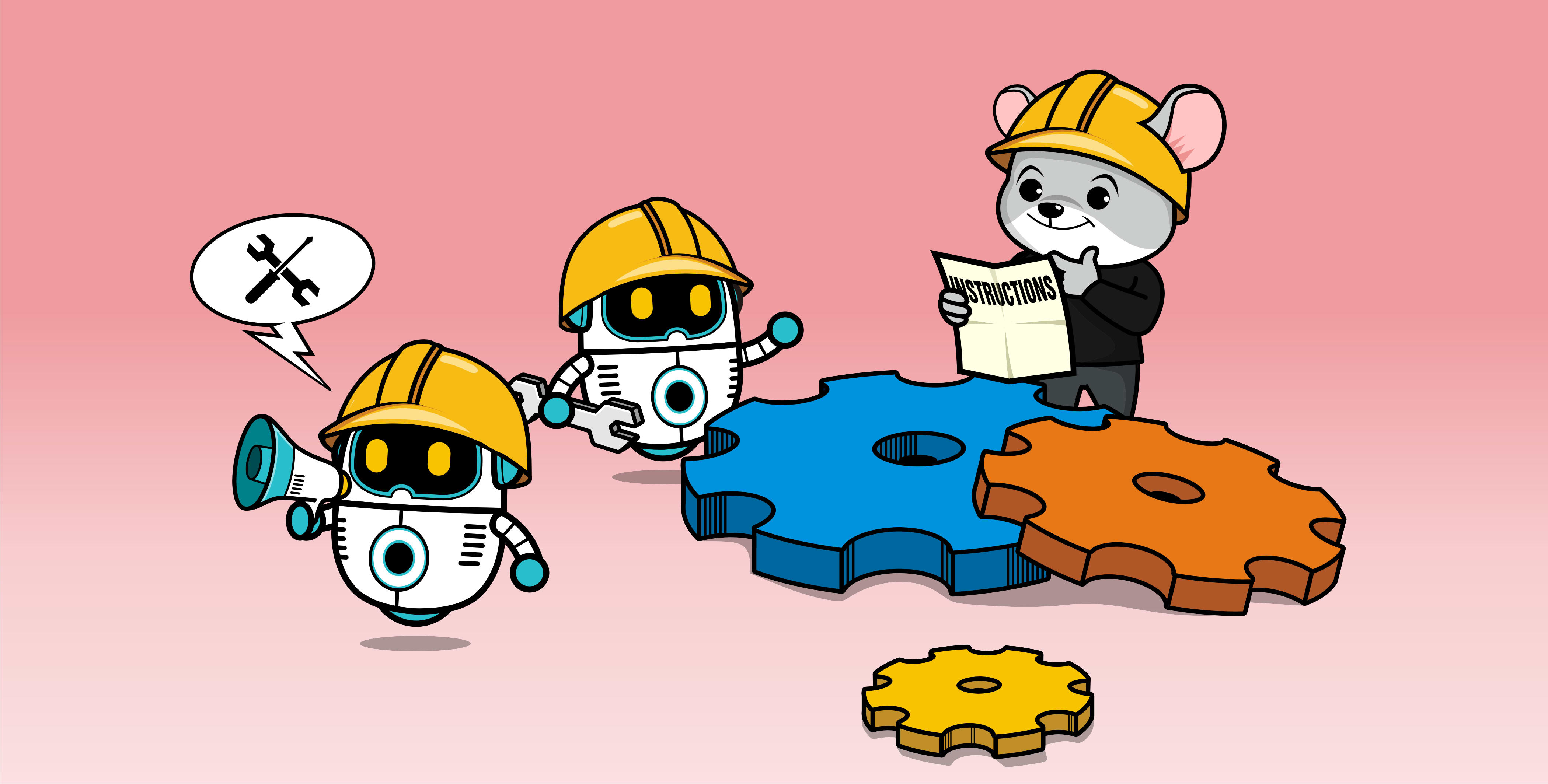 5 rea­sons de­vel­op­ers are choos­ing code­bots
APP DEVELOPMENT
There are some pretty big play­ers al­ready in the game, which can seem in­tim­i­dat­ing to new­com­ers try­ing to en­ter the mar­ket, but first in is not al­ways best dressed.
Some new plat­forms have a dis­tinct ad­van­tage.
Learning from the mis­takes of their pre­de­ces­sors, and tak­ing user feed­back into con­sid­er­a­tion, new plat­forms have the power to re­lease su­pe­rior, more ef­fi­cient prod­ucts from the get go.
Some of the biggest low-code play­ers al­ready in the game have clunky sys­tems that are tricky to learn, and lock you into their plat­form. These sys­tems ei­ther write un­in­tel­li­gi­ble code, or put le­gal bar­ri­ers be­tween a user and should be their IP. Consequently, there are some big names that see as much as sixty per­cent of their cus­tomers leav­ing within the first year of con­tact, typ­i­cally hav­ing to re­build their prod­uct from scratch.
In a com­pet­i­tive con­sumer mar­ket, brands must make con­tin­u­ous mod­erni­sa­tion a pri­or­ity; a sin­gle bad ex­pe­ri­ence can be costly. Codebots makes dig­i­tal trans­for­ma­tion ef­fort­less, and brands have max­i­mum con­trol over their dig­i­tal ex­pe­ri­ences; they own 100% of their in­tel­lec­tual prop­erty, which means they can eas­ily ex­tract their code at any time.
For a more de­tailed analy­sis of Codebots and how it can help dig­i­tal trans­for­ma­tion strate­gies, down­load the Bots that Code e-book.
Here are the top five rea­sons de­vel­op­ers choose Codebots.
1: Codebots writes bet­ter qual­ity code and is more con­sis­tent
Codebots has sev­eral bots that write to dif­fer­ent tech stacks, and the col­lec­tion is grow­ing based on de­mand. With bots writ­ing most of the code­base, and cre­at­ing their own tests si­mul­ta­ne­ously, hu­man er­ror is sig­nif­i­cantly re­duced. Different de­vel­op­ers write code dif­fer­ently - think in the same con­text that dif­fer­ent peo­ple have dif­fer­ent hand­writ­ing. When you have sev­eral peo­ple writ­ing in the same doc­u­ment, things can get messy and be­come dif­fi­cult to read.
Using bots to do the ma­jor­ity of the repet­i­tive, heavy lift­ing, means the code­base is writ­ten in a con­sis­tent style, mak­ing it far eas­ier to read and de­velop with.
2: Codebots is faster, more ef­fi­cient, and al­lows de­vel­op­ers to be more pro­duc­tive
Repetitive, mo­not­o­nous tasks com­pleted on a reg­u­lar ba­sis have a se­ri­ous im­pact on hu­man er­ror and mo­ti­va­tion. Codebots en­ables or­gan­i­sa­tions to cre­ate faster, more ef­fi­cient op­er­a­tions for de­vel­op­ing and de­liv­er­ing dig­i­tal ex­pe­ri­ences and ap­pli­ca­tions.
Codebots write on av­er­age 90% of a code­base, pri­mar­ily tak­ing care of the generic, repet­i­tive el­e­ments. This means de­vel­op­ers and de­sign­ers can fo­cus on be­ing cre­ative. Having more en­gag­ing tasks to do im­proves mo­ti­va­tion, and re­duces hu­man er­ror in the foun­da­tion of the code.
Codebots al­lows de­vel­op­ers to com­plete tasks that would or­di­nar­ily take up to six months in as lit­tle as two weeks, im­prov­ing de­vel­op­ment time by as much as ten times thanks to reusable code and stream­lined processes. Developers can pro­duce higher qual­ity prod­ucts faster, and have more time to fo­cus on new pro­jects, or cre­at­ing su­pe­rior so­lu­tions that give clients a com­pet­i­tive ad­van­tage.
Bots cre­at­ing the foun­da­tional code­base min­imises tech­ni­cal debt, and means there are sig­nif­i­cantly less bugs to fix.
3: Codebots eas­ily en­able dig­i­tal trans­for­ma­tion
Organisational re­quire­ments have moved be­yond sim­ply de­vel­op­ing mo­bile or web apps; de­vel­op­ment plat­form ven­dors need to ex­pand their value propo­si­tion. The de­mand for a stream­lined de­vel­op­ment sys­tems that of­fer a range of ex­pe­ri­ences has be­come a force low-code ven­dors can­not tip­toe around.
Codebots en­ables or­gan­i­sa­tions to rapidly scale their ap­pli­ca­tions across a range of plat­forms and de­vices. This sim­pli­fies the dig­i­tal trans­for­ma­tion process, and gives brands higher con­trol over their dig­i­tal ex­pe­ri­ences.
4: With Codebots, you own your in­tel­lec­tual prop­erty (IP), and can eas­ily ex­tract it at any time
One of the ma­jor prob­lems with many low-code de­vel­op­ment plat­forms on the mar­ket, is that once you com­mit to them, they lock you into their sys­tem. If you're not sat­is­fied with their of­fer­ing, it's likely you will have to re­build from scratch. Another com­mon prob­lem, is that many low-code ven­dors that do al­low you to ex­tract your IP, make the process ex­tremely dif­fi­cult, and the prod­uct you get is hard to read, full of bugs, and proves great dif­fi­culty with reim­ple­men­ta­tion.
Codebots' ef­fi­cient, de­vel­oper friendly code, al­lows you to eas­ily ex­tract and reim­ple­ment your IP in a clean and pain­less man­ner.
5: Codebots al­lows you to de­ploy your ap­pli­ca­tions quickly and eas­ily
Codebots makes de­ploy­ment highly avail­able, in an Amazon Web Services (AWS) load-bal­anced en­vi­ron­ment.
There was a time when a sin­gle de­ploy to a cloud ser­vice like AWS would take up to a week. Codebots builds a fully dis­trib­uted en­vi­ron­ment on your be­half, and al­lows you to send in­for­ma­tion di­rectly to your AWS ac­count. This pro­vides fur­ther ef­fi­ciency by stream­lin­ing your con­tin­u­ous de­ploy­ment processes.
Codebots of­fers a range of front-end de­vel­op­ment tools and back-end ser­vices that en­able rapid, scal­able de­vel­op­ment of tar­geted and am­bi­ent user ex­pe­ri­ences across de­vices and chan­nels. This means re­duced time to mar­ket, which is a mas­sive boon to dig­i­tal trans­for­ma­tion ef­forts.
With faster re­leases, feed­back cy­cles can be shorted, en­abling your or­gan­i­sa­tion to cre­ate and hone your dig­i­tal ex­pe­ri­ences.
The Codebots way
With the plethora of low-code of­fer­ings on the mar­ket, it is easy to see how de­vel­op­ers can get over­whelmed when se­lect­ing a plat­form that will work for their busi­ness.
Codebots takes care of the heavy lift­ing, writ­ing higher qual­ity code faster, al­low­ing or­gan­i­sa­tions to stream­line their soft­ware de­vel­op­ment ef­forts and con­tin­u­ously mod­ernise their sys­tem through quick and easy de­ploy­ment.
WorkingMouse is an of­fi­cial Codebots chan­nel part­ner and has used the plat­form to de­liver a num­ber of suc­cess­ful pro­jects across var­i­ous in­dus­tries. It's im­por­tant to un­der­stand that while Codebots will do the heavy lift­ing, there is al­ways unique busi­ness logic that needs to be in­cluded through cus­tom code. WorkingMouse de­vel­op­ers work with clients to un­der­stand their unique busi­ness re­quire­ments be­fore us­ing Codebots and cus­tom code to build the soft­ware ap­pli­ca­tion.