Scope
Unpacking the prob­lem
Way of Working
The Way of Working is a recog­ni­tion that the soft­ware de­vel­op­ment in­dus­try is­n't per­fect, and it's un­likely to ever be. There are con­stant risks that threaten to de­rail a pro­ject at any mo­ment. Rather than watch­ing the news cy­cle of over-bud­get, over-time IT pro­jects re­peat, we be­lieve that with the rights tools and tac­tics we can help com­pa­nies de­liver suc­cess­ful soft­ware pro­jects.
Through our ex­pe­ri­ences and learn­ings in real-world pro­jects, we have cat­a­logued what works and what does­n't work in the form of processes. These processes un­der­pin every­thing we do. It cre­ates a plat­form to share our ideas with our teams, cus­tomers and any­one else de­vel­op­ing soft­ware. We be­lieve this level of trans­parency and open­ness is in­te­gral to guid­ing our cus­tomers, com­peti­tors and any other or­gan­i­sa­tion along the soft­ware de­vel­op­ment jour­ney.
The Way of Working be­gan as a de­fined process around the ag­ile de­vel­op­ment frame­work, which has slowly grown into its own set of prin­ci­ples, tools and guide­lines. Where the ag­ile method­ol­ogy sets out a vi­sion, the Way of Working cre­ates a more de­tailed frame­work for de­vel­op­ment teams to fol­low. Broadly speak­ing, the Way of Working processes and prac­tices have been ap­plied to:
Develop be­spoke web and mo­bile ap­pli­ca­tions
Migrate legacy soft­ware
Migrate legacy soft­ware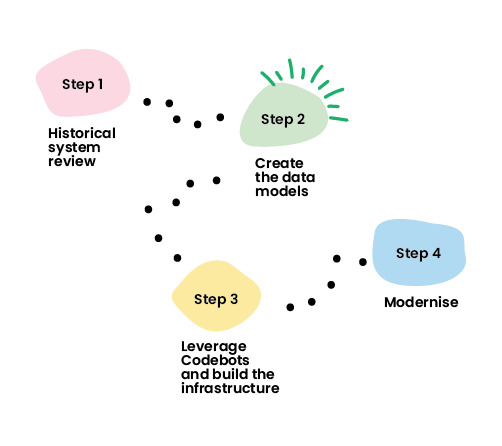 Teams
The process re­lies on five teams to guide the pro­ject through dif­fer­ent phases: Growth, Product, Delivery, Support and Customer. Each team will be in­volved dur­ing var­i­ous phases de­pend­ing on a pro­jec­t's re­quire­ments.
Growth
The Growth team is rel­e­vant at all phases of the process. The team is made up of two key roles, the Account Manager and the Customer Success Manager. An Account Manager is an in­ter­nal role that is the key in­ter­me­di­ary be­tween the in­ter­nal teams and any rel­e­vant ex­ter­nal stake­hold­ers. While the Customer Success Consultant is largely in­volved dur­ing the lat­ter phases of Scope, Development and Support. Their key re­spon­si­bil­ity is en­sur­ing the ap­pli­ca­tion is meet­ing the busi­ness ob­jec­tives by con­sis­tently mea­sur­ing an ap­pli­ca­tion's per­for­mance against key met­rics.
Have more ques­tions? Visit the Knowledge Base