Support
Continuing the jour­ney
Enhance
The Enhance sec­tion of sup­port fo­cuses on em­pow­er­ing the cus­tomer by giv­ing them the abil­ity to quickly it­er­ate on im­prove­ments with­out the need for long de­vel­op­ment cy­cles. Typically, these op­por­tu­ni­ties will arise from ei­ther di­rect cus­tomer re­quests or via op­por­tu­ni­ties iden­ti­fied through Product Success.
The key dif­fer­en­tia­tor for the Enhance process ver­sus reg­u­lar sup­port is al­low­ing de­vel­op­ers time to fo­cus on the why of an im­prove­ment and work along­side a de­signer if ap­plic­a­ble. Too of­ten im­prove­ments made when siloed within a tra­di­tional tech­ni­cal sup­port team, don't con­sider the user or the ex­ist­ing de­sign sys­tem. Enhance pro­vides the abil­ity to col­lab­o­ra­tively con­sider an im­prove­ment with all rel­e­vant dis­ci­plines, al­low­ing more mean­ing­ful and con­sid­ered im­prove­ments to be de­signed and de­liv­ered.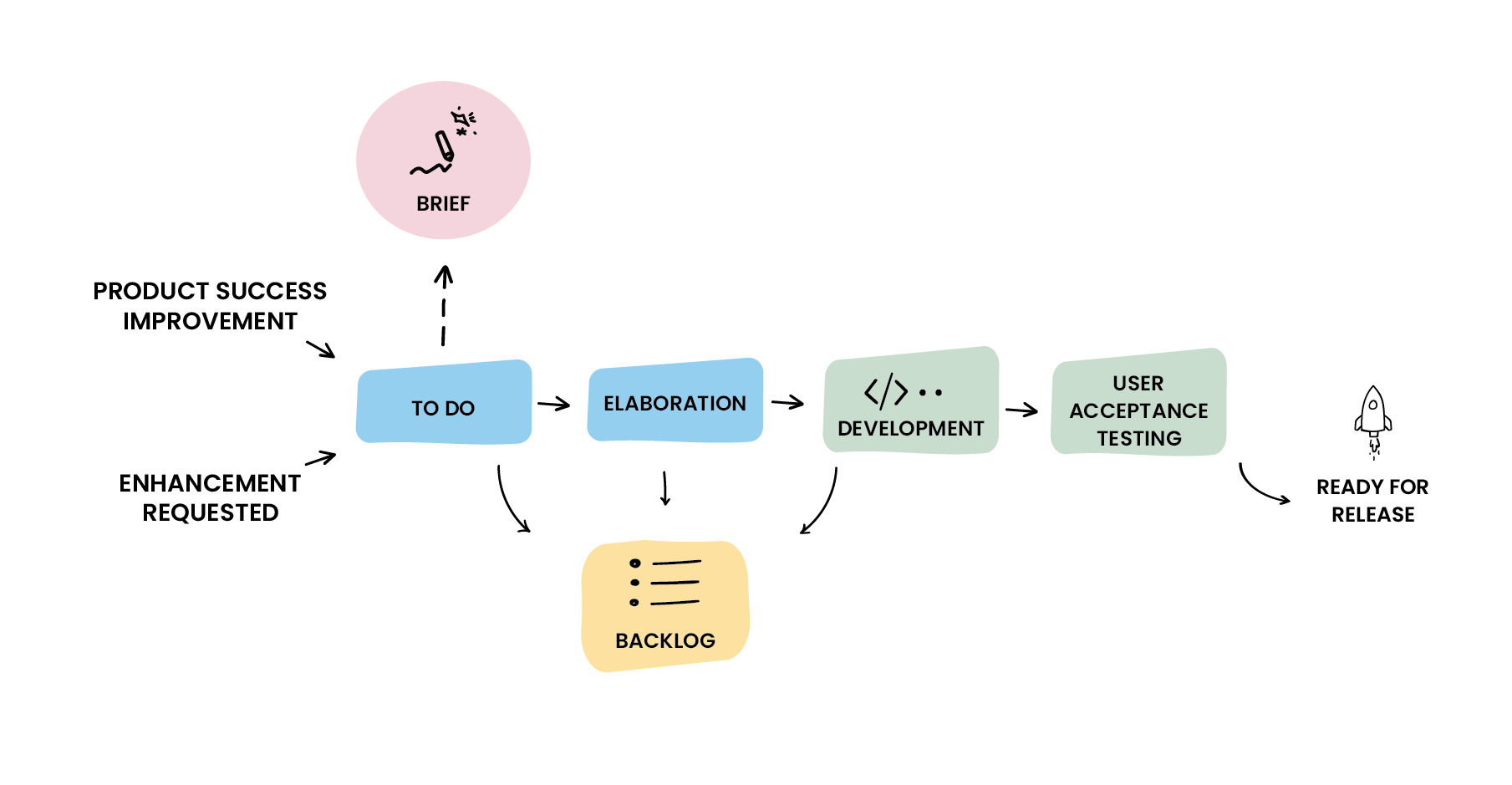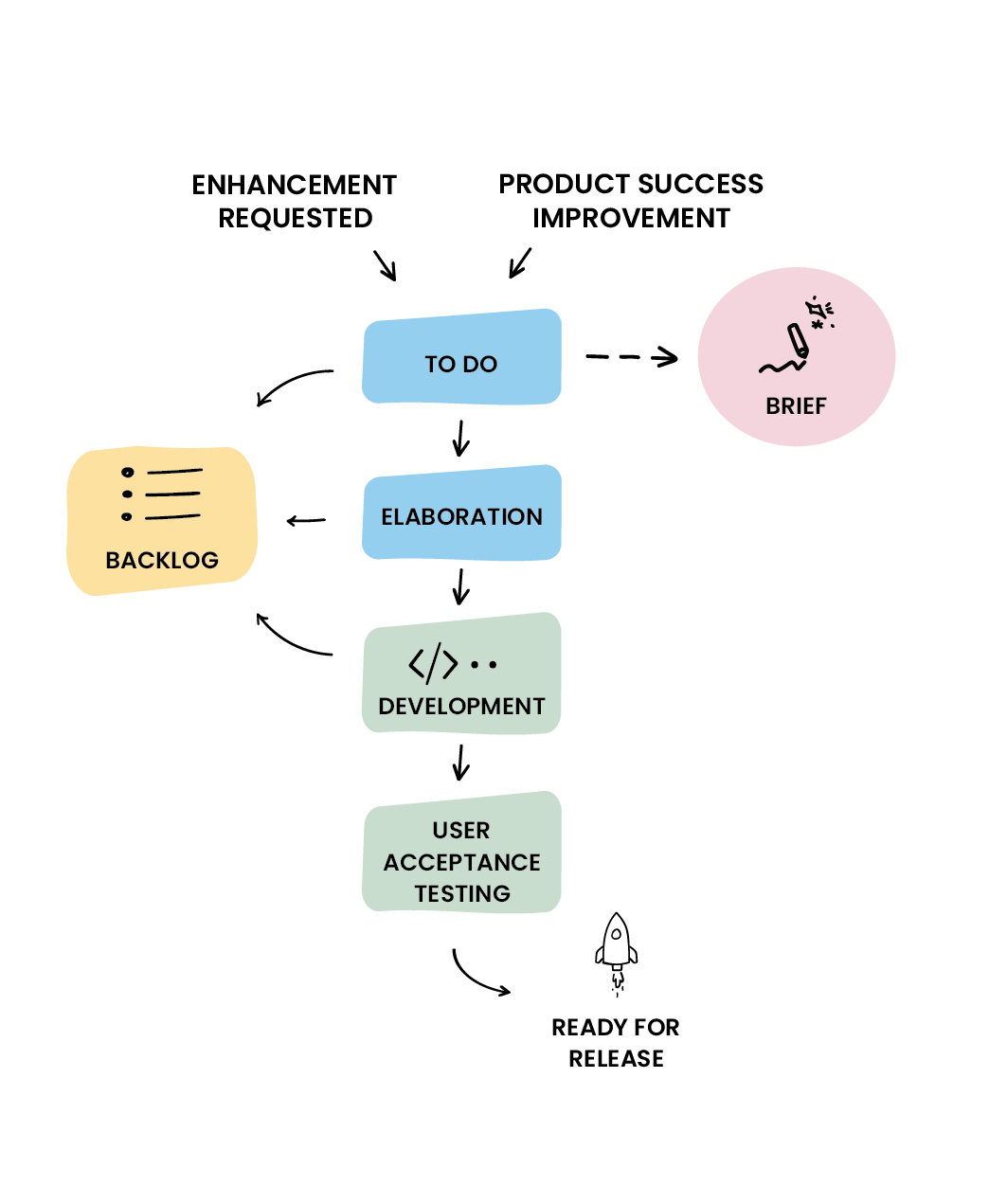 Elaboration
Before any de­vel­op­ment be­gins, an elab­o­ra­tion should oc­cur for the re­quest. Elaboration can be con­sid­ered a smaller ver­sion of scop­ing that is in­stead fo­cused on a small set of fea­tures, or just one well-de­fined prob­lem state­ment. The core goal of elab­o­ra­tion is to build a back­log of work that meets a de­f­i­n­i­tion of ready. With that back­log, an es­ti­ma­tion should be pos­si­ble, which will com­mu­ni­cate the ef­fort re­quired to com­plete the im­prove­ment for the client.
Development
The de­vel­op­ment should be­gin with one or more is­sues that meet the de­f­i­n­i­tion of ready. It's typ­i­cal to use a Kanban flow with this type of short-term work to en­cour­age start­ing de­vel­op­ment as soon as a ticket is ready. This means elab­o­ra­tion for other items can con­tinue with an­other party in the mean­time. Work mov­ing through de­vel­op­ment within this process should come with sim­i­lar qual­ity as­sur­ance processes such as peer re­view, re­lease check­lists and cus­tomer based UAT for con­fir­ma­tion.
Moving be­tween Maintain and Enhance
The Maintain stage is con­sis­tently ac­tive, while the Enhance phase should be en­gaged only as re­quired for im­prove­ments. The key to mak­ing these two processes work well to­gether is hav­ing a clear process of en­abling Enhance to quickly start and stop as re­quired. This can be done by en­sur­ing that any im­prove­ments made and re­leased to pro­duc­tion are han­dled like any other han­dover from a Delivery Team. Ensure the re­lease was per­formed us­ing stan­dard QA processes, the doc­u­men­ta­tion is up­dated, and the cus­tomer was able to test and ap­prove the ef­forts be­fore re­leas­ing to pro­duc­tion. Focusing on this will as­sist de­vel­op­ers sup­port­ing new im­prove­ments once users be­gin to use the new fea­tures.