Support
Continuing the jour­ney
Support
Completing a de­vel­op­ment build tra­di­tion­ally marks the tran­si­tion into a sup­port phase for any pro­ject. Outside mov­ing a pro­ject into sup­port, there are also op­por­tu­ni­ties to con­tin­u­ally learn from your live ap­pli­ca­tion to im­prove it or de­fine your next scope of work. It's ideal for newly fin­ished pro­jects on their MVP to leave time to al­low ini­tial users to pro­vide feed­back, which will shape the next phase of the pro­ject. However, for long stand­ing ap­pli­ca­tions with large roadmaps, start­ing the next scop­ing ef­fort should con­tinue to im­prove your prod­uct while it is be­ing main­tained and en­hanced in pro­duc­tion.
The Support phase is fo­cused on help­ing a prod­uct tran­si­tion from ac­tive de­vel­op­ment to daily main­te­nance and im­prove­ments. As an in­di­ca­tor of im­por­tance, ex­perts are clear that busi­nesses should ex­pect to bud­get 15-20% of the to­tal spend every year the ap­pli­ca­tion is in sup­port. Three core ser­vice of­fer­ings in Support are Maintain; han­dling cus­tomer re­quests and keep­ing an ap­pli­ca­tion op­er­a­tional, Product Success; re­port­ing on ap­pli­ca­tion an­a­lyt­ics and dri­ving key in­sights for im­prove­ment and Enhance; in­cre­men­tally im­prov­ing an ap­pli­ca­tion us­ing a rapid de­vel­op­ment flow.
An in­te­gral part of sup­port is en­sur­ing an ef­fec­tive han­dover oc­curs be­tween the ac­tive de­liv­ery team and those re­spon­si­ble for sup­port­ing an ap­pli­ca­tion long term. This en­sures that Support Developers will be able to op­er­ate in iso­la­tion from the de­liv­ery team, to ef­fi­ciently mon­i­tor and im­prove an ap­pli­ca­tion. Once the build has suc­cess­fully tran­si­tioned, the prod­uct will en­ter a con­tin­u­ous state of main­te­nance and im­prove­ment. The day-to-day op­er­a­tions of sup­port in­volve man­ag­ing re­quests com­ing from the prod­uct owner. Other tasks in­volved with sup­port­ing a prod­uct can in­clude:
Providing proac­tive and pre­ven­ta­tive mon­i­tor­ing through reg­u­lar us­age and test­ing of the prod­uct 
Advising the prod­uct owner on ap­pli­ca­tion and per­for­mance im­prove­ments
Completing timely up­dates and up­grades 
Maintaining back-ups and pro­vid­ing re­cov­ery for the soft­ware 
Assisting with helpdesk or on-call sup­port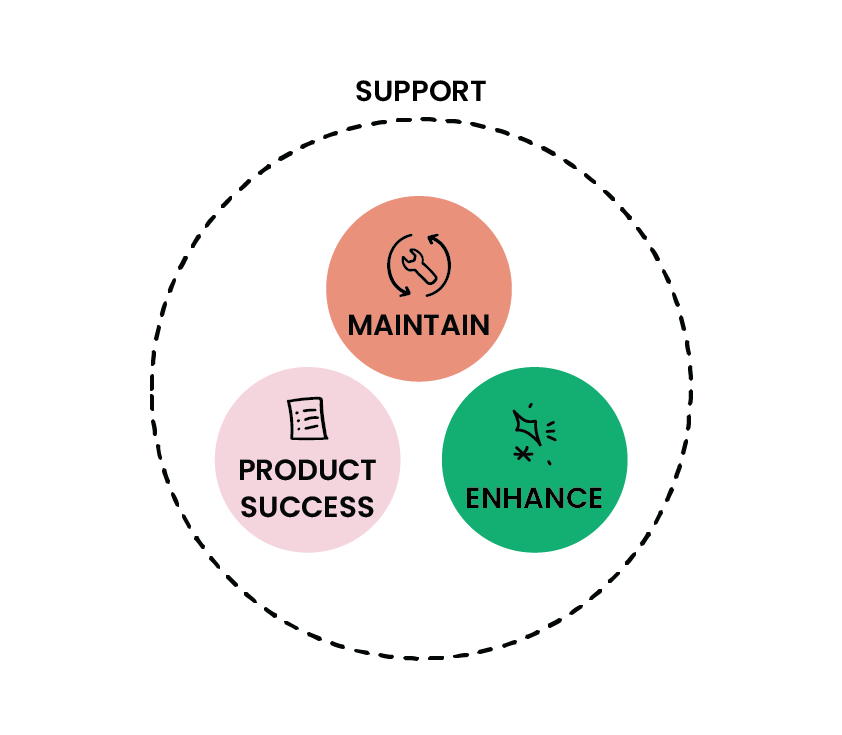 Who needs Support?
Activating a sup­port provider once a build has been com­pleted is rec­om­mended for any and all ap­pli­ca­tions. If you in­tend to have users on your ap­pli­ca­tion reg­u­larly, a sup­port provider will be able to help en­sure your users have con­sis­tent ap­pli­ca­tion ac­cess.
The re­al­ity of soft­ware de­vel­op­ment is that prob­lems oc­cur. There is no such thing as 'perfect soft­ware.' Whether these prob­lems are in the ap­pli­ca­tion it­self or the in­fra­struc­ture, at some point you are go­ing to need a group of de­vel­op­ers who un­der­stand your prod­uct and who are able to quickly get every­thing run­ning nor­mally again.
A lesser known, but use­ful ben­e­fit of en­gag­ing sup­port is the abil­ity to proac­tively im­prove your ap­pli­ca­tion. Once in pro­duc­tion, your ap­pli­ca­tion should be re­ceiv­ing feed­back from your users both di­rectly and in­di­rectly. Direct feed­back can come in the form of sched­uled user feed­back ses­sions or through var­i­ous pub­lic com­mu­ni­ca­tion chan­nels. Indirect feed­back gen­er­ally comes from in­te­grated an­a­lyt­ics tools or will be un­cov­ered as part of reg­u­lar ap­pli­ca­tion main­te­nance. Having a group of de­vel­op­ers avail­able to ac­tion the feed­back in shorter bursts means an ap­pli­ca­tion can be con­tin­u­ally im­proved, with­out the need for a longer-term strate­gic build each time.
When Does Support Finish?
While an ap­pli­ca­tion is ac­tively in use, it should con­tinue to be mon­i­tored, sup­ported, and im­proved upon. A fa­mil­iar con­cept is where ma­jor soft­ware pack­ages have be­come "end of life." This gen­er­ally means that the com­pany who cre­ated the soft­ware has stopped build­ing new fea­tures for the ap­pli­ca­tion and will no longer pro­vide key fixes. Depending on the scale of the soft­ware and how many peo­ple use it, this can oc­cur months af­ter the ini­tial re­lease, or even decades af­ter. In our ex­pe­ri­ence, we are still sup­port­ing and build­ing new im­prove­ments for ap­pli­ca­tions that are up to 5-10 years old.