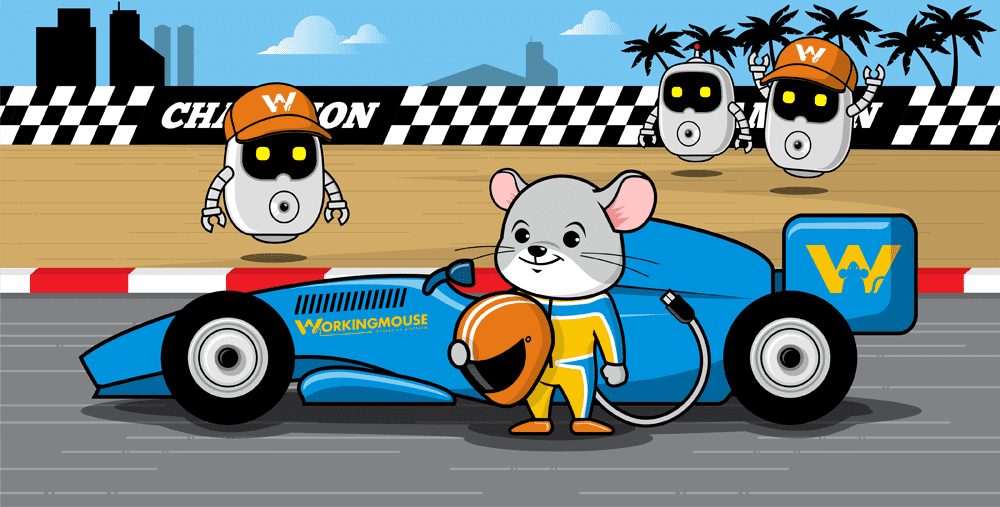 Restart your Engines with Legacy System Modernization
CLOUD MIGRATION
The Formula 1 is now un­der­way and there is no bet­ter time to talk about the tech­no­log­i­cal arms race. In the rac­ing world, new body reg­u­la­tions were aimed at cre­at­ing "more ex­cit­ing care, de­liv­er­ing ad­di­tional down­force to in­crease speeds and lower lap times". Changes like this are shift­ing rac­ing to fo­cus on who can cre­ate the best ma­chine, rather than who is the best dri­ver. You might look at teams fo­cused on their en­gines and just see them as over­com­pen­sat­ing for lack­ing in an­other area, but find­ing a com­pet­i­tive edge through in­no­vat­ing tech­nol­ogy works the same way in busi­ness. Without the sleek­est, fastest and best tech­nol­ogy for your com­pany, you will be­gin los­ing mar­ket power - no mat­ter how awe­some your prod­uct might be.
"We de­cided to go for some­thing a bit more in­no­v­a­tive and an ag­gres­sive feel," - Red Bull team boss Christian Horner
Last year the Red Bull team fell be­hind in the com­pe­ti­tion due to is­sues with their en­gine provider, Renault. However af­ter com­pletely re­design­ing, they are com­ing back with an en­tirely new car and more promise than ever. Remaining in­no­v­a­tive like this in the busi­ness world is crit­i­cal to stay­ing com­pet­i­tive. Taking this con­cept into the soft­ware in­dus­try, if every other com­pany is mov­ing for­ward to the cloud, it's im­por­tant to stay in the fast lane by mak­ing sim­i­lar ad­just­ments. Your busi­ness can­not ex­pect to re­main with the lead­ing pack un­less you can re­ceive the same ad­van­tages. If you are still us­ing legacy tech­nol­ogy, it's pos­si­ble you are go­ing to start to strug­gle to keep up.
Customer ex­pec­ta­tions have el­e­vated in a world where more than 8 in 10 com­pa­nies cur­rently use some form of a cloud so­lu­tion. The in­creased speed for IT func­tion­al­ity, enor­mous cost sav­ings and other ben­e­fits are all now gen­eral ex­pec­ta­tions in the soft­ware world. If it's pos­si­ble, move from desk­top tech­nol­ogy to the cloud and mod­ern­ize your legacy sys­tem. Modernization via cloud mi­gra­tion is an ef­fec­tive way of restart­ing your en­gines. But can you de­ploy key el­e­ments of your old tech­nol­ogy to mo­bile? If you can, the tran­si­tion im­proves cus­tomer sat­is­fac­tion by al­low­ing you to con­nect bet­ter with your clients. Data shows us that more than 51% of the world is now on mo­bile tech­nol­ogy, so if your busi­ness can­not re­spond to the de­mand for this chan­nel then it is miss­ing out on a huge por­tion of the mar­ket. Moving your legacy ap­pli­ca­tion to the cloud will al­low you to not only pro­vide a ser­vice from mo­bile chan­nels but will also of­fer the flex­i­bil­ity to switch be­tween mo­bile, desk­top and cloud/​web ac­cess.
Moving for­ward with the cloud also en­ables bet­ter user sat­is­fac­tion. The work­force is set to be com­prised of 75% Millennials by 2025. A Generation of work­ers who are used to fast pace, easy to use, col­lab­o­ra­tive and mo­bile tech­nol­ogy in their every­day lives. Achieving user sat­is­fac­tion means pro­vid­ing this same high stan­dard in the work­place. Completing legacy sys­tem mi­gra­tion to the cloud will make your prod­uct eas­ier to man­age and de­velop in the fu­ture.
Moving to the Cloud is the first step to im­prov­ing your po­si­tion in the mar­ket, but I like to think it's what on the in­side that counts. At WorkingMouse, un­der the hood of your new ma­chine is an awe­some Innovation Platform. This al­lows you ac­cess to a whole range of plug-ins through cloud tech­nol­ogy in­clud­ing doc­u­ments, re­minders, ge­olo­ca­tions and more. The aim of this is to al­low all busi­nesses that work with us to share all tech­nol­ogy ad­vances we make. Innovation is the key to re­main­ing ahead of your com­peti­tors, so the aim of work­ing with a con­stantly im­prov­ing plat­form is to stay ahead of the com­pe­ti­tion.
Regardless of whether you chose the Innovation Platform or not, it is im­por­tant to con­tin­u­ally in­no­vate the tech­nol­ogy you use to keep up with the game. The race is on to move to cloud tech­nol­ogy, so when the black and white flag drops, do you think your busi­ness will fin­ish first or be left at the start line? Get a head start with our Legacy Modernisation Resource Hub.